The Southeast Asian Regional Center for Graduate Study and Research in Agriculture (SEARCA) is partnering with the Biotechnology Coalition of the Philippines, the International Service for the Acquisition of Agri-biotech Applications, Inc., and other partners in organizing a Forum on Philippine Biotech Regulations.
This activity offers a platform to present and discuss current, recently approved biotech-related policies in the country. It generally aims to contribute to increasing knowledge on the policies that protect the interests of consumers, promote their general welfare, and to establish standards of conduct for business and industry, including the protection against hazards to health and safety.
It would include a presentation of the new Joint Department Circular (JDC) which takes into consideration the challenges in the implementation of the previous JDC. It also included provisions in line with Republic Act No. 11032 or the Ease of Doing Business. This prescribes specific timeframes for all government transactions, including the process of securing a biosafety permit.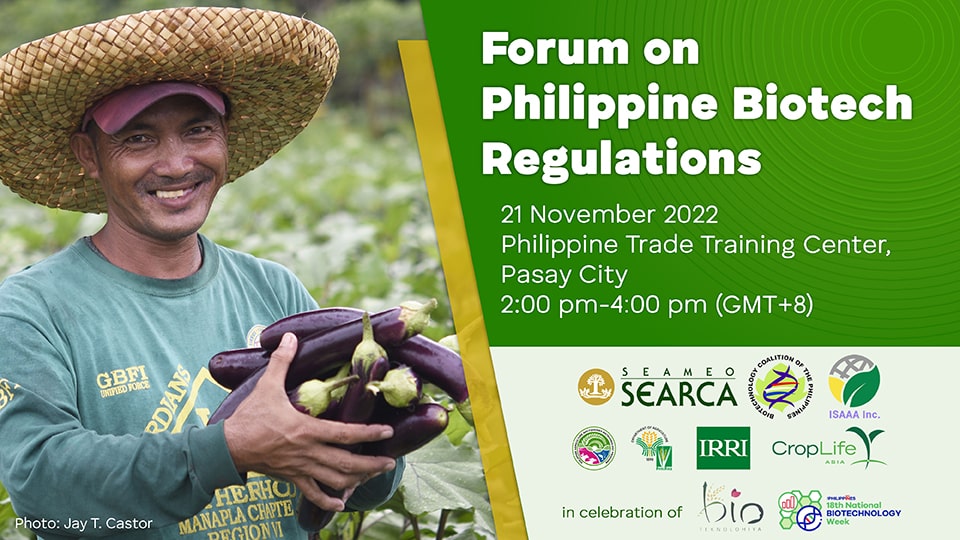 The JDC sets out the rules and regulations for the research and development, handling and use, transboundary movement, release into the environment, and management of genetically modified plant and plant products derived from the use of modern biotechnology. This regulatory system is governed by five departments: science and technology (DOST), agriculture (DA), environment and natural resources (DENR), health (DOH) and on interior and local government (DILG). The revised version of the JDC came into force on earlier this year.
The Philippines is regarded as the leader of biotechnology in Southeast Asia – being the first country in the region to implement a regulatory framework on Genetically Engineered (GE) crops and approve cultivation for food and feed. As a signatory to the Cartagena Protocol on Biosafety, the Philippines is committed to ensuring that the development, handling, transport, use, transfer, and release of genetically modified organisms are undertaken in a manner that prevents or reduces the risks to biological diversity, taking also into account risks to human health.
The annual celebration of National Biotechnology Week (NBW) each November is an opportune time to highlight the many contributions of biotechnology in society. This year, with the Department of Trade Industry leading the celebration, the NBW becomes a platform to initiate conversations and feature biotech contributions to the development of industries, business enterprises, and the country's economic development.
Following a hybrid format, the forum will be held at the Philippine Trade Training Center, Pasay City and through Zoom. It will also be streamed live via the NBW Facebook Page. Interested participants may join online by registering through this link: http://bit.ly/BiotechRegulationsPH2022Forum.
The forum was also organized in coordination with the DA Biotech Program Office, the International Rice Research Institute, the Philippine Rice Research Institute, and CropLife Asia.