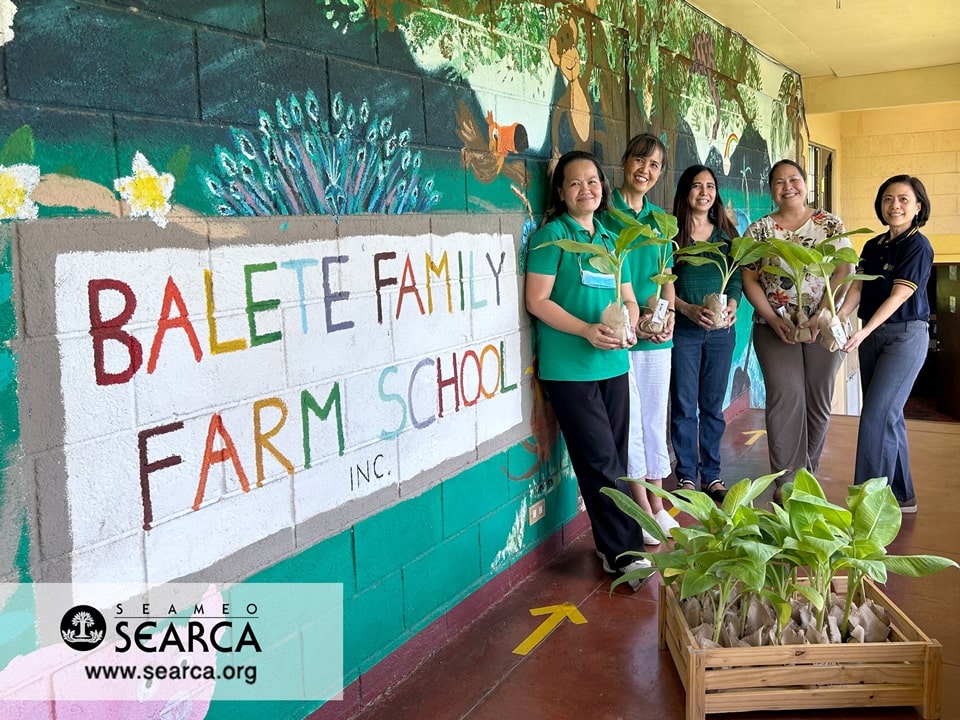 The Southeast Asian Regional Center for Graduate Study and Research in Agriculture (SEARCA), led by Sharon Malaiba, head, Partnerships Unit, visited Balete Family Farm School on 14 March 2023. Ms. Malaiba was joined by Leah Lyn Domingo, Specialist, public relations specialist, Partnerships Unit and Lichelle Dara Carlos, specialist, Emerging Innovation for Growth Department. The SEARCA delegation was greeted by Ms. Ma. Karen de Chavez, director and Ms. Fides Maranan, principal, Balete Family Farm School (BFFS).
Located in Balete, Batangas, BFFS is the only all-female family farm school in Asia that offers junior high school programs.
The SEARCA delegation toured the facilities of the school and edible garden and witnessed students undertaking their farm work.
Ms. Maranan apprised the SEARCA delegation on the mission of the school, "BFFS is engaged in various livelihood projects to help finance our scholarship program allowing poor but deserving young girls to get a junior high school education with an entrepreneurial orientation focused on agriculture."
Ms. Malaiba stressed the significant role played by family farm schools in ensuring food security, livelihood development, and environmental protection, and how BFFS' goals are aligned with SEARCA's priority advocacies on Gender and Youth Engagement in Agriculture and Rural Development and Agri-Business Models for Increased Productivity and Income.