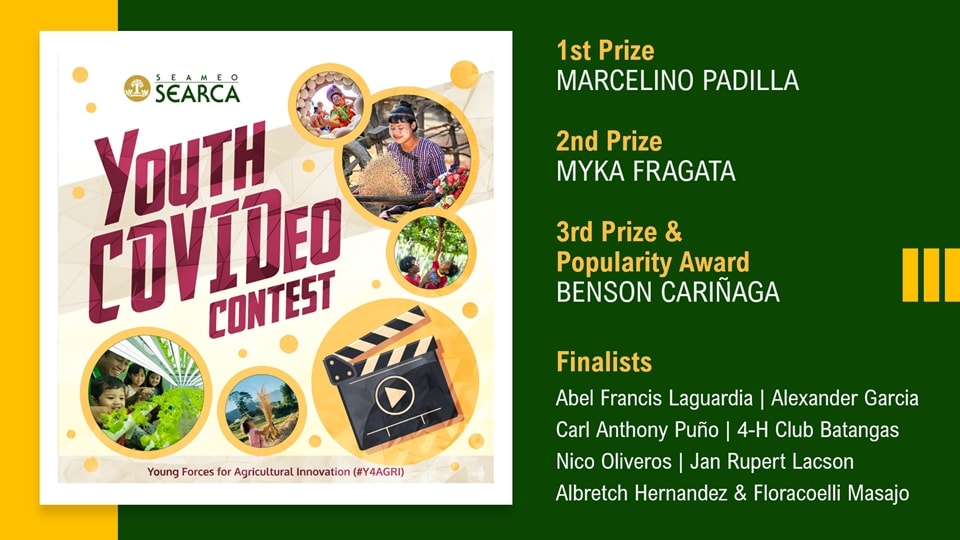 The Southeast Asian Regional Center for Graduate Study and Research in Agriculture announced the winners of the Youth COVIDeo Contest in a Virtual Awarding Ceremony held on 2 October 2020 via Zoom.
Out of the 10 finalists, the panel of judges hailed Marcelino Padilla from Northern Samar, Philippines as the grand winner followed by the 2nd prize winner, Myka Fragata from Nueva Vizcaya, Philippines. The 3rd prize and the Popularity Award (Most Facebook Reactions) was presented to Benson Cariñaga from Albay, Philippines.
"We are happy to see through your videos the different practices in growing food with your family and friends, and in promoting youth engagement in your community through productive activities in agriculture amidst the pandemic," said Dr. Glenn B. Gregorio, SEARCA Director, in his opening message.
Mr. Padilla's video entry narrated his transition from nursing profession to his passion in farming. He practices and promotes environmentally friendly, circular, and zero waste integrated farming system. At the onset of the community quarantine, he germinated his reserved seeds and distributed seedlings to neighboring communities together with the members of 4-H Club, a youth organization. His video also showcased the benefits of home gardening to his family and how he encouraged the youth to engage in agricultural activities amidst the pandemic.
Ms. Fragata's video tells the story of Arapaap Farm, her family's passion project during the quarantine period. To ensure food and nutrition security for their family and community amidst the COVID-19 crisis, they developed an idle land into a productive vegetable garden within three months. Her video gives a quick rundown of starting and sustaining a family farm.
Meanwhile, Mr. Cariñaga entry features the communal garden of Tinago Youth Volunteers (TYV) which was established during the community quarantine to promote local food security. His video shows TYV members providing practical tips in growing vegetables, composting, and harvesting.
The Youth COVIDeo contest finalists with the SEARCA staff during the Virtual Awarding Ceremony.
Themed "Youth and Locally Grown Food," the contest sought video stories from Southeast Asian youth on how and why young people grow their food at home, in school or in the community during the COVID-19 pandemic. The contest garnered 75 entries which was evaluated by multimedia experts, agriculturists, and SEARCA experts and officials. Top winners and finalists received cash prizes and a smart tablet for the Popularity Award.
Mr. Joselito G. Florendo, SEARCA Deputy Director for Administration, encouraged all participants to carry on with their involvement in agriculture, especially with their families and immediate communities.
"Our youth engagement agenda continues beyond this contest and we look forward to working with young people like you again in our efforts of engaging and empowering the youth in agricultural and rural development," said Mr. Florendo in his closing message.
The video contest is part of SEARCA's Young Forces for Agricultural Innovation (#Y4AGRI) program aligned to the Center's strategic plan for Accelerating Transformation Through Agricultural Innovation (ATTAIN).