The conference, covering a total of 24 sessions, is organized around six themes, namely: Productivity Improvement, Inclusive Value Chains, Sustainability and Poverty Reduction, Food Security and Food Safety, Institutions and Governance, and Regional Cooperation and Integration. GIZ will convene a session under the theme Sustainability and Poverty Reduction, which will feature results of its various programs and projects on environment and rural development.
GIZ also expressed interest to contribute in the sessions on Upland Agriculture, and Regional Food Security System and Investments, which are convened by World Agroforestry Center (ICRAF) and SEARCA, respectively.
More than convening a session, GIZ accepted SEARCA's invitation to co-sponsor the conference. To date, GIZ joins the list of ARD2014 sponsors which include the following: Asia Pacific Adaptation Network (APAN), Food Security Center (FSC) of the University of Hohenheim, International Service for the Acquisition of Agri-biotechnology Applications (ISAAA), Syngenta, Philippine Council for Agriculture, Aquatic, and Natural Resources Research and Development (PCAARRD), Department of Agriculture – Bureau of Agricultural Research (DA-BAR), Australian Government through ACIAR, International Rice Research Institute (IRRI), and National Academy of Science and Technology (NAST).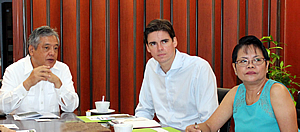 The meeting was attended by Mr. Baumann, GIZ-EnRD Program Senior Advisor Ms. Erlinda F. Dolatre and Communications and PR Adviser Ms. Opalyn Agulay, SEARCA Director Dr. Gil C. Saguiguit, Jr., with Acting Program Head for Research and Development and Conference Organizer Dr. Bessie M. Burgos, and Program Specialist, Ms. Carmen Nyhria Rogel.
With the theme Strengthening Resilience, Equity and Integration in ASEAN Food and Agriculture Systems, ARD2014 will take place on 12-13 November 2014 at Makati Shangri-La, Manila, bringing together relevant stakeholders from, but not limited to, Southeast Asia. Participants will include agriculture and rural development experts from the academe and research institutions, government policy makers, private sector practitioners, farmer leaders, and other interested stakeholders.
For more information on ARD2014, visit http://ard2014.searca.org or email inquiries to . (Junette Dawn A. Baculfo)