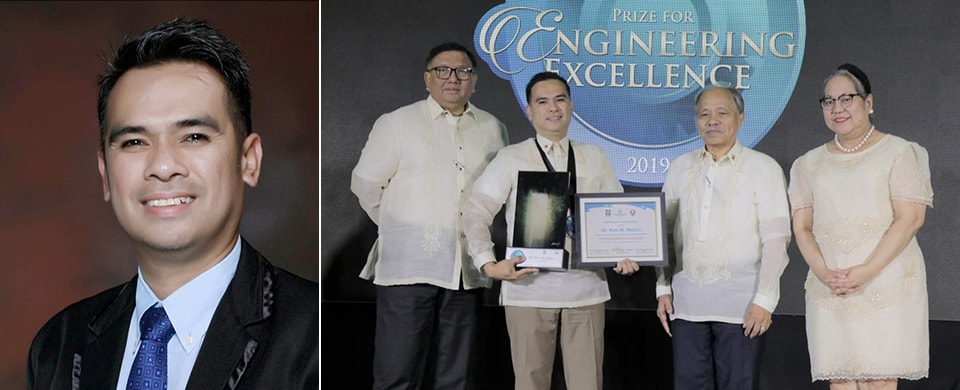 Engr. Ruel M. Mojica, SEARCA Alumnus, awarded the Manila Water Foundation (MWF) Prize for Engineering Excellence. Photo: Manila Water Foundation
Engr. Ruel M. Mojica, SEARCA Alumnus, was awarded the Manila Water Foundation (MWF) Prize for Engineering Excellence for his invention: Bravura, a microcontroller-based roasting machine to increase the financial viability of low-income coffee farmers and cooperatives. MWF is the sole recognizing body in the country that pays tribute to engineers who have made a difference in the lives of the Filipino through their inventions that tackle development issues in the environment, water, sanitation, and sustainability.
The Bravura Coffee Roasting Machine is the cheapest known vertical coffee roasting machine which was constructed in partnership with a local manufacturer. The machine is beneficial for farmers as they could market roasted coffee and pursue professional coffee production rather than just selling their raw beans. Engr. Mojica was awarded a SEARCA Regional Professorial Chair Grant in 2016-2017 for Bravura, specifically for his study on Socio-economic and Environmental Assessment of a Microcontroller-based Coffee Roasting machine: Implications for Market Potential and Technology Commercialization. Prior to this grant, he was a recipient of a scholarship from the Cavite State University (CvSU)-SEAMEO SEARCA Graduate Scholarship Project in 2005. He pursued his PhD in Agricultural Engineering at the University of the Philippines Los Baños and graduated in 2009 while holding the post of Assistant Professor and Chair of the Department of Agricultural and Food Engineering at CvSU.
Engr. Mojica was also a recipient of the Fulbright-Philippine Agriculture Scholarship Program for Advanced Research Awards which he conducted at Texas Agricultural and Mechanical University - College Station in 2013. In 2017, Engr. Mojica was conferred as ASEAN Engineer by the ASEAN Federation of Engineering Organisations Governing Board. Currently, he is the Vice President for Research and Extension at CvSU. In creating Bravura, Engr. Mojica used participatory approach to include the farmers' capacity and cost limitations. Besides the machine, training programs on coffee science, business operation, and marketing are also provided for farmers.
SEARCA's thrust in the next five years is to promote inclusive innovation and academe-industry-government interconnectivity towards Agriculture 4.0 and inventions such as Engr. Mojica's Bravura which uplifts the life of the coffee farmers affirm the Centre's mission to provide human resource development in the region through graduate scholarships and grants.
For more information about SEARCA's graduate scholarship programs, visit https://www.searca.org/scholarship. Details of the Regional Professorial Chair Grant can be found at https://www.searca.org/prof-chair-grants.