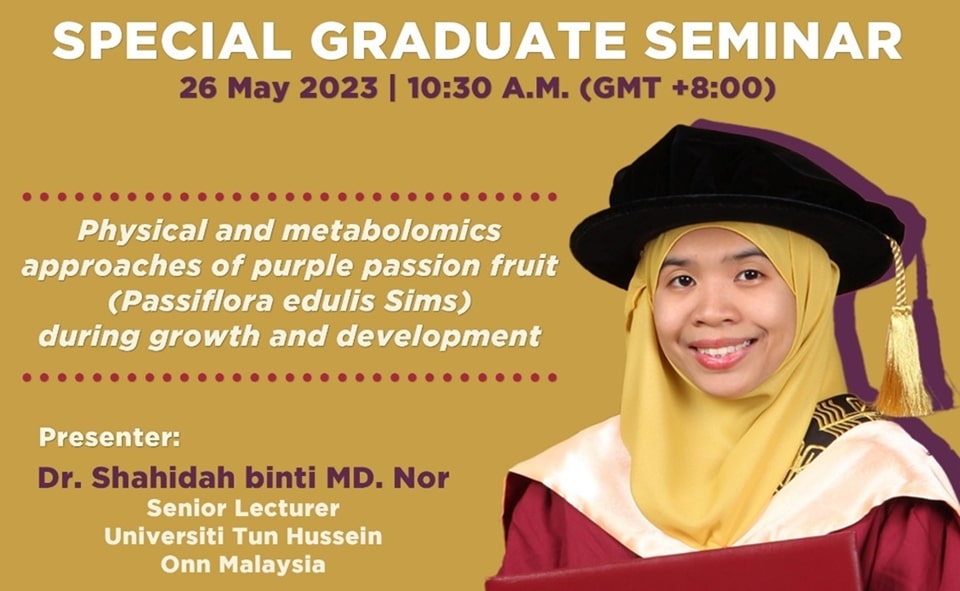 The Southeast Asian Regional Center for Graduate Study and Research in Agriculture (SEARCA)'s Education and Collective Learning Department (ECLD) will conduct a Special Graduate Seminar to discuss the "Physical and metabolomics approaches of purple passion fruit (Passiflora edulis Sims) during growth and development" on 26 May 2023 (Friday) at 10:30 a.m. (GMT +8:00) via Zoom. The public seminar is held once every semester and highlights outstanding research outputs by scholars from their graduate theses.
Dr. Shahidah binti Md. Nor, SEARCA alumna and senior lecturer at the Universiti Tun Hussein Onn Malaysia, will share her research from her dissertation for this upcoming seminar.
Dr. Shahidah took her PhD in horticulture at the Universiti Putra Malaysia under a DAAD-SEARCA Scholarship. In 2022, she received SEARCA's special citation award recognizing her significant academic achievements and accomplishments. These accomplishments include being a finalist for the Chrysalis Award, which is given to individuals with remarkable contributions to Malaysia's science, technology, innovation, and economic ecosystem.
Dr. Shahidah will discuss the potential of purple passion fruit to be mass cultivated and to become one of Malaysia's high-value commodities with high market demand. She will also share her findings on the growth and maturation process of the purple passion fruit through physical and metabolomics approaches. Moreover, she will explain how her research findings can benefit her home country's agriculture and processing industries.
Hosting the graduate seminar is the Center's way of supporting the scholars' academic milestones and recognize their capacity to produce quality research that greatly impacts agricultural and rural development (ARD). Besides the Special Graduate Seminar, SEARCA also conducts learning events specifically targeting its scholars, such as the GSID Conversations, customized training programs, and the SEARCA Scholars' Conference. These activities are part of SEARCA's bigger, better, and smarter scholarship package supporting the capacity building of future leaders of ARD in the region.