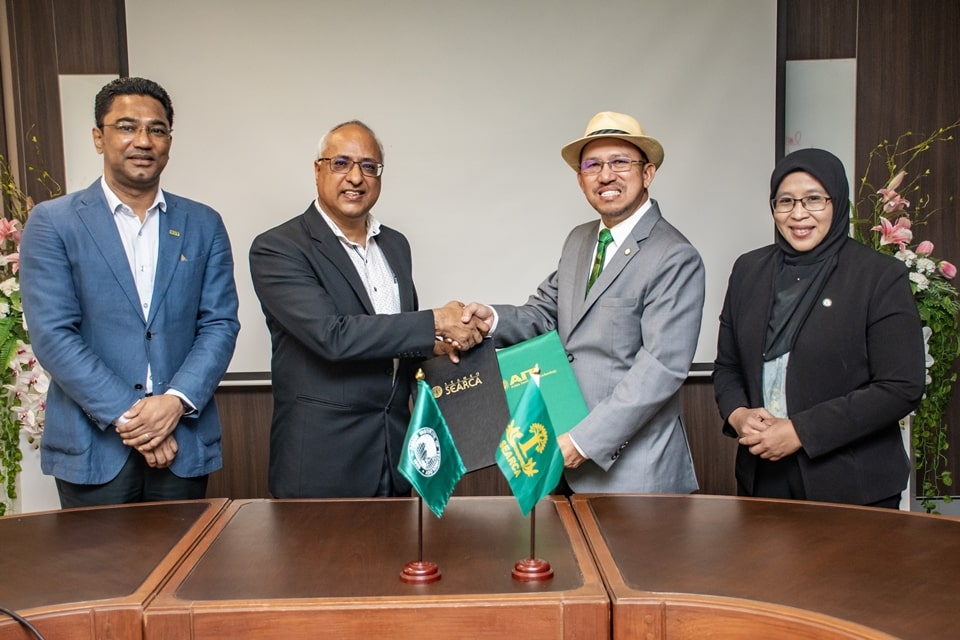 Dr. Glenn Gregorio (second from right), SEARCA director, and Prof. Shobhakar Dhakal, AIT vice president for academics, shake hands after exchanging copies of the signed Memorandum of Understanding for institutional cooperation. They are flanked by Dr. Nur Azura Adam, SEARCA deputy director for programs, on the right and Prof. Sangam Shrestha of the AIT Water Engineering and Management Program.
The Southeast Asian Regional Center for Graduate Study and Research in Agriculture (SEARCA) and the Asian Institute of Technology (AIT) signed a formal agreement on 16 May 2023 to cooperate on initiatives that promote agriculture and rural development.
Based north of Bangkok in Klong Luang, Pathum Thani, Thailand, AIT is a postgraduate institution that offers academic and research programs in engineering, environment, and management studies. With a focus on global connections, innovation, industry relevance, and entrepreneurship, AIT prepares its multicultural community of students for leadership roles and professional success in Asia and beyond.

Meanwhile, SEARCA has priority focus on promoting a transformational leadership mindset among stakeholders in the agricultural sector, including its scholars, training participants, and other beneficiaries of its formal education and capacity-building initiatives. The latter includes workshops, seminars, and training programs focusing on leadership development, strategic planning, and stakeholder engagement. The end goal is to help build a new generation of leaders who are committed to promoting innovation and sustainability in the agricultural sector.
Dr. Glenn Gregorio, SEARCA director, and Prof. Shobhakar Dhakal, AIT vice president for academics signed the Memorandum of Understanding (MOU), which intends to promote collaboration between the two institutions in undertaking education, training, and research programs, projects, and activities.
Prof. Dhakal expressed his enthusiasm for institutional cooperation, stating that "the partnership between SEARCA and AIT have potential broad linkage opportunities, including scholarships, training programs, and policy development.'' Then he added: "We could even co-organize a roundtable discussion here in AIT, and maximize our network to make sure that the event will be well-attended and impactful."
"We can see the synergy of complementing priority areas of both SEARCA and AIT," Dr. Gregorio affirmed.
"AIT is focused on technology and engineering, and we are focused on agriculture, but actually, we are integrating technology in agriculture to upgrade and address challenges of farming practices. This is one area of possible collaboration between our institutions," Dr. Gregorio explained.

The SEARCA and AIT officials and staff present during the MOU signing ceremony.
The SEARCA and AIT officials and staff present at the meeting discussed capacity-building programs, joint research and innovation projects, conferences and workshops, and the exchange of experts in fields of mutual interest as areas of possible collaboration.
Moreover, it was broached that AIT is interested in exploring the possibility of becoming eligible for membership in the SEARCA-initiated Southeast Asian University Consortium for Graduate Education in Agriculture and Natural Resources (UC). Established in 1989, UC is a network of strong universities in Southeast Asia, Japan, Taiwan, Canada, and Germany. SEARCA continues to serve as the UC Secretariat.
The signing of the agreement marks an important milestone in the partnership between AIT and SEARCA and sets the stage for a fruitful collaboration that will benefit the Southeast Asian region.