The AgriMuseum will rise adjacent to the headquarters of the Southeast Asian Regional Center for Graduate Study and Research in Agriculture (SEARCA) on the campus of the University of the Philippines Los Baños (UPLB).
SEARCA is one of the oldest centers of SEAMEO. The SEAMEO Council, composed of the education ministers of the SEAMEO countries, is the highest policymaking body of SEAMEO.
AgriMuseum is first of its kind
The first of its kind in the region, the AgriMuseum is envisioned to deepen understanding and appreciation of agricultural and rural development in Southeast Asia, the challenges it faces and how such may be addressed. It will highlight the importance of agriculture and, thus, generate renewed interest in it as a field of study and course of livelihood.
The state-of-the-art exhibition space is intended to extend SEARCA's work by promoting awareness of agriculture and rural development in Southeast Asia, as well as appreciation of science-based knowledge and innovations in agriculture in an interactive setting.
Minister Teerakiat has expressed his support, in his capacity as SEAMEO Council President, to establish the AgriMuseum.
SEAMEO Council President commends SEARCA
SEARCA was His Excellency's first stop in his first visit to the Philippines as Thailand's education minister and SEAMEO Council President.
He was received by the Center's officers and staff and scholars led by Dr. Gil C. Saguiguit, Jr., SEARCA Director, who also presented an overview of the Center's programs and activities under its Tenth Five-Year Plan and its latest accomplishments.
In this message, the top SEAMEO official commended SEARCA's significant work in promoting agricultural and rural development in Southeast Asia.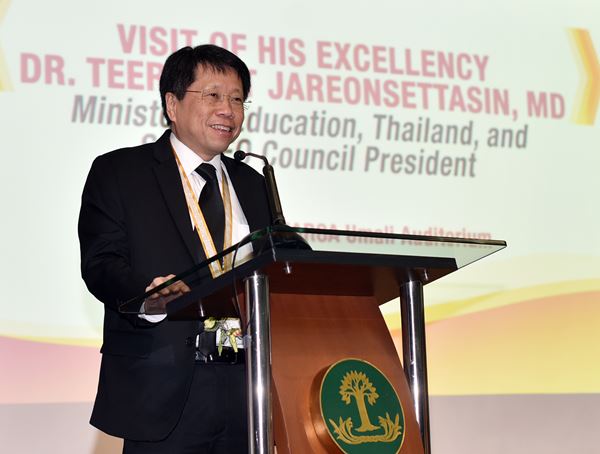 "I am reminded of the late King Bhumibol. His name means 'the strength of the land.' All his life's work has been what you have been doing—to promote the strength of the people, the strength of the land, agriculture, and environment," Minister Teerakiat said.
Reiterating that agriculture is the backbone of most of the countries in Southeast Asia, he was pleased to note that SEARCA has made significant contributions to enhance knowledge on ARD and to uplift the lives of the people.
His Excellency also remarked that while some 50-year-old centers may be running down, SEARCA seems stronger at 50 with all it has accomplished and its vision for the future.

"I wish all of you the best and I feel really honored to come here today to learn what you have done," he said.
The SEAMEO Council President also visited the SEAMEO Regional Center for Educational Innovation and Technology (INNOTECH) and SEAMEO Regional Centre for Public Health, Hospital Administration, Environmental and Occupational Health (TROPMED-Philippines).
He also paid a courtesy call on Philippine Education Secretary Leonor Briones on returning to Manila after his visit to SEARCA and the International Rice Research Institute (IRRI) in Los Baños. (Leah Lyn D. Domingo)