LOS BAÑOS, PHILIPPINES – Key officers and staff from 17 regional centers of the Southeast Asian Ministers of Education Organization (SEAMEO) have set action points to enhance inter-center collaboration on knowledge management (KM) initiatives that emerged from the 2nd SEAMEO KM Learning and Sharing Forum held at the SEARCA Headquarters on 22–23 August 2023.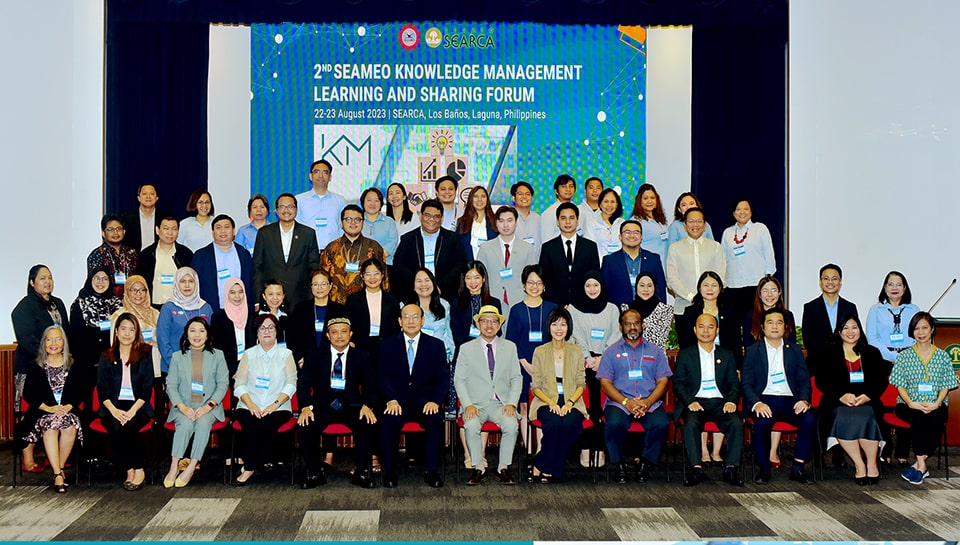 The 37 forum participants include Center directors, deputy directors, and knowledge workers in communication, partnership, program, public relations, and information technology, as well as administrative officers from the various SEAMEO Centers and the SEAMEO Secretariat (SEAMES).
Among the action steps identified were capacity building, mentoring, benchmarking, and continued sharing of best practices on KM among the Centers. Building networks for knowledge exchanges and platforms for sharing resources, such as a database of publications from the different Centers, have also been identified as a priority step.
During their presentation, the participants also agreed to identify focal persons for KM from each SEAMEO Center and to establish a task force that will orchestrate the plans for a SEAMEO-wide KM framework and implementation of KM, information management, communication, and partnership activities.
Knowledge generation to action
In his opening message, SEAMEO SEARCA Director Dr. Glenn Gregorio recognized the value of bringing together the efforts of SEAMEO Centers in developing and distributing knowledge products toward a meaningful impact.
"In this fast-evolving landscape of education and communication with advanced technology and big data, it is crucial to translate knowledge into actions beneficial for the stakeholders of the SEAMEO Centers," Dr. Gregorio said.
Meanwhile, Mrs. Kochakorn Khattapan Acidre, deputy director, SEAMEO Regional Center for Educational Innovation and Technology (INNOTECH), reiterated how the forum is important and how their work is valuable for the development of education, science, and culture in the region.
"There is a need to capture all our knowledge and put them in place and communicate strategically to our audience," Mrs. Acidre shared.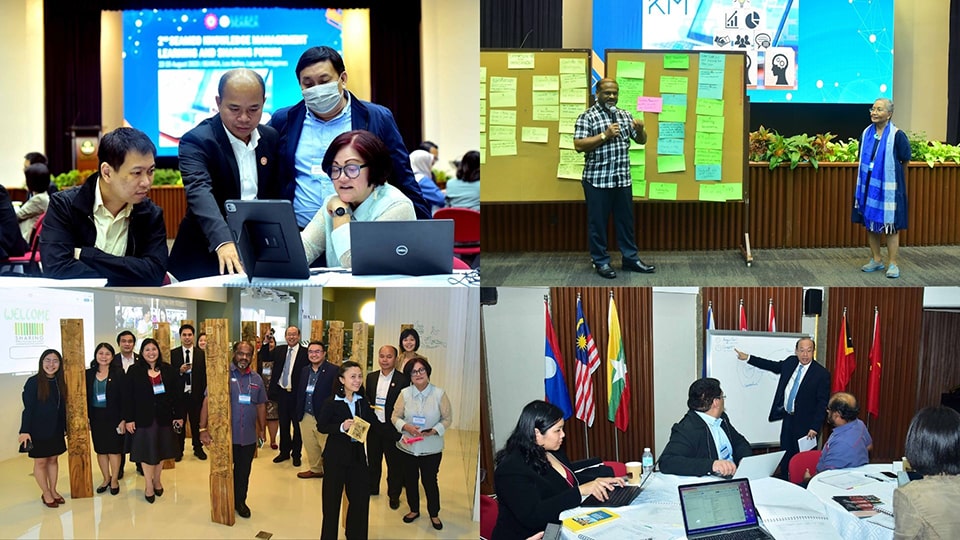 Fostering collaboration as one SEAMEO family
In her synthesis, Dr. Maria Celeste Cadiz, forum technical coordinator, raised the importance of building communities of practice in growing KM as an avenue for them to mentor and learn from each other in the spirit of the SEAMEO family.
"There is a lot of potential for SEAMEO growing together as a family helping each other up," said Dr. Cadiz who was a former head of SEARCA's Knowledge Management Department.
Post-forum, the participants were encouraged to continue networking with other Centers to learn more about KM practices. Online workshops and mentoring were also highly suggested in three priority areas: information systems, communication with external stakeholders, and business and partnership development.
Ms. Pintip Iamnirath, in her closing message, urged the participants to carry the spirit of collaboration and the momentum of the change that the forum ignited. "Let us continue to build upon the connections made and the knowledge shared leveraging our collective wisdom to drive transformations in our organizations and communities," she said.
SEARCA's Deputy Director for Programs Dr. Nur Azura Binti Adam also noted the power of knowledge to make SEAMEO an organization that should be upheld.
"Magkakapatid kaming lahat. We are all brothers and sisters, so let us work hand in hand, all together to make sure that the organizations under SEAMEO will move forward to be better, bigger, and smarter," she concluded.
The two-day forum featured some SEAMEO Centers' KM-related best practices while some SEARCA management and staff also shared the Center's ongoing KM and communication initiatives, such as its information systems, publications, public relations, knowledge platforms, and the SEARCA Hub for Agriculture and Rural Innovation for the Next Generation (SHARING).
The KM forum was co-organized by SEAMES and SEARCA through the Training for Development Unit under the Education and Collective Learning Department.