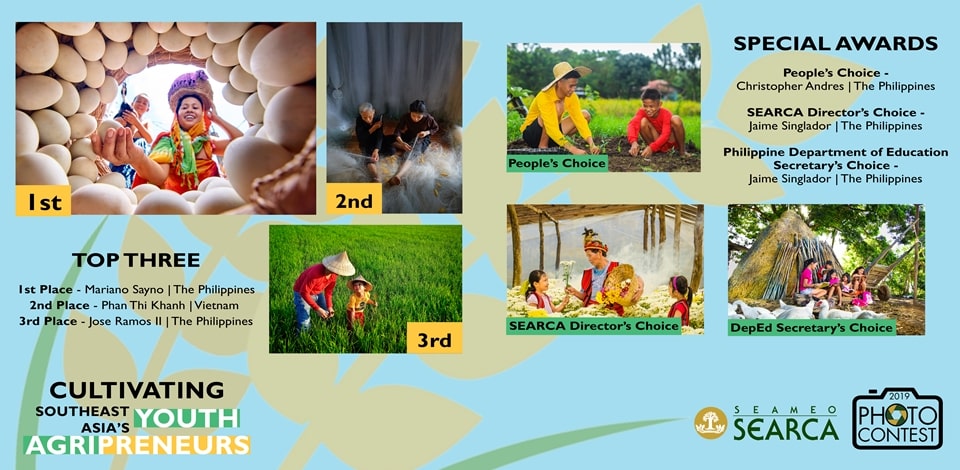 Southeast Asian youngsters eager to learn from adult mentors' enterprising farm activities comprise the winning entries in the recently concluded 13th Photo Contest of the Southeast Asian Regional Center for Graduate Study and Research in Agriculture (SEARCA). Four Filipino photographers dominated the six categories, including one who bagged the two new special awards.
First place winning entry by Mariano Sayno shows a mother-and-son tandem in the town of Victoria in Laguna, Philippines, known for its duck raising cottage industry. The adjudged best photo shows a young boy cheerfully holding a duck as he watches his mother place freshly laid eggs in a basket full of eggs, which frames the pair.
The second placer by Phan Thi Khanh of Vietnam shows a grandmother-granddaughter team patching up a fishnet in the coastal city of Hue. Third placer Jose Ramos II's entry shows a bright-eyed young boy appearing to be listening to an adult man as they gather weeds in a rice paddy field. The People's Choice Award winner, which garnered over 1,400 likes on Facebook, also shows two young men, the older seemingly teaching the younger one to plant seedlings—photograph by Christopher Andres.
The winning photos for the new special prize categories, the SEARCA Director's Choice and the DepEd Secretary's Choice (selected by the Secretary of the Department of Education of the Philippines) also echo the theme "Cultivating Southeast Asia's Youth Agripreneurs." Dr. Glenn Gregorio, SEARCA Director, chose the refreshing image of two young girls and their grandmother in a cutflower farming scene. For the DepEd Secretary's Choice, Dr. Leonor Briones selected a photo showing children studying outdoors in a rural farming community. Both photos were submissions by Jaime Singlador.
For 2019, the SEARCA Photo Contest winning prizes were increased to USD 1,000 for 1st place, USD 800 for 2nd place, USD 500 for 3rd place, and USD 200 for Peoples Choice. For the new special awards, the SEARCA Director's Choice and the DepEd Secretary's Choice will each receive USD 500.
SEARCA received a total of 762 entries from 235 professional and amateur Southeast Asian photographers from 10 countries during the submission period from September to November 2019. As in previous years, most of the entries were from the Philippines, Myanmar, Indonesia, and Vietnam. Nonetheless, aside from these top sources, entries from Thailand and Lao PDR made it to the top 15 finalists.
The winning photos and the rest of the finalists may be viewed at https://photocontest.searca.org. The SEARCA Photo Contest is annually held and is launched in September through searca.org and the SEARCA Facebook page.