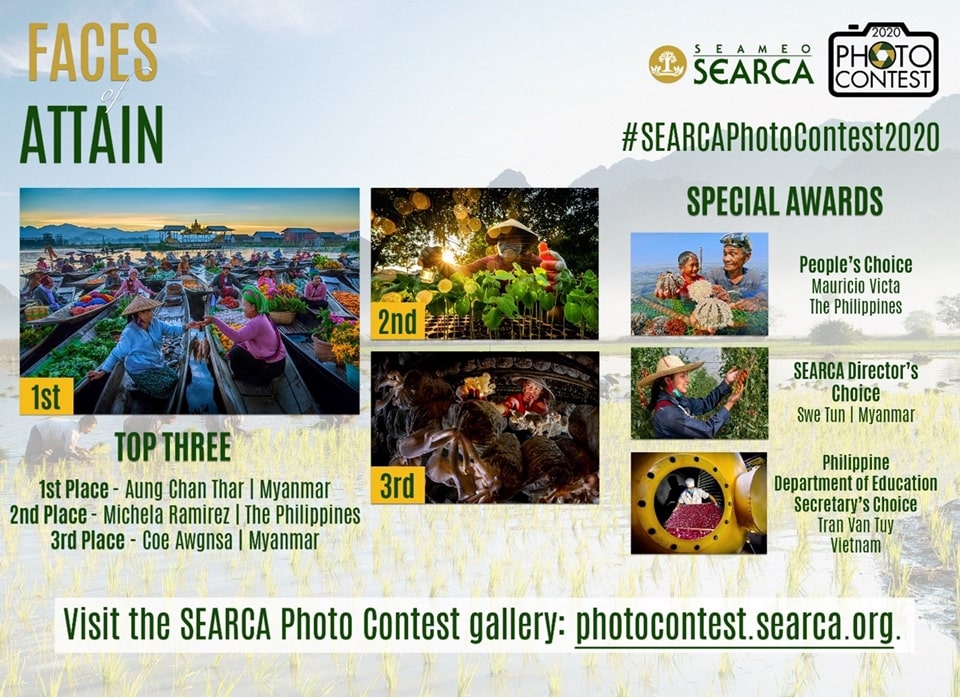 The faces of Southeast Asian farmers who should arguably be counted among our heroes during the ongoing COVID-19 pandemic are given the spotlight in the recently concluded annual photo contest hosted by the Southeast Asian Regional Center for Graduate Study and Research in Agriculture (SEARCA). This year's theme, "Faces of ATTAIN," was part of launching and promoting the Center's 11th Five-Year Plan spanning 2020-2025 and focused on Accelerating Transformation Through Agricultural Innovation (ATTAIN), which includes "Food and Nutrition Security" as one of its seven priority areas. This year's winners are three photographers from Myanmar, two from the Philippines, and one from Vietnam.
The first place photo by Aung Chan Thar of Myanmar captures a colorful scene from the Inle Lake Floating Market where goods such as harvested crops, fruits and vegetables, fish, flowers, textiles, carvings, ornamental objects, and agricultural goods are traded aboard small boats. It has slowly grown in prominence as a tourist attraction even though it is over 200 kilometers or about a four-hour drive from the Myanmar capital of Nay Pyi Taw.
Second place photo by Michela Ramirez of the Philippines shows a masked farmer tending to some backyard seedlings, which mirrors how many Filipinos suddenly turned to backyard farming for food and nutrition security when the country was put on lockdown due to COVID-19. The third place winner Coe Awgnsa of Myanmar gives everyone a peek into the life and dedication of a Burmese mushroom farmer. This year's People's Choice Award winner received over 2,300 likes on Facebook and features a smiling boy and his grandfather holding sea urchins in Santiago, Ilocos Sur—photograph submitted by Mauricio Victa from the Philippines.
The two special prizes that started in last year's photo contest also returned. Swe Tun of Myanmar won SEARCA Director's Choice with a photo of a smiling Myanmar lady working in a tomato farm near Taunggyi, the capital and largest city of Shan State. For the Philippine Department of Education Secretary's Choice selected by the Hon. Leonor M. Briones herself, the winning photo by Tran Van Tuy of Vietnam features dragon fruit being dried in an oven before it is packed for export.
For this year's photo contest, SEARCA received 1,528 entries from 300 professional and amateur photographers from the 11 SEAMEO member countries during the submission period (1 September to 30 November 2020). As in the past two years, the majority of the participants were from the Philippines, Myanmar, Indonesia, and Vietnam, which also reflects the composition of the 47 finalists/shortlisted entries. A total of USD 3,500 will be awarded to the six winners.
The winning photos, the rest of the finalists, as well as previous years' winners may be viewed at https://photocontest.searca.org. The SEARCA Photo Contest is an annual event started in 2006 and is launched every September primarily through the SEARCA Facebook Page.