Schools are recognized as excellent setting for promoting lifelong healthy eating and improving long-term, sustainable nutrition security. They play a vital role in the effort to overcome malnutrition and hunger among children, and school gardens are simple yet effective ways of improving nutrition and education of children and their families.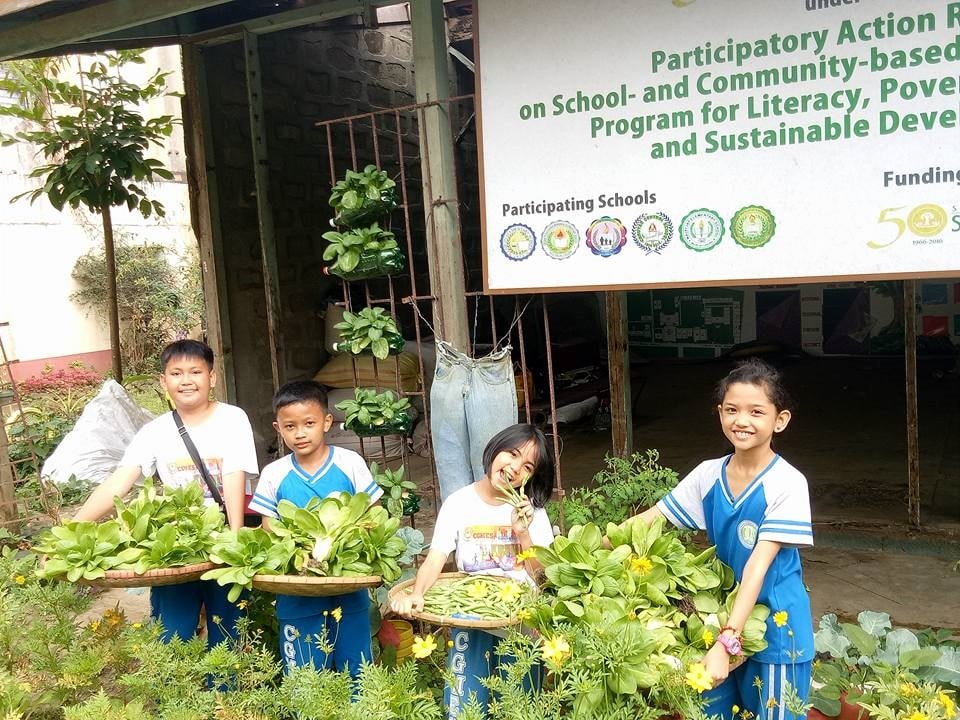 It is in this context that the "Participatory Action Research on School and Community-Based Food and Nutrition Program for Literacy, Poverty Reduction and Sustainable Development," also known as the School plus Home Gardens Project (S+HGP), was implemented in six schools in Laguna, Philippines in 2016 to 2017. It aimed to improve nutrition, education, and economic well-being of children and to support the Gulayan sa Paaralan and the School-based Feeding Programs of the Department of Education of the Philippines (DepEd). Through partnerships with one secondary and five elementary schools, the Southeast Asian Regional Center for Graduate Study and Research in Agriculture (SEARCA), the University of the Philippines Los Baños (UPLB), and DepEd Laguna Provincial Office effectively achieved the objectives of project. Over time, there has been increasing adoption both at school and homestead levels.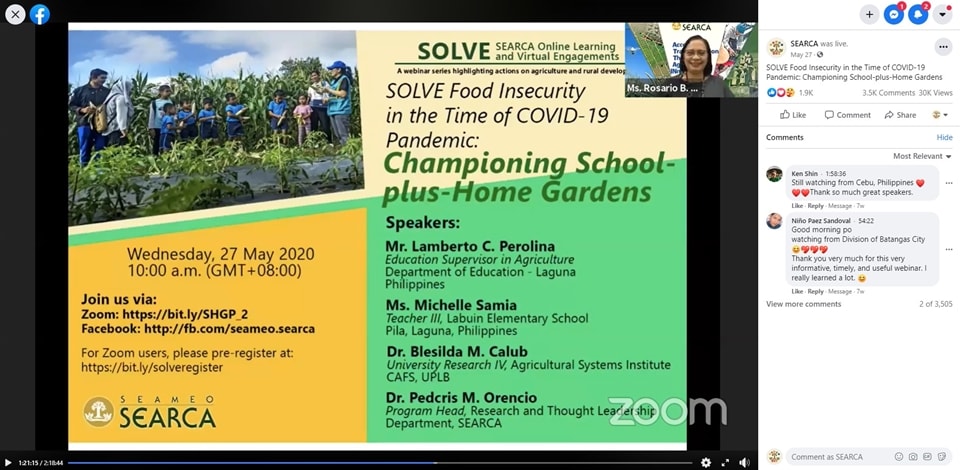 This success was highlighted in the SEARCA Online Learning and Virtual Engagement (SOLVE) Webinar Series, which highlights actions that realize SEARCA's vision on agricultural and rural development. The S+HGP was featured on 20 and 27 May 2020, as an avenue towards addressing food insecurity in the time of COVID-19. Responses to a rapid online survey on the perceptions of parents and teachers of the gains and opportunities of the S+HGP, which was conducted in the third week of April 2020, were presented. Results show that the main benefit from having a School Garden is the additional supply of food, with school learners and communities as primary beneficiaries and an increase in the number of beneficiaries of School Based Feeding Program from the past two years. Results also show that by gender, women recognize the contributions of Home Gardens on education and environment other than just as additional sources of food supply and as contributor to providing the family's nutritional needs.
In terms of support and contribution during this time of pandemic, the top three responses for school gardens were as sources of food supply (58%), economic benefit (25%), and recreation (11%). Home gardens were likewise perceived as sources of food supply (43%) and of economic benefit (39%). A far third at 7% was that home gardens provided support through any two or three among food supply, economic, nutrition, environmental, education, and recreation.
SEARCA's commitment to replicate these benefits and positive results from the S+HGP to other parts of the Philippines, particularly those with high malnutrition rates and inadequate food security, is shared by UPLB and Kansas State University (KU), leading to their collaboration. An initial activity towards this end is the E-training on School plus Home Gardens cum Biodiversity Enhancement (SHGBE) for Busuanga Island, to be conducted via the meeting platform Zoom every Thursday from 16 July to 3 September 2020, 8:00 a.m. to 12:00 p.m. Invited participants include officials, teachers, and parent representatives from the Coastal and Inland School Districts of the Department of Education (DepEd) Palawan, representatives of local government units of Coron and Busuanga, Palawan, and private organizations from these municipalities.
The online training, endorsed by the Department of Education (DepEd), aims to share and discuss experiences, initiatives, and good practices for implementing SHGBE or similar activities; enable participants to explain key elements of food and nutrition, sustainable development goals, organic agriculture, biodiversity, and edible landscaping for integration in the SHGBE and their links to income and character development; allow them to describe the process and requirements of designing, establishing, and maintaining edible organic school gardens; biodiversity enhancing landscaping, and the involvement of students, teachers, parents and local institutions to support, scale up, and disseminate information about SHGBE; enhance knowledge on the steps in preparing sample learning lesson or teacher's logs; and equip teachers with materials that can be used for complementing SHGBE integration in the curriculum. Ultimately, the e-training aims to contribute to improving the nutritional status of school children and to the food security of Busuanga Island.
An activity towards the end of this training is the development of an action plan towards the establishment/implementation of school plus home gardens suited to the context of Busuanga Island.