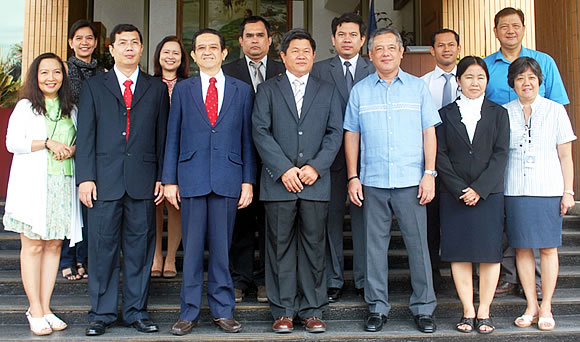 Officials of the Royal University of Agriculture (RUA) in Cambodia began to rethink the future of the university in a "Mentoring Workshop on Strategic Planning" on 20-22 August 2012 at SEARCA.
Six RUA officials participated in the workshop, led by Dr. Ngo Bunthan, Rector and Country Representative of Cambodia to the SEARCA Governing Board. With him were Dr. Mom Seng, Vice Rector for International Relations; Dr. Meas Sothy, Director for Research and Extension; Mr. Chheng Lyna, Deputy Director for Academic Programs; Mr. Lor Lytour, Vice Dean for Graduate School and Assistant to the Rector; and Mr. Venn Vutey, Secretary, University Research Grant Management Committee.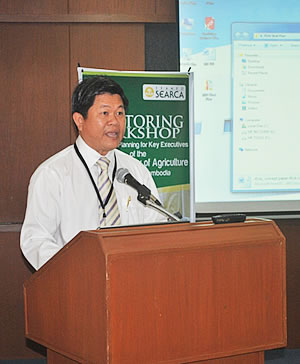 Dr. Ngo Bunthan, RUA Rector, thanks SEARCA for its institutional development support to his university.The mentoring workshop was the next step in the SEARCA Institutional Development Assistance to RUA. The initial step was a reconnaissance visit to RUA in March 2012 led by Dr. Gil C. Saguiguit, Jr., SEARCA Director,where SEARCA saw a need for long-term adjustments and restructuring of the RUA curriculum to make it responsive to the development needs of Cambodia's agriculture sector.
The mentoring workshop aimed to guide the participants in conducting a strategic planning exercise involving key RUA executives and constituents that would enable them to produce a strategic plan and undertake curriculum development.
Dr. Federico M. Macaranas, Professor at the Asian Institute of Management (AIM), served as the lead resource person and facilitator of the mentoring workshop. Technical assistance was provided by Dr. Luis Rey I. Velasco, Senior Fellow and Institutional Development Consultant of SEARCA and former Chancellor of the University of the Philippines Los Baños (UPLB).
At the end of the workshop, Dr. Saguiguit said that SEARCA and the resource persons will await the participants' additional inputs necessary in crafting the outline of the strategic plan.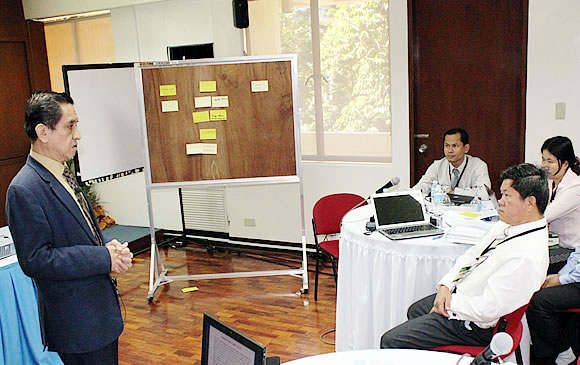 Dr. Federico M. Macaranas (standing), AIM Professor, recaps what has been discussed in the first two days of the mentoring workshop.To flesh out the plan, RUA will conduct a strategic planning exercise that will involve all key RUA officials and constituents. Dr. Bunthan said that once they complete RUA's strategic plan, it will bepresented to the Cambodian Minister of Agriculture, Forestry, and Fisheries for his endorsement.
Dr. Saguiguit said that as RUA goes through the said process, the university may also take advantage of opportunities provided by SEARCA's regular programs. He said the Center will allocate graduate scholarship slots specifically for RUA faculty and staff. He added that they are also welcome to participate in SEARCA's training courses that are in line with their plan to build the university's capacity.
SEARCA's assistance to RUA is part of the Center's efforts to focus its capacity building and institution development programs on the needs of strategic agricultural universities in member-countries of the Southeast Asian Ministers of Education Organization (SEAMEO). Similar initiatives involving Savannakhet University in Lao PDR and Yezin Agricultural University in Myanmar are also underway.