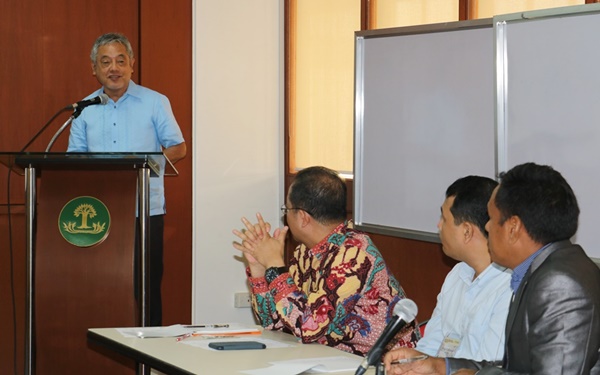 SEARCA has been awarding MS and PhD scholarships to Southeast Asian nationals since 1968 and has more than 1,300 alumni spread in the 11-member countries of the Southeast Asian Ministers of Education Organization (SEAMEO). Many of these alumni have occupied positions of influence in their respective institutions and countries, as university deans, presidents, and state ministers. In his inspirational message during the opening program, Dr. Gil C. Saguiguit, Jr., SEARCA Director, said that the Center views "the RSAA is a valuable pool of human resources, whom we can call on to support us in our development agenda in the individual countries and the region we mutually serve. You (the alumni) are, therefore, our best resource and partners especially in areas in this part of the world, where SEARCA's limited capacities and resources can no longer reach."
The 2-day workshop identified priority areas for collaborative projects in research and capacity building activities including exchange of human resources to serve as resource persons or visiting professors, development of online platform for publications, strategies for engaging the youth in agriculture, utilization of modern technologies to enhance agriculture production, and contributing to SEARCA's AgriMuseum project. The RSAA is expected to draw up the detailed proposals for each of these projects by next month, with specific individuals or country association assigned to lead in specific tasks.
The RSAA, formerly called the Regional SEARCA Fellows Association, was organized in 1992 to lead in regionalized and integrated efforts of the alumni towards addressing the priority concerns of the region; facilitate the development of linkages among in-country associations of SEARCA Alumni; and foster collaborative research and development efforts in the region.
SEARCA is a strategic partner of the FSC, one of five EXCEED Centers funded by the Federal Ministry of Economic Cooperation and Development (BMZ) of Germany through the German Academic Exchange Service (DAAD).