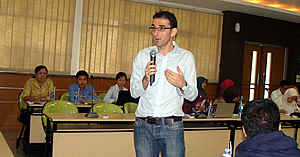 The said knowledge and learning event is a cooperative undertaking among three sister Centers under the Southeast Asian Ministers of Education Organization (SEAMEO), in the same spirit of regional cooperation of ASEAN, as it tries to support our moving towards One ASEAN Economic Community, said Dr. Gil C. Saguiguit, Jr., Director of the Southeast Asian Regional Center for Graduate Study and Research in Agriculture (SEARCA), in his opening remarks read by Dr. Maria Celeste H. Cadiz, Program Head of SEARCA's Knowledge Management Department. The two other SEAMEO Centers partnering with SEARCA are the Regional Center for Tropical Biology (BIOTROP) and SEAMEO Regional Center for Food and Nutrition (RECFON).
Dr. Bambang Purwantara, Director of BIOTROP, said in his welcome remarks that increased regulatory cooperation and convergence within ASEAN is essential, along with strong governance structures to enforce food standards consistently, fairly, and predictably. Dr. Drupadi Dillon, Director of SEAMEO RECFON, added that regional centers and members of the ASEAN community are challenged with the need for a regional food safety regulatory framework in the face of divergent capacity among member states in promoting and controlling compliance with food safety standards and regulations.
The five-day seminar-workshop is designed for participants from government agencies involved in formulating food safety policies, standards, and regulatory procedures; including those from food industries (production/manufacturing), consumer groups, and the academe. It aims to enable them to: (1) demonstrate an enhanced appreciation of the underlying principles in the liberalization of and specific arrangements/agreements in food trade; (2) identify capacity- and institution-building programs essential to managing and controlling compliance with voluntary and mandatory food safety standards and regulations; and (3) identify regional, national, and sectoral bodies and agencies engaged in food safety programs and formulate mechanisms for effective networking with and among these organizations.
Participants of the seminar-workshop come from Brunei Darussalam, Cambodia, Indonesia, Malaysia, the Philippines, and Thailand.
Led by Dr. Maria Concepcion C. Lizada, Professor Emeritus at the University of the Philippines and Senior Fellow at SEARCA, resource persons include a total of 21 food safety regulators and experts from Thailand's and Indonesia's ministries of agriculture and health, universities in Vietnam and Indonesia, and private sector leaders in the region and in Indonesia. Knowledge partners include the French Agricultural Research Centre for International Development (CIRAD); Food Industry Asia (FIA) and ASEAN Food and Beverage Alliance (AFBA); and the Indonesian Food and Beverage Alliance (GAPPMI).