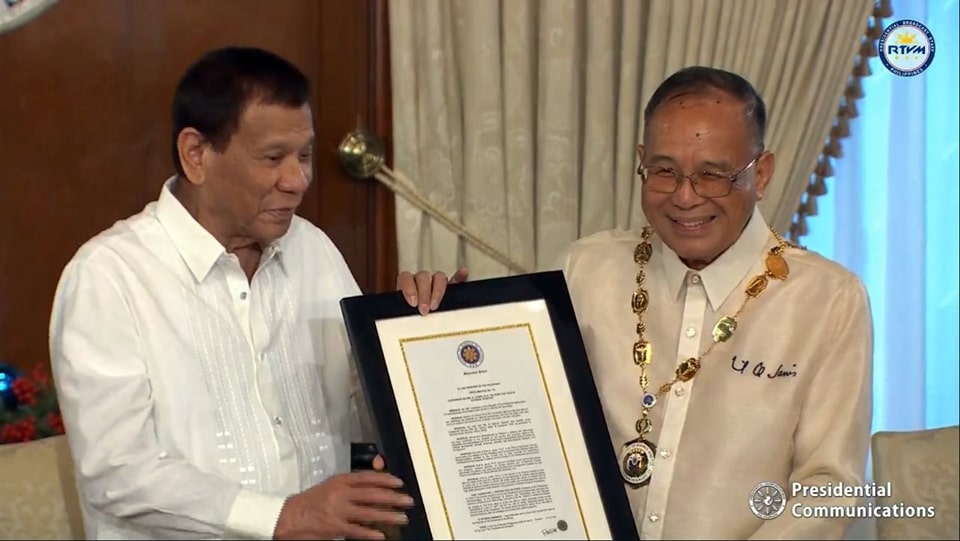 President Rodrigo Roa Duterte formally conferred the Rank and Order of National Scientist to Dr. Emil Q. Javier. The Order of National Scientist is the highest honor conferred by the President to a Filipino with outstanding achievements in science and technology.
President Rodrigo Roa Duterte formally presented the Rank and Order of National Scientist to Dr. Emil Q. Javier, former SEARCA Director and advocate of agricultural modernization in a ceremony held on January 7 at Malacañang Palace.
Last August, the president released Proclamation 781 which recognizes Dr. Javier's outstanding work in the field of agriculture and his contributions to the progress of science and technology in the Philippines and the world. It also highlighted Dr. Javier's commitment to address the needs of the poor through modern science, as well as the active role he is playing in informing the public about how science can be used to improve access to food and health, and in ensuring high safety standards in research and production of biotechnological innovations.
In his speech, Dr. Javier shared his great joy for the honor but said that it is mixed with pain and embarrassment of not having done enough. He said, "Mr. President, the joy is diminished by the painful reality that our farmers and fisherfolk remain impoverished and food insecure." However, he also said that the government's current initiatives for the agricultural sector is giving hope that change is indeed coming, and that agriculture will finally receive the attention it deserves.
In the end, Dr. Javier called for tough political decisions and a more unified action for agriculture. "We have the technology and expertise to move agriculture forward. We can do much better if only we can put our act together." he said.
Dr. Javier is currently the Chair of the Coalition for Agriculture Modernization in the Philippines (CAMP) and is an advocate of using modern biotechnology for the benefit of the society. Together with SEARCA Biotechnology Information Center, he authored policy briefs about the broad scientific consensus on safety of GMO technology and on the benefits of the CRISPR-Cas9 System.