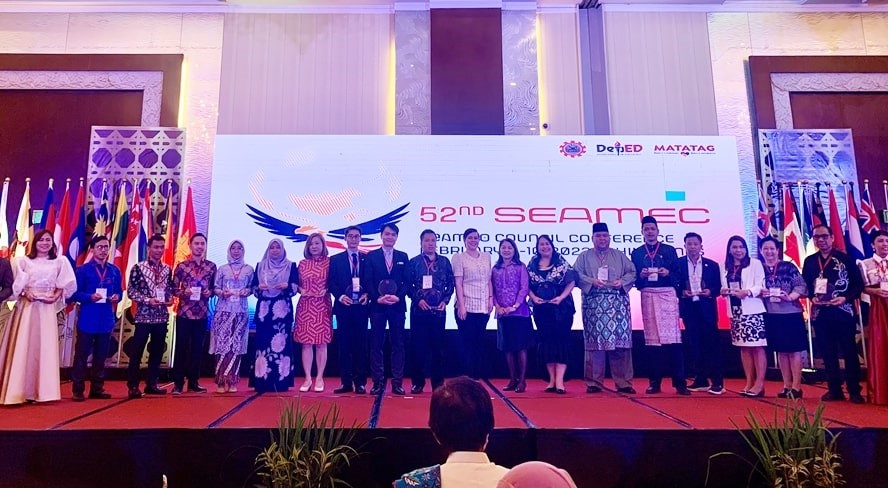 The Philippines, through the Department of Education (DepEd), hosted the 52nd Southeast Asian Ministers of Education Organization (SEAMEO) Council Conference on 8-9 February 2023 at EDSA Shangrila Plaza. Led by DepEd, the conference saw the turnover of the SEAMEO Council (SEAMEC) Presidency from Singapore to the Philippines, with Her Excellency Vice President and Secretary of DepEd Sara Z. Duterte assuming the presidency.
The Southeast Asian Ministers of Education Organization (SEAMEO) is the mother organization of the Southeast Asian Regional Center for Graduate Study and Research in Agriculture (SEARCA).
The SEAMEO SEARCA delegation was led by Dr. Glenn Gregorio, SEARCA Director. With him were Dr. Nur Azura Adam, Deputy Director for Programs; Assoc. Prof. Joselito Florendo, Deputy Director for Administration; Dr. Gerlie Tatlonghari, Program Head, Research and Thought Leadership Department; Dr. Nova Ramos, Head, Training for Development Unit; Ms. Sharon A. Malaiba, Head, Partnerships Unit; Mr. Jaymark Warren Dia, Head, Management Information Systems Unit; Mr. Michael Salas, Head, Facilities Management Unit; Ms. Beatrisa L. Martinez, Executive Coordinator, Office of the Director; Ms. Lichelle Dara Carlos, Program Specialist, Emerging Innovation for Growth Department; Ms. Arlene Nadres of the Applied Knowledge Resources Unit, and SEARCA's 2022/2023 SEAMEO Service Awardee, Ms. Leah Lyn Domingo, Public Relations Specialist.
During her speech, H. E. Duterte shared that the DepEd recently launched the Matatag Agenda. The Matatag Agenda focuses on the Philippine government's commitment to learners and Filipinos in improving the education sector, and it will act as a roadmap in developing and preparing initiatives to support the Southeast Asian education sector and the 7 Priority Areas of SEAMEO from 2023 to 2025.
She further stressed that under the Matatag Agenda are four key agenda: 1. making the curriculum relevant to produce job ready, active, and responsible citizens; 2. taking steps to accelerate the delivery of basic education facilities and provision of service; 3. taking good care of learners by promoting learner well-being, inclusive education, and a positive learning environment, and 4. giving support to teachers to teach better.
H. E. Duterte stated that, "The Philippine government under the leadership of President Ferdinand Marcos, Jr. has committed to the Matatag Agenda and has made a national commitment to increase the investments in the education. The president has emphasized that we cannot fail our children. We need to help them so that they become great."
The SEAMEC Conference was attended by Ministers of Education of SEAMEO member countries, representatives of SEAMEO Centers, SEAMEO Associate Member Countries as well as SEAMEO affiliate members and partners.
The highlight of the event was the conferment of the prestigious SEAMEO Service Award. Twenty-six recipients from various SEAMEO Centers were honored during the dinner party hosted by H. E. Duterte.