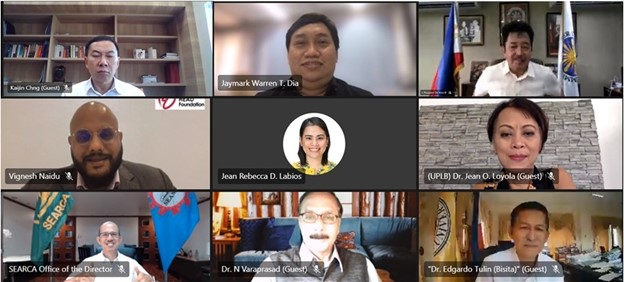 LOS BAÑOS, LAGUNA, Philippines – Higher education institutions (HEIs) in the Philippines take on the challenge to enhance their relevance and competitiveness in the 21st century as they participate in UP YOUR GAME: Leadership Development Program for HEIs in the Philippines. The two-and-a-half-month online program, led by the Southeast Asian Regional Center for Graduate Study and Research in Agriculture (SEARCA) in partnership with The HEAD Foundation (THF) in Singapore, opened on 21 April 2021 and will run until 7 June 2021.
The program challenges the participating higher education leaders to level up in the key areas of leadership, graduate preparedness, technology, and faculty readiness to face the growing number of challenges of HEIs. Among these challenges are massification, diversification, internationalization, and marketization of higher education.
As an ASEAN member state, the Philippines needs to keep in step with the ASEAN International Mobility for Students (AIMS) initiative, gain recognition through the ASEAN University Rankings system, and prepare themselves for the unique local and regional challenges that come with the ASEAN Economic Community (AEC) agenda.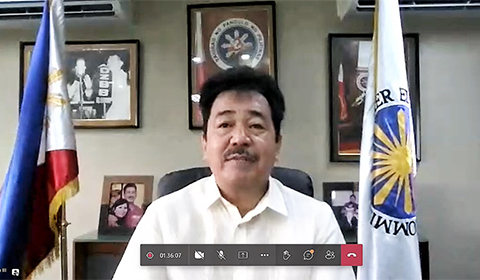 Dr. J. Prospero de Vera III, Chairperson, Philippine Commission on Higher Education"Education plays a vital part in a country's competitive edge," said Dr. J. Prospero de Vera III, Chairperson of the Philippine Commission on Higher Education (CHED). "Regardless of differences across the globe, education continues to be a very important and long-term intervention in ensuring sustainable development. It is not only a public good, but also a strategy for social cohesiveness."
Dr. de Vera commended SEARCA for continuing its mandate to provide capacity and institutional strengthening, which CHED also promotes. He expressed his hope that the program "will be filled with interesting discussions, thought-provoking questions, and innovative ideas as we plan to make our instruction, extension, research and administration accessible to all and deliver in ways that encourage our stakeholders to develop higher order thinking, work in cross-cultural contexts, come up with innovative solutions to changing problems, use technology to work together effectively, and become more responsible Filipinos and ASEAN citizens."
In support to capacitating HEIs, "SEARCA believes that we can provide great opportunities and enabling environment for our HEIs where learning can serve as a safe space for fresh and crazy ideas, strategic outcomes, and critical perspectives from different institutions," added the SEARCA Director, Dr. Glenn Gregorio.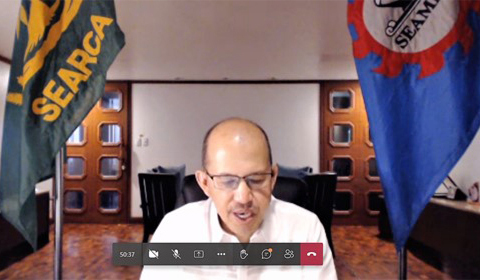 Dr. Glenn B. Gregorio, SEARCA DirectorUP YOUR GAME is the third installment of SEARCA's and THF's initiative Leadership Development Program for HEIs in Southeast Asia. This program aims to equip Southeast Asian HEI leaders with the relevant skills and knowledge to effectively lead thriving and resilient universities in the region. In its two runs in January 2019 and January 2020, the program has so far enhanced the capacities of 36 higher education leaders from eight Southeast Asian countries.
The 29 higher education leaders who are set to attend discussions and workshops and complete the program's modules represent 11 HEIs from the State Universities and Colleges-Association of Colleges of Agriculture in the Philippines (SUC-ACAP). These HEIs include Cagayan State University, Capiz State University, Cavite State University, Cebu Technological University, Central Luzon State University, Central Mindanao University, Central Philippines State University, Nueva Ecija University of Science and Technology, University of Eastern Philippines, University of the Philippines Los Baños, and Visayas State University.
The program also includes coaching calls to discuss the progress and challenges that participants will encounter in implementing their re-entry action plans from 28 June to 16 July 2021.
"We hope that through this program and discussions between the trainers, participants, and guest speakers, it will inspire the participant to think about new ways to envision their institutions," said Mr. Vignesh Naidu, THF Director for Operations.
Dr. Natarajan Varaprasad, Program Director from THF, enjoined the university leaders to engage in the program's peer learning process. "Leadership in the future is about supporting bottom-up initiatives. Therefore, through a process of peer learning for each of the modules, everyone can come into conclusions about the way forward."