Recognizing that climate change knows no boundaries and that sharing knowledge, experiences and resources is one of the strategies to address climate change risks in agriculture, the DA officials and staff with the Mayor of Miag-ao, Iloilo observed how climate-smart agriculture (CSA) technologies and practices are integrated into the farmers' over-all management strategy to enhance their adaptive capacity and build resilience in the face of climate change. Their visit is part of the Overseas Study Mission on Climate Change Adaptation and Mitigation (CCAM) Initiatives in Agriculture in Vietnam that the Southeast Asian Regional Center for Graduate Study and Research in Agriculture (SEARCA) organized in collaboration with the International Center for Tropical Agriculture (CIAT) Regional Office for Asia based in Hanoi. CIAT is also the lead center for the Consultative Group on International Agricultural Research (CGIAR) Research Program on Climate Change, Agriculture and Food Security (CCAFS). The study mission aims to enhance the managerial and technical capacity of the DA Adaptation and Mitigation Initiatives in Agriculture (DA AMIA) program and is part of the component on Capacity Building of the DA Project on Strengthening Implementation of AMIA, being implemented in partnership with SEARCA.
The Study Mission Team visited CIAT's demonstration and project sites where CSA practices and technologies are being tested and validated. The various science-based information and tools, policies and mechanisms for upscaling and outscaling of the technologies were discussed during the field visits.
The study mission provided an avenue to facilitate technology transfer and technical knowledge exchange on CSA and strengthen partnerships and collaboration among various institutions working on climate change.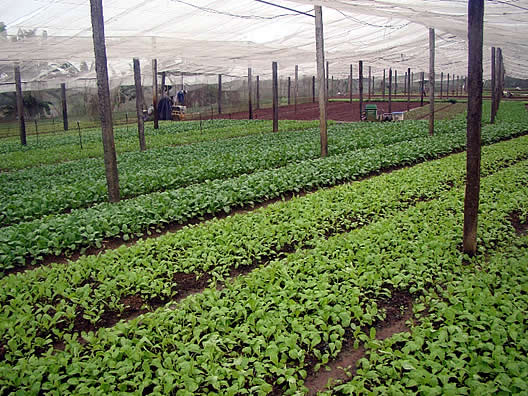 In Hanoi, the group visited the "Safe Vegetable Production" in Hoai Duc, Hanoi, a project that demonstrates innovative and sustainable farming technologies to produce vegetables that satisfy the VietGAP (Vietnam Good Agricultural Practices) protocols and also meet the demand for food safety in vegetables and other high value crops. The project is being implemented by Syngenta Foundation for Sustainable Agriculture, a non-profit organization that helps farming communities increase their income by providing tools and technologies that make agriculture more productive, efficient and profitable in the midst of a changing climate.
In Yen Bai Province, Northern Vietnam, the Study Mission Team visited the Climate Smart Village (CSV) of Ma, one of the three CSVs in Vietnam. According to Dr. Bui Le Vinh, Systems and Landscape Specialist-CIAT, the CSV approach is a collaborative undertaking among CIAT, the farmers and rural communities, the local government, and other international research and development organizations whereby CSA technologies, interventions and practices become integrated in the farmers' overall management strategy to enhance the adaptive capacity of farmers, including women, ensure food security, and build resilience to climate risks and variability and extreme weather events. CSA practices and interventions that are being pilot tested in Ma Village include: 1) Cassava-based integrated crop systems; 2) Cassava and tree plantations; 3) Fish farming; 4) Integrated landscape; 5) Climate-smart systems in paddy fields; 6) Cassava-grass forage strips; and 7) Cut-and-carry forage systems.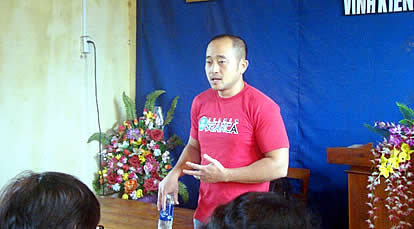 The group also met with Mr. Dang Duy Hien, Director of the Bac Hung Hai Irrigation Management Company located in Hai Duong Province. Bac Hung Hai is reportedly the oldest and the largest irrigation and drainage system in the heart of Red-Thai Binh River Basin and supplying 76% of water for agriculture, industrial and residential purposes. Mr. Hien demonstrated the use an automated irrigation monitoring system to better manage water distribution and operations of the irrigation system by providing measurements of water level or flow in real time and accessible through the web.
A CIAT team of researchers and scientists composed of Ms. Nora Rebecca Guerten, Mr. Louis Parker, Dr. Vinh and Dr. Kris Wyckhuys presented their respective on-going and completed research studies as well as science-based technologies and decision support tools that revolve around CIAT's priority theme on integrated farming systems and resilient agricultural landscapes.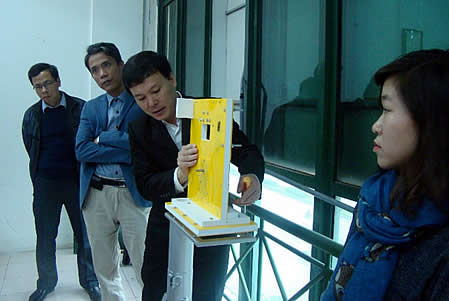 The Knowledge Management Department Training-Unit (KMD-TU)at SEARCA organized the Overseas Study Mission on CCAM in Agriculture in Vietnam with the Project Development and Technical Services (PDTS) and DA's System-wide Climate Change Office. Ms. Rosario B. Bantayan, Program Specialist, KMD-TU served as Overseas Training Facilitator cum Coordinator while Ms. Guerten served as the Local Coordinator in Hanoi. They were ably assisted by Ms. Imelda L. Batangantang, Program Associate, PDTS. (Rosario B. Bantayan)