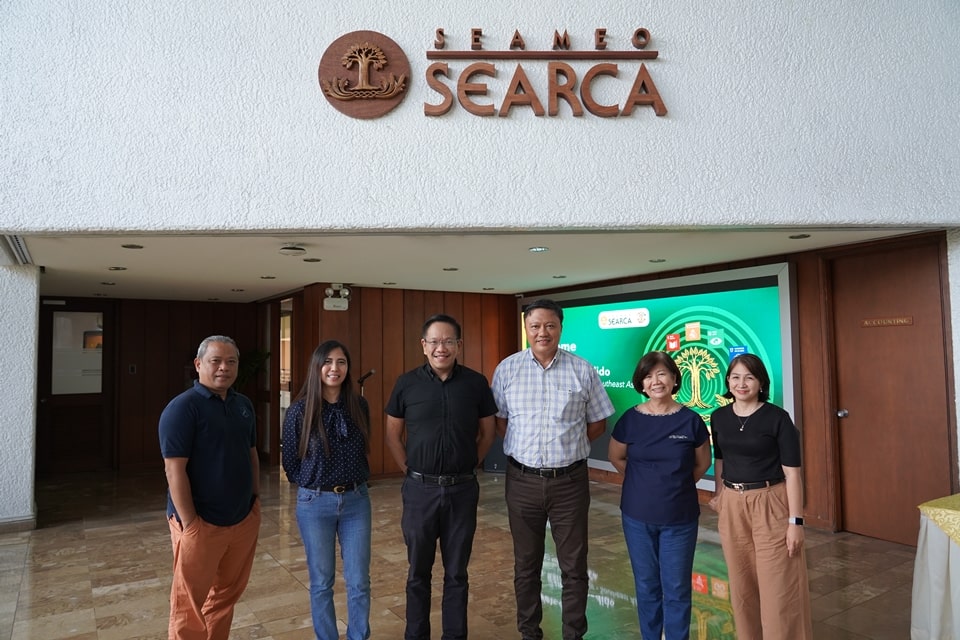 The SEARCA team led by Assoc. Prof. Joselito G. Florendo (third from left) welcomed Mr. Ramon Espedido (third from right), PEZA Investment and Promotion Partner.
Mr. Ramon Espedido, PEZA Investment and Promotion Partner, visited the Southeast Asian Regional Center for Graduate Study and Research in Agriculture (SEARCA) on 4 November 2022 to explore potential collaborations on agricultural projects in the Visayas region.
During the exploratory visit, Ms. Sharon A. Malaiba, Head, Partnerships Unit, briefed Mr. Espedido on SEARCA's activities and programs under its 11th Five-Year Plan, focused on Accelerating Transformation Through Agricultural Innovation (ATTAIN). He also toured SEARCA Hub for Agriculture and Rural Innovation for the Next Generation (SHARING) facilities, and was apprised of the Center's work on agricultural innovations and solutions.
As PEZA Investment and Promotion Partner, Mr. Espedido is tasked to assist in the development of barren lands into agri-industrial zones, particularly in Negros. It is also his advocacy to educate young landowners in the province to adopt agricultural innovation and advocate for agri-industrial zone. "There is a need to educate younger generations of landowners in agri-technologies so when the development of economic zones happens, they are ready," said Mr. Espedido.
Ms. Corinta C. Guerta, Technical Adviser to the Director, elucidated, "Partnerships with industry on agri-industrial innovation is one of the key proprieties of SEARCA's ATTAIN plan."
Asst. Prof. Glenn N. Baticados, Program Head, Emerging Innovation for Growth Department, said that possible collaborations between SEARCA and PEZA include capacity-building, research, and the creation of agricultural roadmap.
Mr. Espedido is also an active member of the Agriculture Committee of the Israel Chamber of Commerce of the Philippines (ICCP).
He was received by Assoc. Prof. Joselito G. Florendo, SEARCA Deputy Director for Administration; Ms. Guerta; Dr. Gerlie T. Tatlonghari, Program Head, Research and Thought Leadership Department; Asst. Prof. Baticados, and Ms. Malaiba.