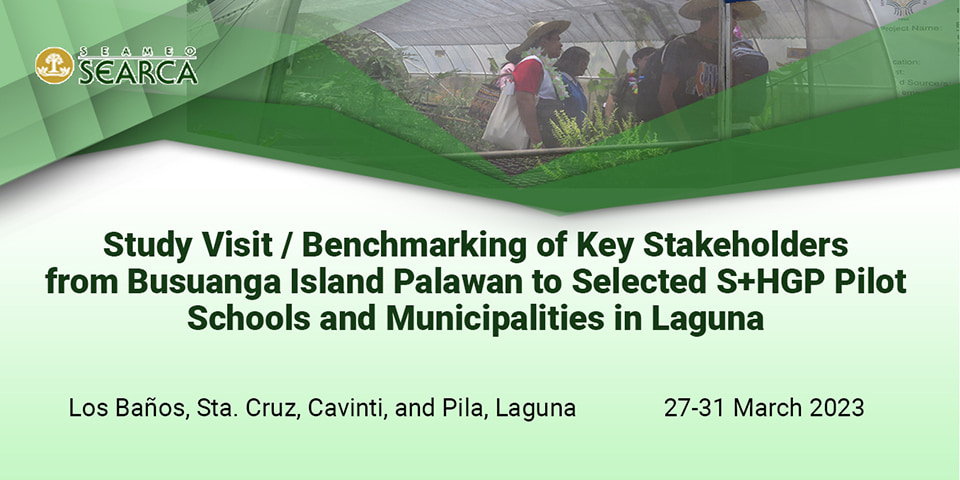 LAGUNA, Philippines. Recognizing the need for a sustainable program to foster strong partnership among various stakeholders and develop policies that will sustain school and community gardens' initiatives (also known as School-Plus-Home Garden Program (S+HGP), the Southeast Asian Regional Center for Graduate Study and Research in Agriculture (SEARCA) will organize a weeklong study visit and benchmarking activity for the key stakeholders of Busuanga Island, Palawan from 27 to 31 March 2023.
The study visit and benchmarking activity aims to provide technical assistance to key partners from the Department of Education - Division of Palawan (DepEd Palawan), and LGUs from Busuanga and Coron, Palawan on policy development that will contribute to the sustainability of SEARCA's S+HGP. Specifically, it aims to share lessons learned and experiences among key stakeholders from Laguna pilot schools and municipalities in implementing S+HGP as an intervention that complements with Deped programs on school-based feeding and school vegetable gardening. The event targets to recommend strategic parameters in crafting local ordinances and budget allocations for S+HGP in their respective localities.
This event will gather together DepEd Palawan, principals and school heads from S+HGP partner schools in Busuanga, Coron Inland, and Coron Coastal districts, and key officers from Sangguniang Bayan Committees on Education and Agriculture of LGUs of Busuanga and Coron, Palawan to learn the best practices from S+HGP partner schools and municipalities in Sta. Cruz, Pila, and Cavinti, Laguna. It will also feature key agricultural technologies that are essential in establishing school gardens as experiential learning laboratories. These include briefing and tour around the Edible Landscaping Demonstration Garden and the Organic Agriculture Research and Development Center of the University of the Philippines Los Baños (UPLB).
Through this benchmarking initiative, SEARCA aims to strengthen and sustain the S+HGP programs in schools and communities of Laguna and Palawan that will serve as models for scaling out the program to other localities in the Philippines and other countries in Southeast Asia