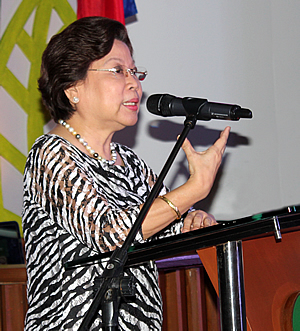 The awards were presented at the Southeast Asian Regional Center for Graduate Study and Research in Agriculture (SEARCA). Dr. Virginia R. Cardenas, SEARCA Deputy Director for Administration, welcomed the guests on behalf of Dr. Gil C. Saguiguit, Jr., SEARCA Director, and reiterated the Center's pride in being the home of the annual R&D Awarding and Closing Ceremonies of the Los Baños Science Community's (LBSC) celebration of the National Science and Technology Week called Syensaya.
Syensaya is a flagship program of the LBSC Foundation Inc. (LBSCFI), which comprises 22 members that include academic institutions, government agencies and units, private entities, and international organizations, including SEARCA.
New Organic Varieties
The project titled Variety Evaluation, On-farm Trials and Seed Production of Organic Vegetables in Southern Luzon by Dr. Rodel G. Maghirang, University Researcher at the University of the Philippines Los Baños-Institute of Plant Breeding (UPLB-IPB) and his team won in the research category.
The pioneering project on organic vegetable breeding started in 2010 with funding from the Philippine Council for Agriculture, Aquatic and Natural Resources Research and Development (PCAARRD). Tasked to develop vegetable varieties that will perform well under organic conditions and yield the same or more than commercial varieties, the project produced potential varieties of pole sitao, cucumber, lettuce, squash, tomato, and eggplant.

The pole sitao lines showed resistance or tolerance to waterlogging, drought, and bean rust. The cucumber selections are tolerant to downy mildew and are adaptable to various climatic conditions. The looseleaf and romaine lettuce lines can grow in low elevation year-round. The squash selections had varied size and shape which are sticky when cooked. The tomato selections can grow in varying climatic conditions and showed tolerance to waterlogging and leaf curl virus. The eggplant lines are early flowering and moderately resistant to dry rot and hopper burn.
"Yield and overall performance of the developed varieties were observed to be at par or greater than the yield performance of commercial ones if grown under low input organic system. These organic varieties show promise to answer diversity, sustainability, and efficiency in crop production," Dr. Maghirang said.
More Seeds, More Organic Farmers
The R&D Award for the development category went to the project titled Development of Organic Seed Production System of Lowland Vegetables and Legumes at the Bureau of Plant Industry-Los Baños National Crop Research, Development, and Production Support Center (BPI-LBNCRDPSC) and Strengthening Partnership in CALABARZON, MIMAROPA and Bicol Region implemented by Dr. Herminigilda A. Gabertan and her team at BPI-LBNCRDC.
The project devoted three hectares to production of organic seeds of bitter gourd, bottle gourd, cowpea, cucumber, eggplant, mungbean, mustard, okra, pole sitao, soybean, sponge gourd, and tomato.
Moreover, the project partnered with organic farmers in the CALABARZON, MIMAROPA, and Bicol regions of the Philippines, providing on-site training on organic vegetable and seed production that benefitted 1,700 farmers. Technical assistance and initial farm inputs were also given to encourage more farmers to practice organic farming.
In June 2013, the Center was awarded the "Organic in Transition" seal by Organic Certification Center of the Philippines (OCCP), making it the first government agency in the country to gain such certification.
Nurturing Young Scientists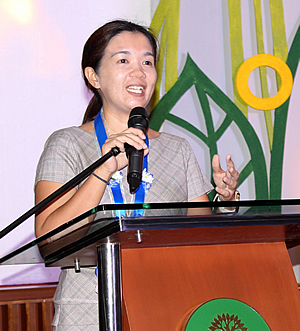 The awarding ceremonies was keynoted by Dr. Aimee Lynn Barrion-Dupo, Professor 3 and UP Scientist 1 at the UPLB Institute of Biological Sciences and a prolific researcher on the taxonomy and ecology of moths, spiders, and bees who had been credited for discovering more than 50 new species of insects and spiders.
Dr. Barrion-Dupo recalled the African proverb "It takes a village to raise a child," saying it is often quoted perhaps to emphasize the role of family, school, and peers in molding young minds. Recently conferred the 2015 Outstanding Young Scientist Award by the National Academy of Science and Technology (NAST), Dr. Barrion-Dupo credited the "science village" that is LBSC for providing a nurturing environment for shaping the minds of scientists like her.
"Today I set aside humility to say that I am the proud product of this 'village'—this science community," Dr. Barrion-Dupo avowed.
Her message had strongly resonated with the theme of this year's Syensaya celebration —"Syensaya at Kabataan: #WOW TLG." TLG stands for "Technology Leads to Globalization." She said the annual Wonderama exhibit of Syensaya "shows how dynamic scientists in this community are," with each member agency trying its best to "communicate science to a blooming population of young scientists."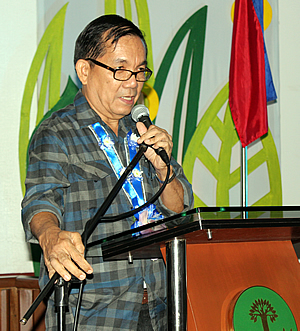 This was affirmed by Dr. Casiano S. Abrigo Jr., LBSCFI President, who said "one of the goals of this science community is to encourage the youth to consider agricultural science and technology to be their field of study and career" as he closed the three-day science festival. (Leah Lyn D. Domingo)