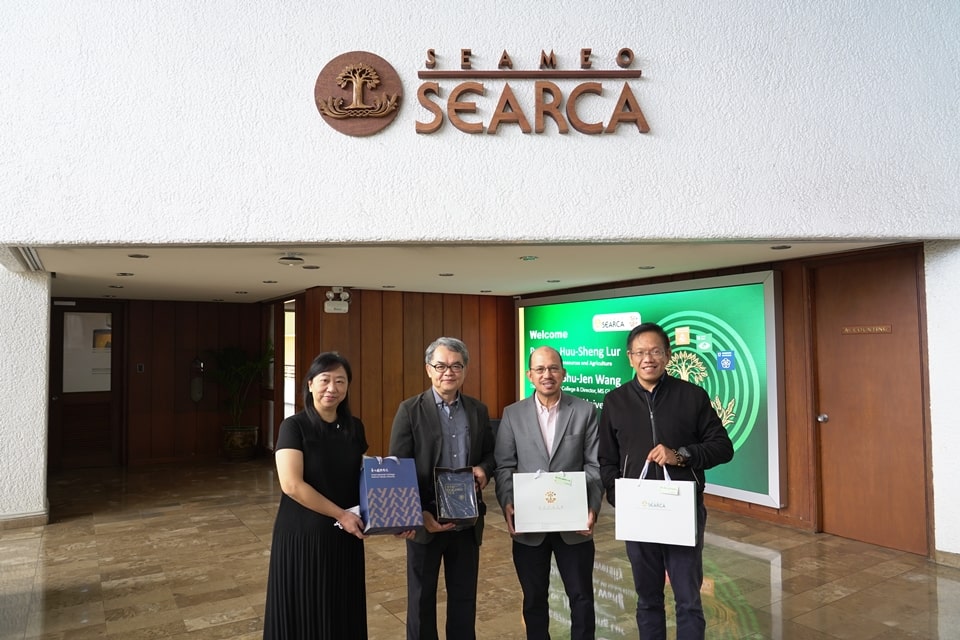 Dr. Glenn Gregorio (second from right), SEARCA Director, Assoc. Prof. Joselito Florendo (rightmost), SEARCA Deputy Director for Administration, with Prof. Dr. Huu-Sheng Lur (second from left), NTU-CBA Dean, and Dr. Shu-Jen Wang (leftmost), NTU-IC Dean and Director of Master of Science in Global Agriculture Technology and Genomic Science (Global ATGS).
The National Taiwan University (NTU), a member of the Southeast Asian University Consortium for Graduate Education in Agriculture and Natural Resources (UC), visited the Southeast Asian Regional Center for Graduate Study and Research in Agriculture (SEARCA) on 6 January 2023.
The NTU-College of Bioresources and Agriculture (CBA) contingent was led by its Dean, Prof. Dr. Huu-Sheng Lur, while the NTU-International College (IC) contingent was led by its Dean and Director of Master of Science in Global Agriculture Technology and Genomic Science (Global ATGS), Dr. Shu-Jen Wang.

Dr. Je-Ruei Liu, Associate Dean and Professor, NTU-Institute of Biotechnology, presented the Bachelor Program of Biotechnology and Food Nutrition, the newest addition among their undergraduate offerings. The program, designed for international students, systematically integrates professional modules on plant and microbial technology, animal and cell technology, food nutrition, and food processing. More so, the whole program is taught in English.
Dr. Liu encouraged SEARCA to join NTU-CBA's 2023 Biodiversity, Agriculture & Culture of Taiwan (BACT) Program, a short-term course to learn about Taiwan's rural society, friendly agriculture, agricultural innovation strategy, big data applications on agriculture, biodiversity of coral reefs, among others.
Dr. Wang shared that NTU-IC was founded in 2021 as a milestone in the globalization efforts of the national university to contribute to the United Nations (UN) Sustainable Development Goals (SDGs) and to weave various academic and professional disciplines of NTU.
At present, there are four interdisciplinary master's degree programs offered by the college namely, the Master Program of Biodiversity (MPB), Master Program of Smart Medicine and Health Informatics (Smart MHI), Master Program of Disaster Risk Reduction and Resilience (MDR3), and the Global ATGS where NTU and SEARCA collaborated to cultivate agricultural professional talents, encourage academic excellence, and promote the research and development of agriculture within Southeast Asia.
For AY 2022/2023, there are nine ongoing Southeast Asian scholars under the NTU-SEARCA Joint Scholarship Program.
The NTU delegation also toured around the SEARCA Hub for Agriculture and Rural Innovation for the Next Generation (SHARING) facilities, the International Rice Research Institute (IRRI), and University of the Philippines Los Baños (UPLB) Technology and One-Stop Shop (THOSS).