Studies on policy and institutional structures, contextualized assessment tools, and stakeholders' preferences around sustainable agriculture and food security concerns are the major themes of the June 2021 issue of the Asian Journal of Agriculture and Development (AJAD).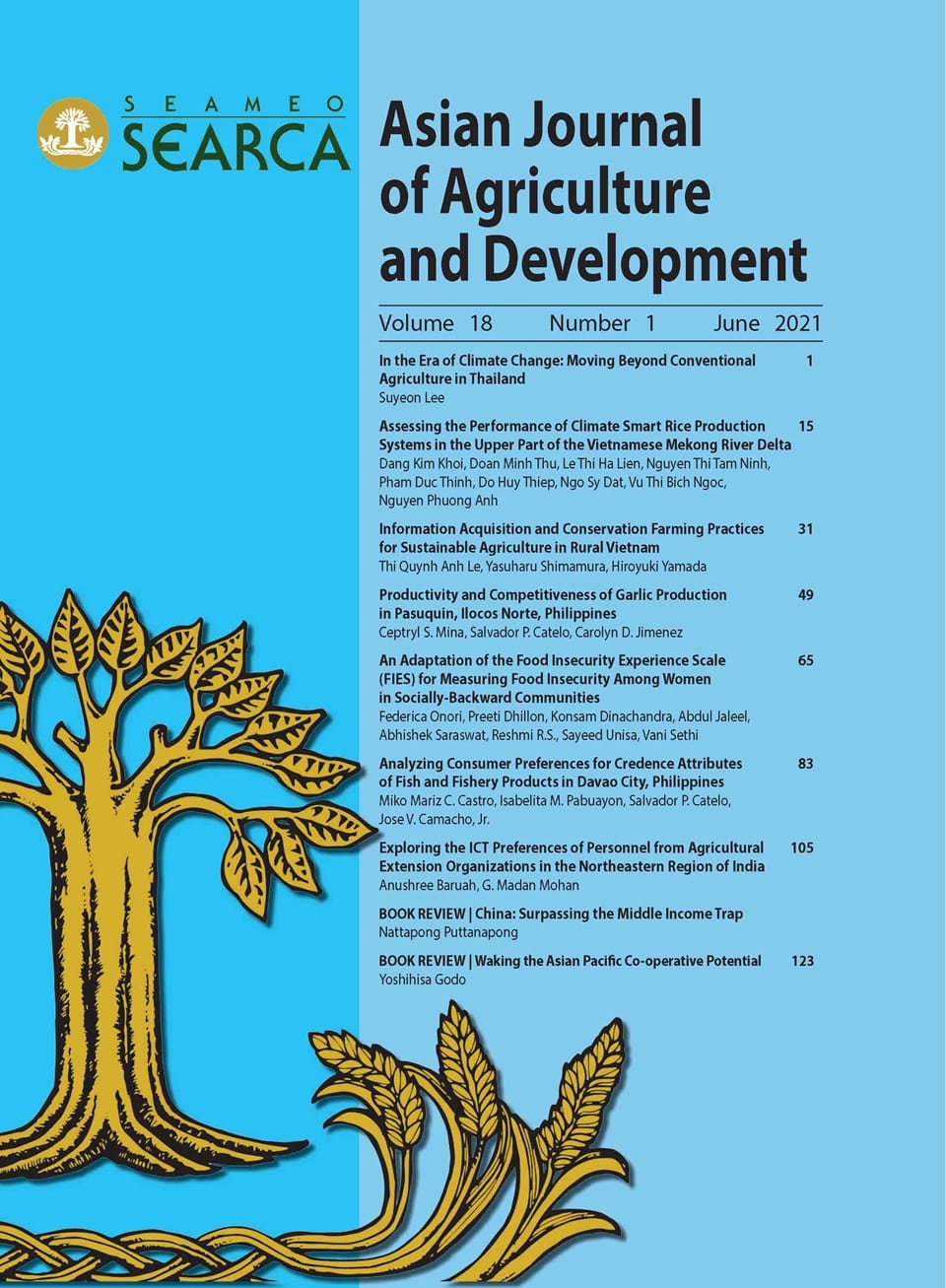 The paper on Thailand's organic agriculture cites the potential of cooperatives in influencing the switch to low-carbon and low-pesticide agriculture. With a review of state policies, the author urges the government for more coherent support through synchronous work with cooperatives and non-government organizations, the main drivers of organic agriculture in Thailand.
A comprehensive set of evaluation indicators to assess climate smart agriculture in Vietnam are proposed in the second research. Based on international tools and approaches customized for the Vietnamese Mekong Delta, the indicators measure food security, adaptation, mitigation, and applicability. Of the five rice-based models tested using the indicators, rice-shrimp and rice-lotus rotations are most profitable, low-risk, and applicable on a larger scale.
An eight-item scale called Food Insecurity Experience Scale was adapted in another study to assess poor communities in India. The scale is a tool used in measuring access to food within the United Nations sustainable development goals. On the other hand, another analysis paper showed the potential of environmental sustainability and food safety attributes in influencing the purchasing decisions of consumers for fish and fish products in southern Philippines.
The productivity and competitiveness of garlic production in a major producer Philippine province is discussed in another paper. Meanwhile, two separate studies about Vietnam and India tackle information acquisition and a more responsive agricultural extension using information and communication technology, respectively.
Two book reviews complete the AJAD 18.1 volume—these are on China: Surpassing the Middle Income Trap (2021) and Waking the Asian Pacific Co-operative Potential (2020).
AJAD is an international refereed journal published by the Southeast Asian Regional Center for Graduate Study and Research in Agriculture (or SEARCA) headquartered in the Philippines.
AJAD provides evidence-based information and analysis on topics within the broad scope of agriculture and development. It publishes articles resulting from empirical, policy-oriented, or institutional development studies, as well as articles of perspectives on agriculture and development, political economy of rural development, and trade issues.
Submissions are welcome all year-round at https://ajad.searca.org/o-submission. All the new and past papers published in AJAD are mainly accessible from https://ajad.searca.org/read-articles and are indexed in the Web of Science Emerging Sources Citation Index and EBSCO, among others. Print copies are also available through subscription.
To be more responsive to the needs of the scholarly community, AJAD recently launched its pre-print page https://ajad.searca.org/read-articles/preprint to disseminate peer-reviewed articles ahead of the full issue publication released in June and December of each year. Digital object identifiers (or doi) have also been incorporated in AJAD issues and articles published since December 2019 for a more convenient and permanent access by the public.
The editorial and advisory board of AJAD includes renowned international experts and is headed by Dr. Cielito F. Habito. He is a professor of economics at the Ateneo de Manila University, Philippines, and the director of the Ateneo Center for Economic Research and Development. Dr. Habito is also a former cabinet member of the Philippine government, having served as Socioeconomic Planning Secretary and Director General of the National Economic and Development Authority.