The national inception workshop served as a venue for participants to (1) gain a good understanding of structural transformation and market integration as these relate to inclusive growth and food security of Vietnam; (2) consult various stakeholders – local representatives of the ASEAN Member States (AMS), civil society and farmer organizations, the private sector, and research and academic institutions – on the implementation of ATMI-ASEAN; (3) identify promising commodities for regional and global value chains; and (4) develop a Country Action Plan towards the achievement of the Program's outcome, which is enhanced capacity of the AMS to identify and design national strategies, policies, programs, and national agrifood value chain investment initiatives that benefit small-scale rural producers (SSRPs).
The two-day workshop was attended by 70 experts, directors, heads and representatives of government agencies, the private sector, local and international development agencies, NGOs, and farmers' organizations, such as the International Cooperation Department, Department of Processing and Trading Agricultural Forestry Aquatic Products and Salt, Department of Planning, Department of Plant Protection, Field Crops Research Institute, and Hanoi Trade Promotion Center for Agriculture from MARD; the Vietnam Institute for Trade, Domestic Market Department, Import-Export Department, and Market Management Department from the Ministry of Industry & Trade; the Agricultural Economic Department, Cooperative Department, and Central Institute for Economic Management of the Ministry of Planning & Investment; and the National Institution of Nutrition of the Ministry of Health.
Representatives from civil society organizations and international organizations also provided their valuable inputs and expertise, such as those coming from Farmers Union, Vietnam Poultry Association, Women's Union, Vietnam Standard and Consumers Association, Action Aids, UN-FAO, Asia Foundation, World Bank, ACIAR, CIRAD, Helvetas, ILRI, and CIAT.
The focus of the national inception workshop was on how to strengthen the current value chains of Vietnam's high-potential products, including but not limited to, livestock, coffee and cash crops, which were presented by Mr. Dang Kim Khoi, Director for Center for Agricultural Policy of IPSARD, Ms. Tran Thi Quynh Chi, Country Manager, the Sustainable Trade Initiative IDH Vietnam, and Mr. Dao The Anh, Deputy General Director, Field Crops Research Institute, respectively. From the grassroots, IFAD project representatives from Ha Giang, Bac Can and Dak Nong provinces presented their insights and lessons drawn from the project sites.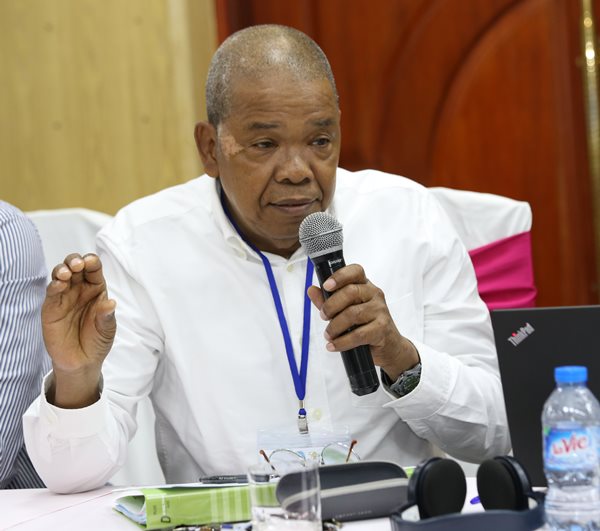 Dr. Tran Cong Thang, Vice Director-General of IPSARD and ATMI-ASEAN focal point for Vietnam, gave a rundown of the agricultural trade situation in the country, then presented the Draft Action Plan for implementing the project in Vietnam. Dr. Dang Kim Son, immediate past director-general of IPSARD, presented the new challenges for food security in Vietnam, and the role of farmer households in addressing these challenges; Mr. Nguyen Thanh Tung of IFAD Vietnam, gave interesting insights and ideas gathered from experiences in the 11 provinces covered by IFAD in Vietnam.
Resource persons from IFPRI, composed of Dr. Babu Suresh (IFPRI Washington, D.C.), Dr. Pramod Kumar Joshi, Dr. Avinash Kishore, and Dr. Devesh Roy. Dr. Parthasarathy Rao Pingali (IFPRI India) presented global challenges and implications for inclusive growth and market integration in the AMS, particularly in Vietnam, as well as definitions, drivers, indicators and key studies of agricultural transformation and market integration.
The inception workshop is part of a series of activities under the ATMI-ASEAN project to tackle agricultural transformation and market integration in Southeast Asia. CLMV countries and the Philippines are the project sites. The SEARCA team for Vietnam included Dr. Bessie M. Burgos and Mr. Henry M. Custodio, Program Head and Program Specialist of the Research and Development Department, respectively, and Mr. Jimmy B. Williams, ATMI-ASEAN Project Support Unit Coordinator. (Henry Custodio and Bernice Anne Darvin)