Dr. Tin Htut asserted this as he opened the five-day Training-Workshop on Developing Fundable Research Project Proposals for Agricultural and Rural Development on 6 November 2017 at the Diamond Jubilee Hall of the Yezin Agricultural University (YAU) here, where 48 officials, faculty, and staff of 10 HEIs and MoALI signed up.
In his impassioned speech, Dr. Tin Htut said that the workshop provides a crucial and rare opportunity for much-needed capacity development and he was glad that YAU has hosted this important learning event. He thanked SEARCA for its never-ending support in building the capacities of Myanmar's human resources. Acquiring the necessary skills for writing fundable research project proposals is very important for HEIs in Myanmar. He urged the participants to extend their efforts in transferring their learning gains from the workshop to the rest of their respective universities and to develop a curriculum on project development and management. He further exhorted the participants that for Myanmar to move ahead, they would need important P's (peace, prosperity, productivity, and profitability, guided by policies, priority, program, project, people/ professionals, partnership, participation, and passion) and D's (dedication, devotion, dexterity, discipline, diplomacy, determination, decision, design, demonstration, devolution, decentralization, discretion, and democratization).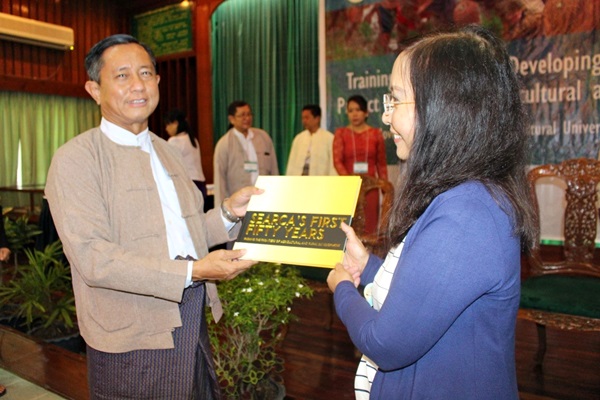 Dr. Gil C. Saguiguit, Jr., SEARCA Director represented by Dr. Maria Celeste H. Cadiz, Program Head for Knowledge Management, said that this training-workshop is part of SEARCA's long-standing commitment to capacity-building in agricultural and rural development (ARD) for the Republic of the Union of Myanmar as a SEAMEO member country. He mentioned Myanmar's citation of SEARCA's "significant contribution and continuous support to sustainable Agriculture Sector Development through Human Resource Development in Myanmar" in its 2015 World Food Day, which according to him is an award that the Center cherishes to this day. Dr. Saguiguit also said that this offering is closely linked to SEARCA's Institutional Development Assistance for the Yezin Agricultural University and that it is part of the offerings of SEARCA's Short Term Training Program under Knowledge Management. The training-workshop has been tailored from what SEARCA has been offering as a regional course according to Myanmar's specific needs, he explained, thanking MoALI and YAU for hosting and co-organizing it.
A highly experience- and practice-based workshop, the learning event led by Prof. Wilfredo B. Carada of the University of the Philippines Los Baños College of Public Affairs and Development (UPLB CPAfD) will keep the participants busy in identifying and analyzing ARD problems; deliberating on objectives, interventions, and prioritizing these; drafting fundable project proposals; and deliberating on actions for their future projects and university research, development, and extension programs for inclusive and sustainable ARD in Myanmar.
Aside from Prof. Carada, the team of resource persons includes Prof. Nelson Jose Vincent B. Querijero, Prof. Rhea L. Gumasing, and Dr. Vella A. Atienza, also of UPLB CPAfD.
Training Management is provided by Ms. Nova A. Ramos, Program Specialist; Ms. Ma. Cristina L. Decena, Program Support Staff; and Dr. Cadiz; with YAU counterparts led by Dr. Tin Tin Aye Professor, Department of International Relationship, and Dr. Su Latt Phyu, Lecturer, Department of Plant Breeding. (Nova A. Ramos)