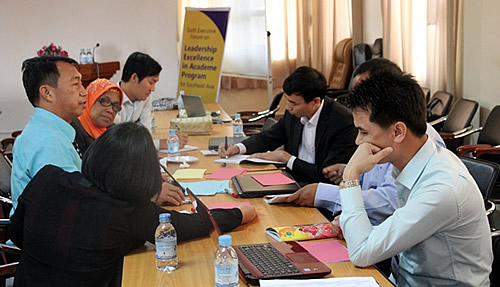 This year's LEAP SEA offering has 19 participants from six SEAMEO member countries, namely: Cambodia, Lao PDR, Myanmar, the Philippines, Timor Leste, and Vietnam. They include a university president; one vice-president, one vice-rector, and one vice-chancellor; two campus administrators; one vice-dean; and 12 heads of programs, departments, or institutes in their respective universities.
Dr. Gil C. Saguiguit, Jr., SEARCA Director, said during his welcome remarks read by his representative Dr. Maria Celeste H. Cadiz that the environment in which higher education institutions operate is dynamic and changes through the years, demanding more effective management strategies from academic administrators. As executives and leaders, LEAP SEA participants are in better position to spur development and influence change in your respective institutions. Through this executive forum, SEARCA hopes to develop a strong cadre of highly competent academic leaders who will promote agricultural education in Southeast Asia, he said through Dr. Cadiz who is Program Head, Knowledge Management Department of SEARCA.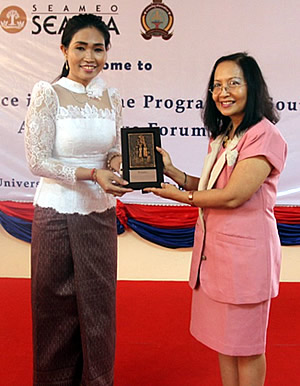 On UBB's part, H.E. Ms. Sieng Emtotim, Rector, said that Cambodia's Minister of Education, Youth and Sports has directed the university to prioritize on the agricultural sector in its programs, which will now transform its Faculty of Agriculture and Food Processing as its flagship faculty.
LEAP SEA aims to provide these academic executives with: 1) new knowledge about leadership and management of higher education, especially those in agriculture, through their interaction with experts and eminent academic leaders; 2) an opportunity to reflect on their common contemporary challenges and suggest appropriate solutions in higher education leadership/management in Southeast Asia; and 3) a chance to write LEAP SEA cases as knowledge and learning resources appropriate for Southeast Asia.
Expected outputs of the forum are as follows: 1) a cadre and network of highly competent academic leaders in Southeast Asia; 2) case stories highlighting reflections and replicable practices on academic leadership in tertiary and postgraduate academic institutions in agriculture, forestry, and environmental studies in the context of Southeast Asian realities and challenges; and 3) a list of potential synergies among such institutions.
Resource persons for this offering of LEAP SEA include H.E. Dr. Touch Visalsok, Undersecretary of State, Cambodia Ministry of Education, Youth and Sports; Prof. Dr. M. Aman Wirakartakusumah, Rector of Universitas Siswa Bangsa Internasional in Indonesia; Dr. Cely S. Binoya, Professor and Dean of Graduate School, Central Bicol State University of Agriculture in the Philippines and President of Asia Pacific Association of Educators in Agriculture and Environment (APEAEN); Dr. Ruperto S. Sangalang, Commissioner of the Philippine Commission on Higher Education (CHED); Prof. Zita Mohd Fahmi, Deputy Chief Executive Officer (Quality Assurance), Malaysian Qualifications Agency; Dr. Philip Charlesworth of the United Cambodia Agri. Dr. Binoya is the Technical Coordinator of the last three offerings of the LEAP SEA Executive Fora.
The opening program of the forum featured a ceremonial giving of institutional gift from SEARCA to UBB, the former represented by Dr. Cadiz, and the latter by H.E. Rector Sieng. The forum will be held until 30 January 2015. (Nova A. Ramos)