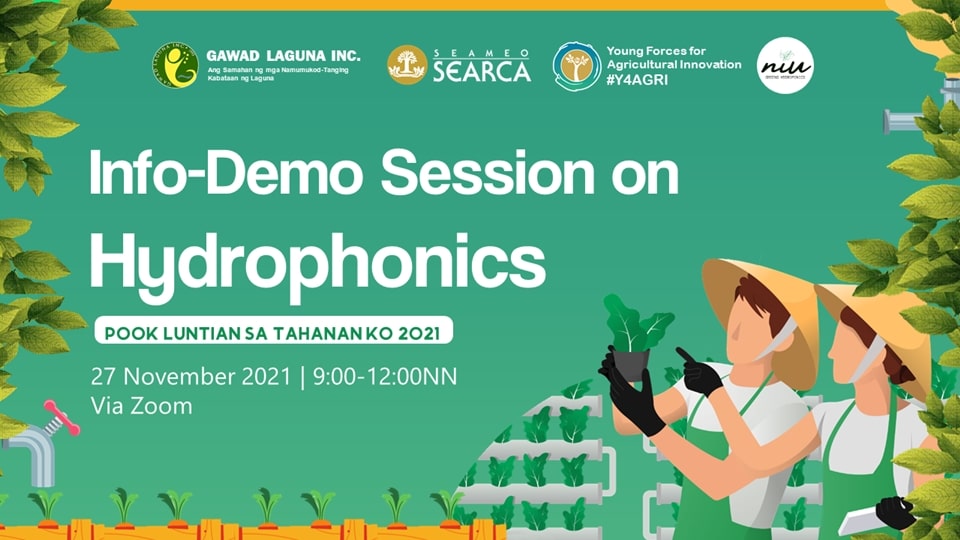 LAGUNA, Philippines – Young educators, students, and out-of-school youth from different districts of Laguna province joined the SEARCA-hosted Information and Demonstration Session on Hydroponics as part of the "Pook Luntian Sa Tahanan Ko" project of Gawad Laguna, Inc. (GLI) held on 27 November 2021 via Zoom.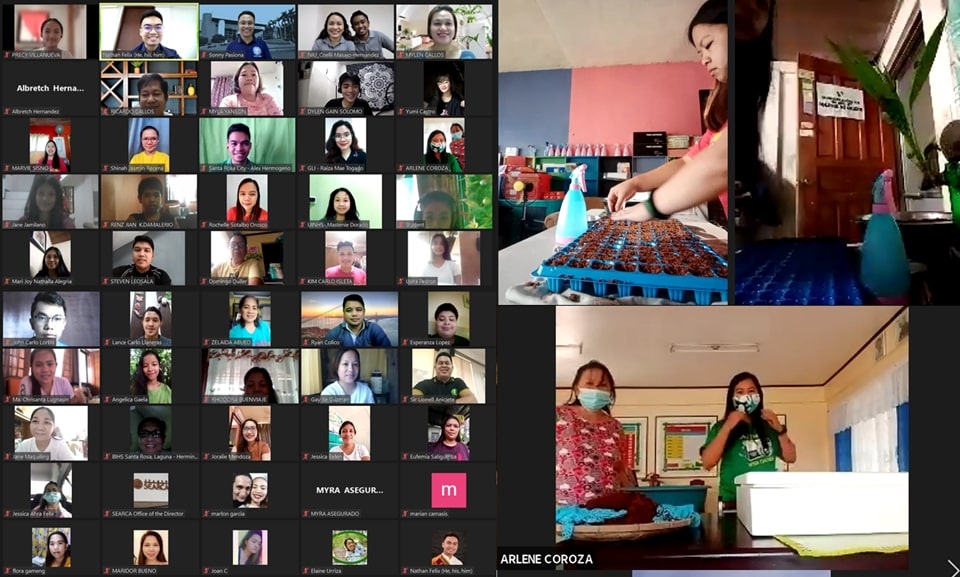 Participants (left) of the SEARCA-led information and demonstration session on hydroponics together with some recipients following the live demo of Engr. Hernandez.
The session enabled 44 participants to learn the basics of hydroponics as a soil-less farming method and eco-friendly solutions to mitigate challenges of a small-scale hydroponic system. Participants were pre-selected from a vlogging contest initiated by GLI to elicit their interest to venture into hydroponics as a modern way of growing food.
This initiative is also part of SEARCA's 55th Anniversary celebration with the theme, "Sowing Seeds of Innovation for Agricultural Transformation".
"As SEARCA commemorates this emerald milestone, we are sowing the seeds of innovation in modern farming such as hydroponics to transform agriculture and food systems," said Dr. Glenn B. Gregorio, SEARCA Director, in his opening message to the participants.

NIU Greens Hydroponics business proprietors Ms. Floracoelli Masajo-Hernandez (left) virtually discussing the basics of soil-less farming while Engr. Albretch Hernandez (right) holding a ready-to-harvest lettuce crop transplanted in a seedling plug from the hydroponics set-up.
Ms. Floracoelli Masajo-Hernandez and Engr. Albretch Hernandez of Laguna-based NIU Greens Hydroponics facilitated the info-demo session. As farmer-entrepreneurs, NIU's proprietors advocate to elevate farming as a profession and involve the youth through innovative farming methods. NIU was also a finalist of the 2020 SEARCA Youth COVIDeo Contest where they featured their story on why and how they started venturing into hydroponics.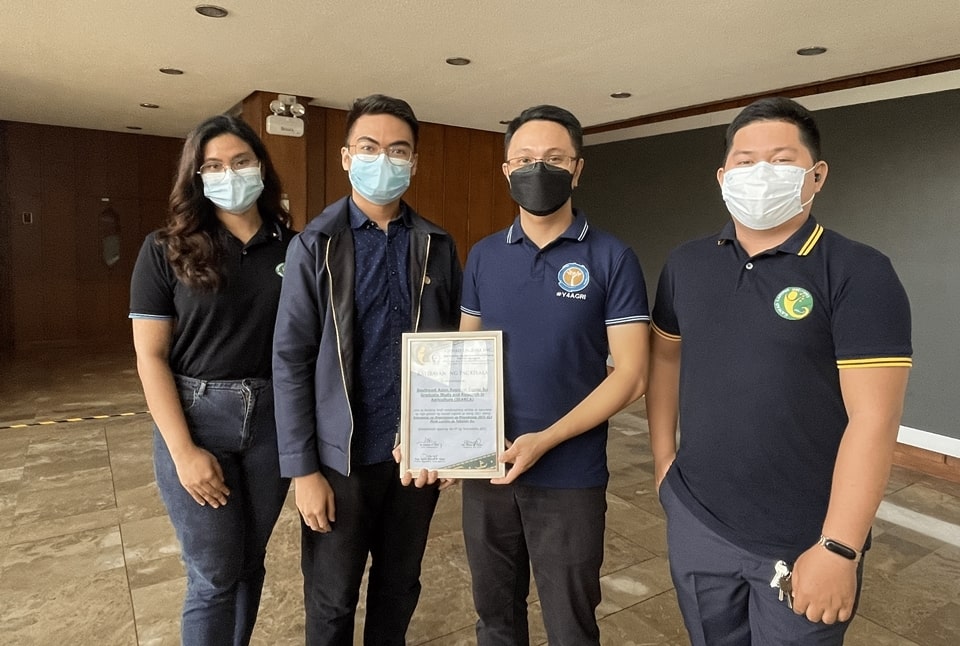 Mr. Sonny P. Pasiona (second from right), SEARCA Senior Communications Associate and Youth Lead, and Mr. Nathan P. Felix, (second from left), SEARCA Senior Public Relations Associate, hold a certificate of recognition from Gawad Laguna, Inc. (GLI) Vice President Mr. Lionell Aniciete and Deputy Vice President For. Raiza Mae Togado.
In a message delivered by GLI Vice President Mr. Lionell Aniciete, GLI President Engr. Ronel Vincent P. Vistal thanked SEAMEO SEARCA for being one of its esteemed partners in this project. He also left a challenge to all the Lagunense youth to always extend a hand to those in need.
"To all Lagunenses, let us use our hands not only for farming but also to reach out to those Filipino youth who are in need of help, love, and support, for the betterment of our province and of our country," he said.
The "Pook Luntian Sa Tahanan Ko" project of Gawad Laguna, Inc. is in partnership with SEARCA through the Young Forces for Agricultural Innovation (#Y4AGRI) and the NIU Greens Hydroponics.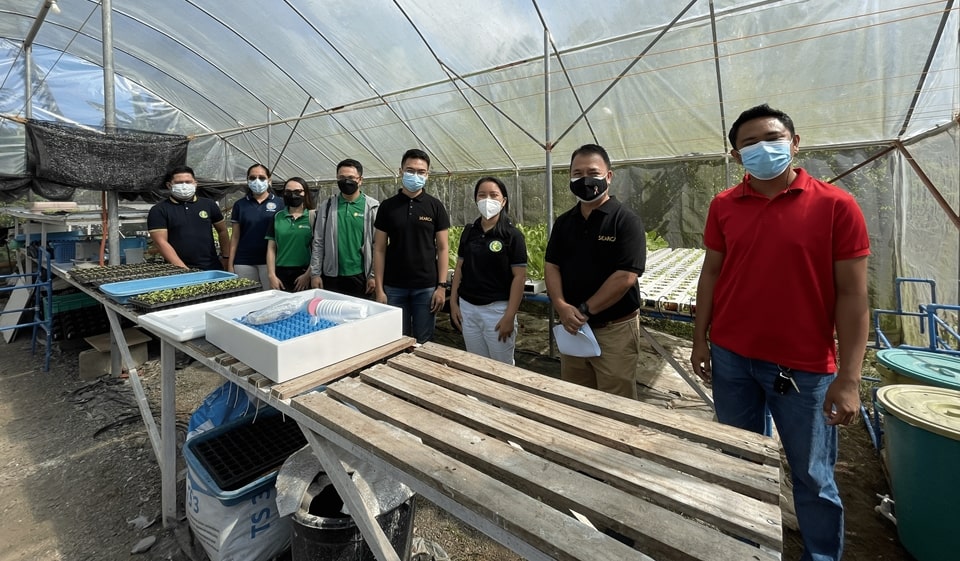 SEARCA and GLI pose for a photo opportunity inside the NIU Greens Hydroponics farm before the start of the distribution of hydroponics kits. The SEARCA delegation comprised Dr. Romeo V. Labios (second from right), Technical Advisor for Partnerships; Ms. Ma. Victoria D. Bravo (second from left), Executive Assistant for Programs; Mr. Pasiona (fourth from left); Mr. Felix (fifth from left); and Ms. Marie Cris P. Mendoza (third from left), Property and Supply Assistant. Also, in the photo is the GLI team led by Vice President Mr. Aniciete (leftmost).
On 24 November 2021 prior to the virtual info-demo session, SEARCA and GLI started distributing the hydroponics kits to the selected recipients from Districts III and IV of Laguna. The SEARCA delegation was led by Dr. Romeo V. Labios, Technical Advisor for Partnerships, while the GLI delegation was headed by Vice President Aniciete.