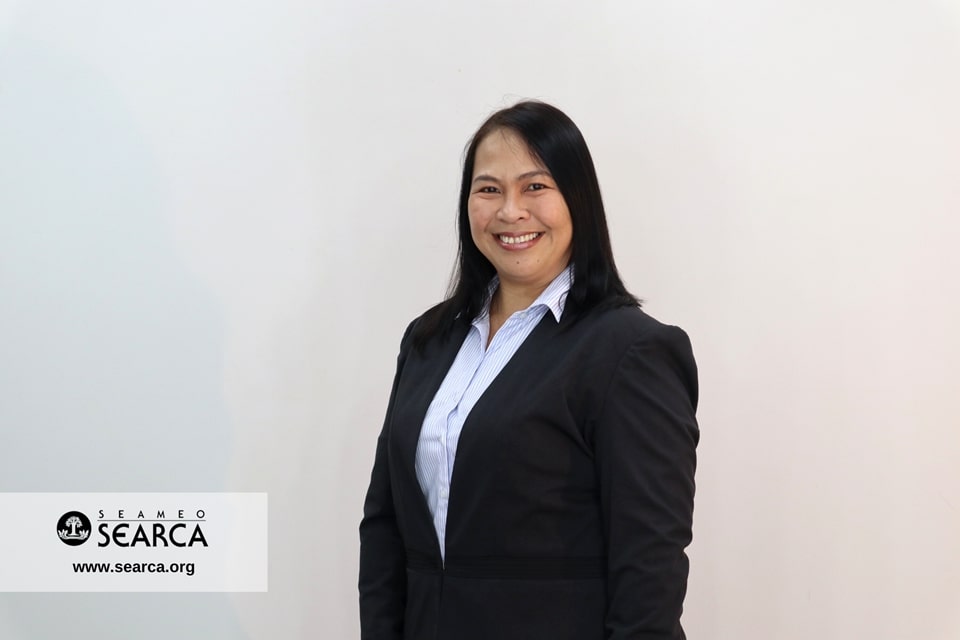 Ms. Leah Lyn Domingo, Public Relations Specialist, Partnerships Unit of the Southeast Asian Regional Center for Graduate Study and Research in Agriculture (SEARCA) was among the recipients of the much-prestigious 2022/2023 Southeast Asian Ministers of Education Organization (SEAMEO) Service Award (SSA).
The awarding ceremony was held during the 52nd SEAMEO Council (SEAMEC) Conference in Edsa Shangri-La, Manila, Philippines on 8-9 February 2023.
The SSA is given biennially to recognize exemplary staff of each SEAMEO center and unit who have demonstrated exceptional achievement in their work performance, innovation and creativity, professionalism, and commitment that contribute to the success of the organization. Each SEAMEO center selects the recipient of the SEAMEO Service Award based on a set of criteria.
Ms. Domingo started working for SEARCA in 1996 as an Editorial Assistant. Twenty-six years later, she was able to cement her role as an established and influential communications practitioner, who serves as the primary author of SEARCA's annual report, the SEARCA Diary, press and media releases, among others.
Each year, she writes these materials to ensure all achievements of the respective core programs are properly cited according to the goals and targets of the Center's Five-Year Plan. One of the most notable achievements of Ms. Domingo was that from a target of 24 published news articles annually when she took over the post of a Public Relations Specialist, she enabled SEARCA to publish 249 articles in FY 2021/2022, or ten-fold the original Center target and this has been her average output for the past decade.
When asked what her current work aspirations are, she shared that she is keen to learn better ways to engage with mass media channels in Southeast Asia to further widen SEARCA's network of contacts in the press for greater visibility.
"I believe it takes a village, too, to do SEARCA the greatest service in our own assignments or posts. I feel very grateful to have had such strong support from both my superiors and my peers," said Ms. Domingo.
She was joined by the SEARCA contingent led by Dr. Glenn Gregorio, SEARCA Director. With them were Assoc. Prof. Ts. Dr. Nur Azura Binti Adam, SEARCA Deputy Director for Programs; Assoc. Prof. Joselito Florendo, SEARCA Deputy Director for Administration; Dr. Gerlie Tatlonghari, Head, Research and Thought Leadership Department; Ms. Sharon Malaiba, Head, Partnerships Unit; Dr. Nova Ramos, Head, Training for Development Unit; Mr. Jaymark Warren Dia, Head, Management Information Systems Unit; Mr. Michael Salas, Facilities Management Unit; Ms. Beatrisa Martinez, Executive Coordinator, Office of the Director; Ms. Lichelle Dara Carlos, Program Specialist, Emerging Innovation for Growth Department; and Ms. Arlene Nadres, Support Staff, Applied Knowledge and Resources Unit.