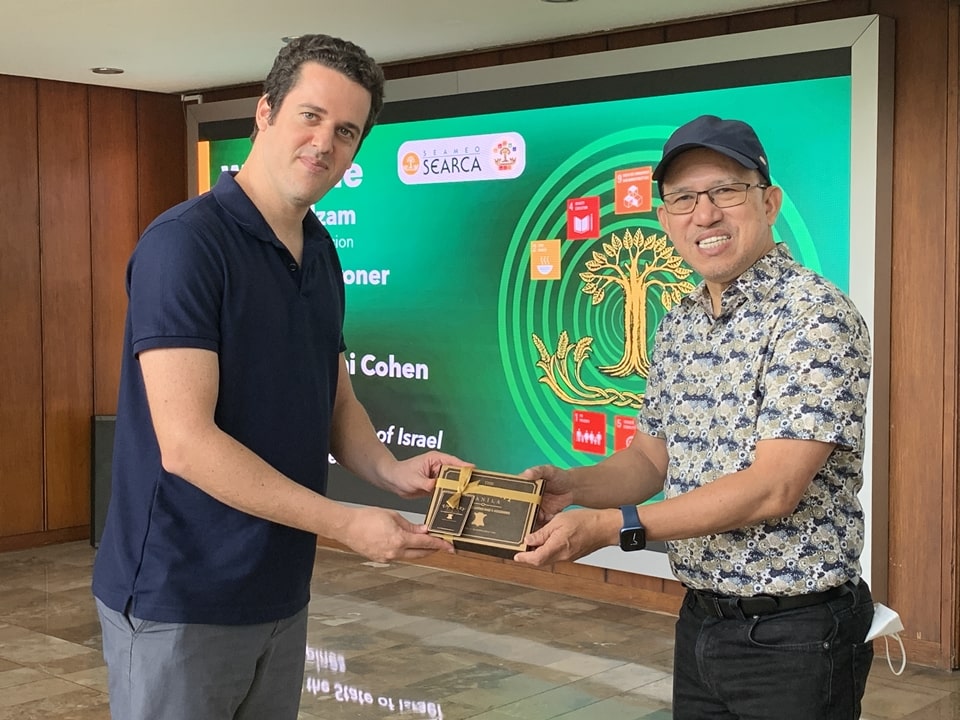 Mr. Nir Balzam, Deputy Chief of Mission, who heads the Embassy of Israel delegation, receives a SEARCA token of appreciation for paying a courtesy visit to Dr. Glenn B. Gregorio, SEARCA Director.
Mr. Nir Balzam, Deputy Chief of Mission, who headed the Embassy of Israel delegation that visited the Southeast Asian Regional Center for Graduate Study and Research in Agriculture (SEARCA) on 14 November 2022, broached areas of possible collaboration.
Mr. Balzam, Mr. Moshe Broner, Israeli Expert, and Ms. Dee Urtua, Embassy of Israel Development Cooperation Officer, were joined by Dr. Glenn Gregorio, SEARCA Director; Asst. Prof. Glenn Baticados, Program Head, Emerging Innovation for Growth Department (EIGD); Dr. Gerlie T. Tatlonghari, Program Head, Research and Thought Leadership Department (RTLD); Dr. Nova Ramos, Head, Training for Development Unit (T4DU); Ms. Sharon Malaiba, Head, Partnerships Unit (PU); and Mr. Sonny Pasiona, Senior Associate, Communications, PU.
Mr. Balzam apprised SEARCA on the internship program of Israel for agriculture students and shared that the embassy is thinking of schemes on how to promote the learnings and experiences of the returning Filipino interns.
"We're going to do a pitching event to present and expose them to networking opportunities. They will experiment on the Israel technologies, but they must adopt the mindset of an Israel farmer. The agricultural interns, I believe, are the best bridges to transfer agricultural technologies and innovations for adoption," the Israeli Embassy Deputy Chief of Mission reinforced.
Asst. Prof. Baticados discussed that SEARCA is working on Carbon Wise Rice Farming (CWRF) in close coordination with Newfields Consulting Ltd., a consulting firm specialized in crop production and crop improvement systems, to develop new approaches in farming management and rice-based farming system technologies. Mr.Broner commented that for this kind of project to succeed, farmers should understand the whole environmental system.
Possible areas of collaboration that SEARCA and the Embassy of Israel identified include joint research undertakings, student exchanges, and capacity-building.