Kuching, Sarawak, MALAYSIA – The capacity-building initiatives on agrotourism of the Southeast Asian Regional Center for Graduate Study and Research in Agriculture (SEARCA) took center stage during the second day of the Sarawak Agrotourism Conference & Expo (SAtCE) held at the Borneo Convention Centre Kuching (BCCK) on 28–30 August 2023.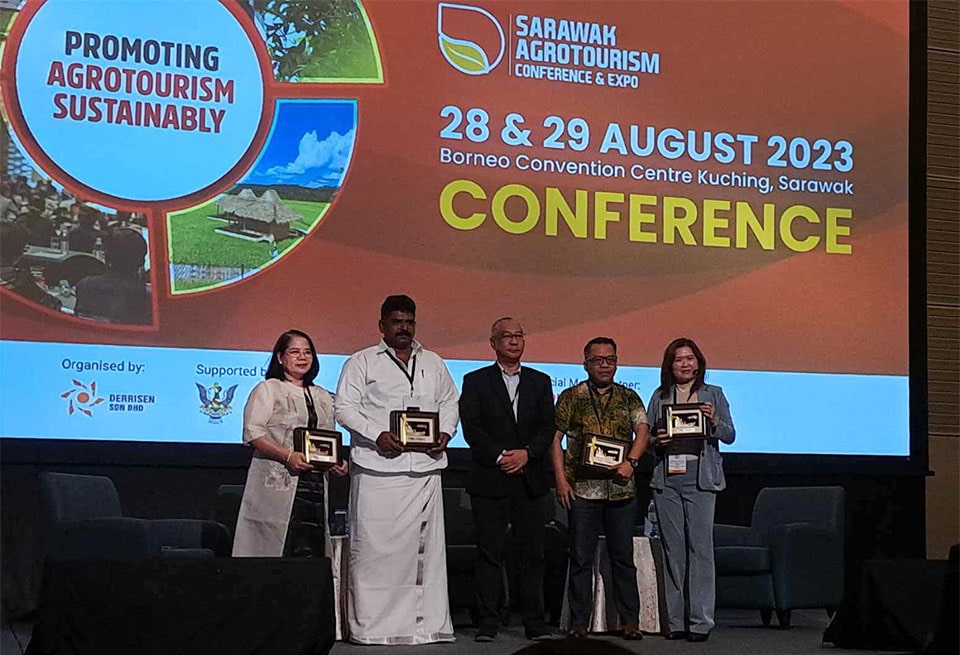 Dr. Nova Ramos (leftmost) along with the other speakers of Session 4 of the conference, shows the token of appreciation from Derrisen Sdn Bhd.
Dr. Nova A. Ramos, head of SEARCA's Training for Development Unit under the Education and Collective Learning Department, presented the Center's farm/agrotourism training programs, conferences, webinars, and other learning events that catered to legislators, educators, practitioners, and other stakeholders across the Southeast Asian region and beyond. She also highlighted agrotourism's sociocultural, economic, and environmental benefits and potential for inclusive and sustainable rural development.
In his welcome address during the opening program of the conference, Dato Sri Dr. Stephen Rundi Anak Utom, Minister of Food Industry, Commodity and Regional Development Sarawak (M-FICORD), noted that all efforts engaged in agriculture should yield returns on investments. He stressed that to transform agriculture, farmers must change their perspectives, understand how modern farming is implemented so they can generate more income, and be able to adopt modern and smart farming.
"We want to attract the younger generation to go into modern agriculture. We need to be able to transform their mindsets that agriculture is cool. Agrotourism is one way to do this," he noted. He exhorted the private and public sectors as well as the communities to join hands and begin a smart partnership to promote agrotourism in Sarawak.

(L): Dato Sri Dr. Stephen Rundi Anak Utom, Minister of Food Industry, Commodity and Regional Development Sarawak (M-FICORD); (R): Sarawak Deputy Premier Datuk Amar Douglas Uggah Embas
Meanwhile, Datuk Patinggi Tan Sri Dr. Abang Haji Abdul Rahman Zohari bin Tun Datuk Abang Haji Openg, Premier of Sarawak, said that with its abundant agricultural treasures, Sarawak has the potential to cater to tourists, who are seeking authentic cultural and agrotourism experiences. He stressed that the Sarawak government is fully committed to support agrotourism in the state as a means to uplift the communities and enable rural development.
"Community-based tourism is an integral part of agrotourism. It empowers local residents by directly engaging them in tourism activities," he articulated. In the pursuit of job creation through agrotourism, he emphasized that it should not just be from the perspective of building an agrotourism industry but nurturing a sustainable agrotourism industry, with focus on a more environmentally conscious approach to tourism and agriculture. The benefits of agrotourism, he said, go beyond economic gains, encompassing rural development, community participation, and job creation.
The Premier's text of speech was delivered by Deputy Premier Datuk Amar Douglas Uggah Embas.
The SAtCE2023 served as a dynamic platform, bringing together local and global agrotourism pioneers and industry players in a vibrant convergence. It convened around 200 delegates and 20 exhibitors from across the region, signaling the start of Sarawak's journey toward high quality agrotourism. Speakers from Australia, India, Indonesia, Malaysia, New Zealand, the Philippines, Taiwan, and Thailand discussed key topics on global trends, case studies, and regional policies in agrotourism.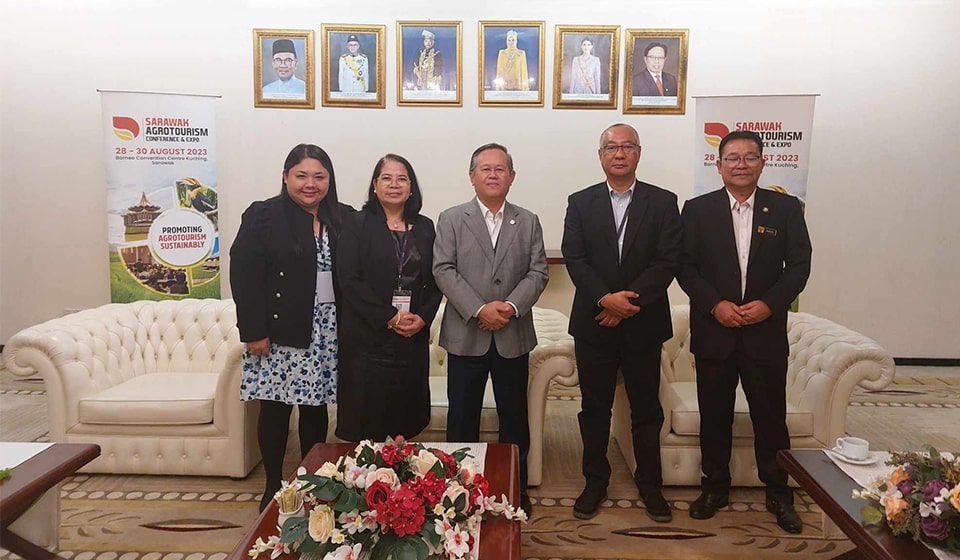 Dr. Ramos (second from left) met with the Honorable Martin Ben (center), Deputy Minister of M-FICORD, to discuss possible collaboration for SAtCE 2024. Others in photo are Ms. Vicky Tan (leftmost) and Mr. Nor Azmi Sulong (fourth from left), project director and project consultant, respectively, of Derrisen Sdn Bhd and Mr. Boniface Alin Anak Tanung (rightmost), special administrative officer to the Deputy Minister.
The conference was capped by a visit to the Borneo Empurau Farm and Resort, which boasts of modern agriculture (e.g., fertigation, aquaponics, etc.) and empurau breeding and research. Empurau is a freshwater fish indigenous to Sarawak and is the most expensive edible fish in Malaysia.
The conference was organized by Derrisen Sn Bhd, with the endorsement of the Ministry of Food Industry, Commodity and Regional Development of Sarawak (M-FICORD) and Business Events Sarawak.