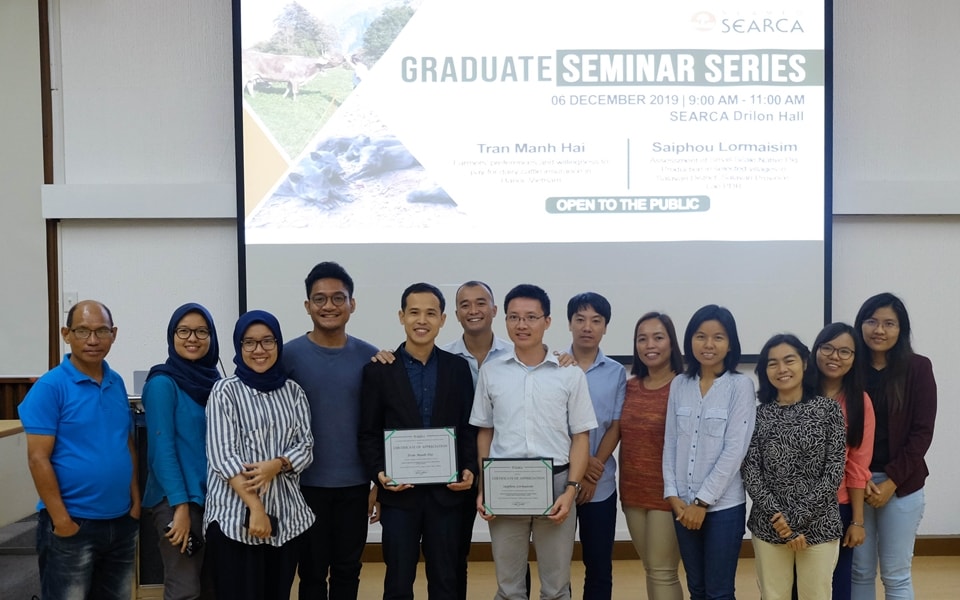 (Center, L-R) Saiphou Lormaisim and Tran Manh Hai, presenters during the GSS, together with their fellow SEARCA Scholars.
LOS BAÑOS, Laguna – SEARCA scholars Mr. Tran Manh Hai (Vietnam) and Mr. Saiphou Lormaisim (Lao PDR) presented the results of their respective research studies during the SEARCA Graduate Seminar Series (GSS) on 06 December 2019. Both SEARCA scholars conducted research on the livestock sector which is an important part of their respective countries' GDP.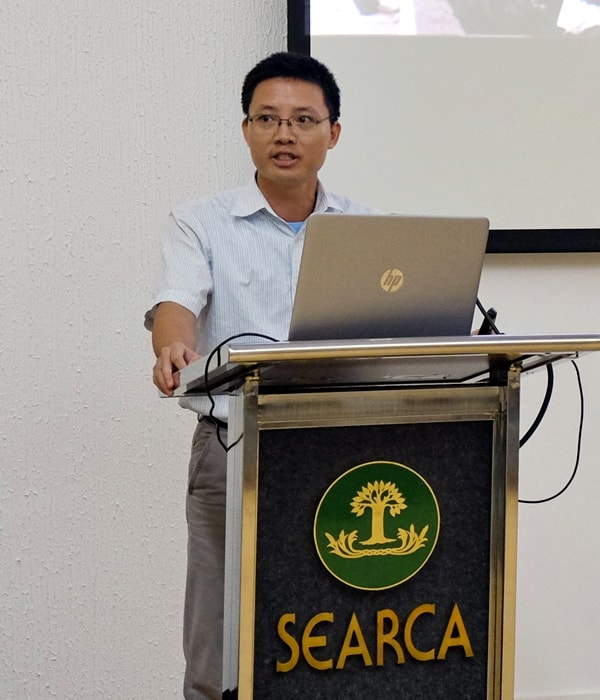 Tran Manh Hai presenting his research on dairy cattle insurance in Hanoi, Vietnam during the GSS.Mr. Tran Manh Hai is a lecturer at Vietnam National University of Agriculture (VNUA) since 2009 teaching rural development, development economics, and development theories for undergraduate students. He received his Bachelor's degree and Master's degree in Agricultural Economics at Hanoi National Economics University, Vietnam. Through a SEARCA Scholarship, he took his PhD in Agricultural Economics at the University of the Philippines Los Baños (UPLB). Mr. Tran Manh Hai discussed his research on "Farmers' preferences and willingness to pay for dairy cattle insurance in Hanoi, Vietnam" during the seminar series. According to his studies, the farmers were mostly concerned with diseases contracted by the cattle and coverage level or number of diseases covered by insurance is valued the most. Besides disease, other risks identified were milk price fluctuation, unfavorable weather condition, input price fluctuation, lack of capital, and price fluctuation of breeding dairy cow. The study recommended further training in terms of dairy cattle insurance and good dairy farming practices, develop various insurance schemes, strengthen the implementation of policies concerning agricultural insurance, and encourage farmers to increase their farm scale.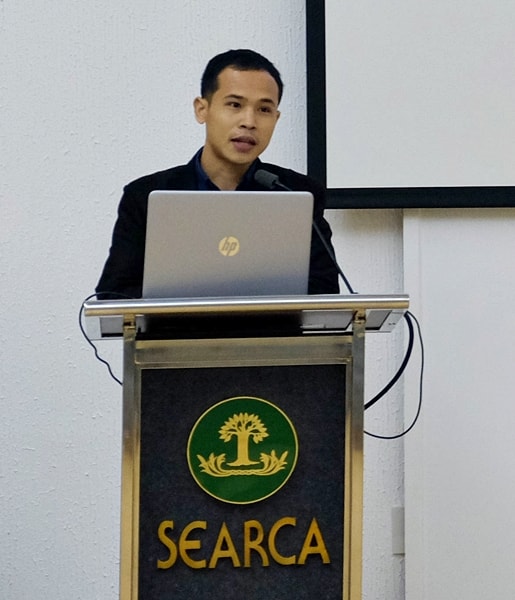 Saiphou Lormaisim presenting his research on Moo Lat pig production in Lao PDR.The second speaker during the GSS was Mr. Saiphou Lormaisim who is an Assistant Lecturer at the Faculty of Agriculture and Environment, Savannakhet University, Nongpheu Campus, Lao PDR. He graduated with a Bachelor of Science degree in Animal Science at Luangprabang University of Laos and took up Master of Science in Animal Science at the University of the Philippines Los Baños under the SEARCA Scholarship program. He presented his study on "Assessment of Small-Scale Native Pig Production in selected villages in Salavan District, Salavan Province, Lao PDR." Pig production in the province is a source of additional income as the residents are crop farmers and secondary livestock raisers. Their practices in raising pigs remain traditional as the farmers and livestock raisers lack access to training, communication, and market linkages. The study provided recommendations on how government institutions and the private sector can assist in pig production such as with animal vaccination, provision of technical training including management and recording of pigs, health management and biosecurity.
The GSS gives graduating SEARCA Scholars the opportunity to disseminate the results of their study and is conducted once every semester. Both scholars are set to finish their studies during the first semester of AY 2019-2020 in UPLB.