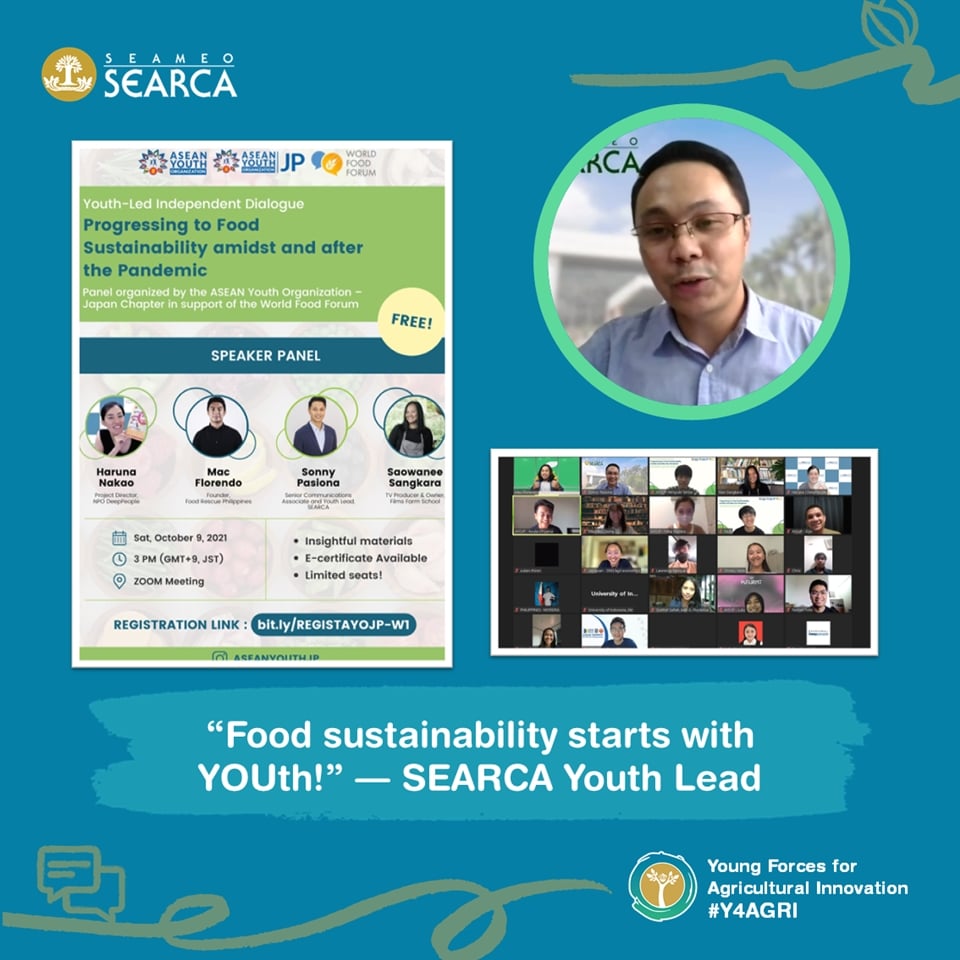 SEARCA's youth leader along with three other young professionals from Japan, Thailand, and the Philippines tackled youth initiatives for food sustainability in a virtual dialogue organized by the ASEAN Youth Organization – Japan Chapter (AYOJP) on 9 October 2021 via Zoom.
Mr. Sonny P. Pasiona, SEARCA's Senior Communications Associate and Youth Lead, highlighted the role of young people in food systems transformation during the dialogue titled, "Progressing to Food Sustainability amidst and after the Pandemic." The event was convened by AYOJP as an independent dialogue in the Asia Pacific region in support of the World Food Forum (WFF), a youth-led movement and network committed to transform the food systems.
Other panelists were Ms. Haruna Nakao, Project Director of NPO DeepPeople - Japan; Mr. Mac Florendo, Founder of Food Rescue Philippines; and Ms. Saowanee Sangkara, TV Producer and Owner of Films Farm School - Thailand.
In his presentation, Mr. Pasiona presented SEARCA's focus on gender and youth engagement in agricultural and rural development (ARD) as part of its 2020-2025 strategic plan. He introduced #Y4AGRI or the Young Forces for Agricultural Innovation as the Center's banner youth initiative providing platforms for young people, such as the Virtual Youth Camp, to engage in discussions on issues and innovative solutions in the agri-food sector.
The SEARCA Youth Lead also shared that the Center's initiatives on food and nutrition security involves participatory action research in ARD, knowledge products and technology transfer, and technical advisory and mentoring in ARD policies and programming.
Mr. Pasiona presented highlights of a study he co-authored with Ms. Zara Mae C. Estareja and Mr. Nathan P. Felix titled "Local Food for Local Good: Youth Actions for Food Security Amidst the COVID-19 Pandemic." The study showed that despite the uncertainties, youth and youth groups showed adaptability and mobilization efforts against the threat of food insecurity.
"Young people's main 'why' for locally growing food is linked to the survival of their family and immediate community, and ensuring access to enough, safe, and healthy food that is locally produced at a time when local communities were put on strict lockdown," said Mr. Pasiona.
Relevant to the discussions on food sustainability, Mr. Pasiona further shared SEARCA's recent Youth COVIDeo Contest that called for ideas and practices on sustainable food consumption and food waste management from Southeast Asian youth. He also promoted an upcoming youth festival for the Filipino youth called Pista ng Pagkain at Kabataang Pinoy (Pistang PagKaPinoy) organized by the members of the SEARCA Youth Ambassadors Platform (SAYAP) to raise awareness and appreciation of food and its intersections with business, nutrition, arts, gender, culture, and tourism.
He concluded his presentation with an acronym of "S-A-R-A-P": Start at home and in your community by growing and cooking your own food; Advocate for sustainable and responsible food production, consumption, and disposal; Rethink your food choices and how you consume food; Allow yourself to learn healthier diets and eating habits; and Pay for locally sourced foods.
"Food sustainability is everyone's responsibility. Young people have a role to play so let us all remember that food sustainability starts with YOUth! Be part of the conversations – right now that's what we're doing, but we need to go beyond talking. Food sustainability starts from us – from how we talk about it and how we act on it.", said Mr. Pasiona in his closing statement.