Forty participants from 18 higher education institutions (HEIs) in Cambodia and the MOEYS completed the workshop, where they learned how to plan a public communication initiative for universities and prepare simple communication materials.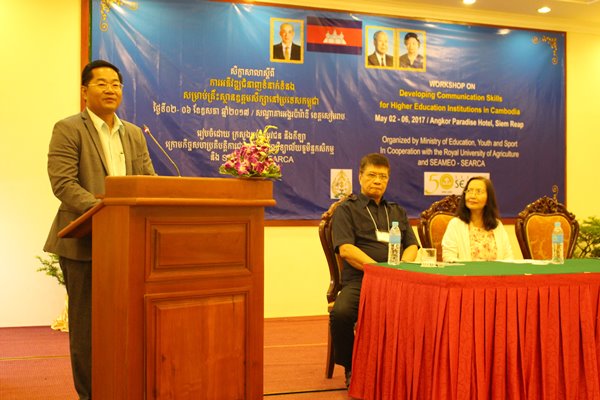 Dr. Touch noted that poor communication results to problems, especially in higher education institutions (HEIs). Since HEIs in Cambodia aim for internationalization, it is important for the faculty and staff to be able to communicate effectively in the English language. But he cautioned that being a good communicator is not enough. Being polite and humble is also a means to work effectively with other people, especially with donors and partners from other countries. If HEIs have good public communication, Dr. Touch said, they will have good public recognition and more partners for their activities and programs. He lauded the partnership among SEARCA, MOEYS, and RUA, citing that such collaboration benefits many Cambodians, especially those in the HEIs.
Dr. Ngo Bunthan, RUA Rector and Cambodian representative to SEARCA's Governing Board, said in his speech read by Dr. Mom Seng, Vice Rector of RUA, that with the integration of the ASEAN community, it is critically important for HEIs to build communication capacities of its faculty and staff for them to be able to actively communicate what their institutions are doing, what they can do, and what they can offer for partnerships.
Speaking on behalf of the Department of Higher Education of MOEYS, Dr. Nith Bunlay, DHE's Deputy Director General, said that in Cambodia's higher education plan, one focus is the internationalization of HEIs, where effective communication skills of HEI officials, faculty, and staff are crucial.
Dr. Gil C. Saguiguit, Jr., SEARCA Director, added in his speech read by Dr. Maria Celeste H. Cadiz, Program Head of SEARCA's Knowledge Management Department (KMD), that the workshop is a unique offering of SEARCA because the Center did not initiate developing it independently, but it was specifically requested from among the participants' ranks as a need that SEARCA and partners could address for human resource development in Cambodian HEIs. In coordination with RUA and MOEYS, SEARCA refined the design of the workshop as informed by participants' responses to a pre-workshop survey.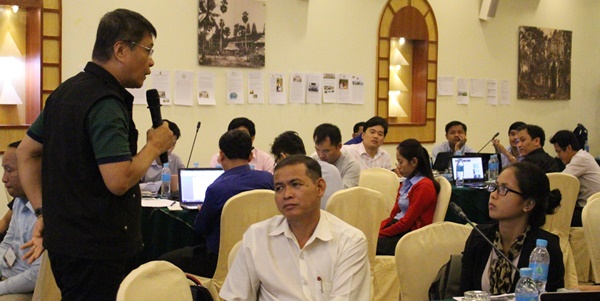 Dr. Rex L. Navarro, international expert in development communication and former Director of Strategic Marketing and Communication at the International Crops Research Institute for the Semi-Arid Tropics (ICRISAT), leads the team of resource persons in the workshop. The team includes Dr. Edmund G. Centeno and Mr. Sherwin Joseph C. Felicidario, Assistant Professors at the College of Development Communication, University of the Philippines Los Baños (UPLB).
The workshop is the third collaboration among SEARCA, MOEYS, and RUA to address relevant capacity development needs of Cambodian HEI. Their first collaborative learning event was the Leadership Excellence in Academe Program (LEAP) for Cambodia held 29 February to 4 March 2016 in Kampot, followed by the Workshop on Developing Fundable Research Project Proposals held 28 February to 4 March 2017 in Siem Reap. In his remarks, Dr. Bunlay signaled an interest to further this collaboration with two more learning events in the next academic year.
Workshop organizers from SEARCA included Dr. Cadiz; Ms. Nova A. Ramos, Program Specialist; and Ms. Maria Cristina L. Decena, Office Assistant; respectively, of the KMD Training Unit. (Nova A. Ramos)