The activity primarily aimed to enhance the capacity, awareness and understanding of the DA-AMIA teams and RFO focal persons on how to effectively and systematically integrate climate change adaptation considerations into policies, plans and programs in agriculture. Specifically, the workshop aimed to enable the participants to understand climate change impacts and the need for mainstreaming; identify appropriate approaches for integrating climate change adaptation into development policies and investment plans at the national, sectoral, and project levels; and apply the systematic planning steps to selected cases in agriculture and fisheries towards developing flagship applications of climate proofing.
After the workshop, participants are expected to apply the systematic climate change adaptation assessment in their respective work contexts. This will ensure the integration of climate change considerations in agriculture and fisheries plans, policies, and programs in the country.
Tailored by SEARCA for the DA-AMIA program, the training-workshop is the first of three batches to be held under the "Strengthening Implementation of Adaptation and Mitigation Initiative in Agriculture Project (AMIA Project I)" which is jointly implemented by DA, SEARCA, and the University of the Philippines Los Baños Foundation Inc. (UPLBFI).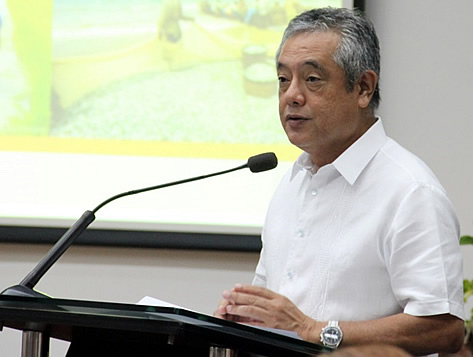 The training-workshop is part of SEARCA's collective quest to ensure food security through agriculture and fisheries policies, plans and investments that integrate climate change adaptation. As emphasized by Dr. Gil C. Saguiguit, Jr., SEARCA Director, in his welcome remarks, adaptation and heightening resiliency of the agriculture and fisheries sector to the effects of climate change is our best option against the challenge posed by climate change.
In her message, Ms. Perla Baltazar, representing Dr. Alicia Ilaga, Director for Systems-Wide Climate Change Office (SWCCO), said that the training-workshop is indeed important in equipping the department with a "climate lens" to effectively achieve the goals of AMIA. AMIA is one of DA's seven systems-wide programs on climate change and is the umbrella program for mainstreaming climate change in agriculture across all programs, functions, and agencies of DA.
The training-workshop was based on the systematic methodology for integrating climate change adaptation into policies, plans and programs developed and widely tested by the German Agency for International Cooperation (Deutsche Gesellschaft für Internationale Zusammenarbeit GmbH or GIZ) based on an Organization for Economic Cooperation and Development (OECD) Policy Guidance on mainstreaming climate change into development cooperation. SEARCA adopted the four core modules on the systematic approach to integrating climate change adaptation in development planning.
One of the main outputs of the activity was the application of systematic adaptation assessment to real cases which were selected from proposals submitted by the participants. The participants integrated climate change in the following development projects:
Kaunlaran Resettlement Area (KRA) Agricultural Development Project (Nueva Era, Bunawan Agusan del Sur and San Gabriel, Veruela, Agusan del Sur)
Rice Productivity Enhancement in Eastern Visayas Region (Leyte, Southern Leyte, Biliran, Samar, Eastern Samar and Northern Samar)
Building capacities for climate resilient tilapia farming in the Philippines (Minalin, Pampanga)
Increasing agricultural production through the use of "no-regrets" Disaster Risk Reduction/Climate Change Adaptation (DRR/CCA) Options: Utilizing submergence-tolerant rice variety (NSIC RC 194), water conservation and management, efficient post-harvest facilities, and promotion of Climate Field Schools (CFS) in Concepcion, Tarlac
Dr. Daylinda B. Cabanilla, Professor at the Department of Social Forestry and Forest Governance, UPLB College of Forestry and Natural Resources (CFNR) served as the training-workshop's Technical Coordinator while Ms. Rosario B. Bantayan, SEARCA Program Specialist, served as the Co-Coordinator.
Dr. Felino P. Lansigan, Dean and Professor at the UPLB College of Arts and Sciences (CAS) delivered a lecture introducing climate change and climate change adaptation concepts. On the other hand, Dr. Canesio D. Predo, Assistant Professor at the Institute of Renewable Natural Resources, UPLB-CFNR, provided an interesting presentation on the use of economic tools in assessingadaptation options.
The agencies and RFOs represented in the training-workshop include the DA-Office of the Secretary; Bureau of Agriculture and Fisheries Standards (BAFS); Bureau of Fisheries and Aquatic Resources (BFAR)-Central Office; BFAR-Region 7; Agricultural Training Institute (ATI); Bureau of Animal Industry (BAI); RFOs of Regions 2, 3, 6, 8, 9, 10, 11, and 13; Philippine Center for Postharvest Development and Mechanization (PhilMech); Philippine Council for Agriculture and Fisheries (PCAF); Sugar Regulatory Administration (SRA); Philippine Carabao Center (PCC); Philippine Rice Institute (PhilRice); and the Philippine Crop Insurance Corporation (PCIC). (Clarice C. Pulumbarit)