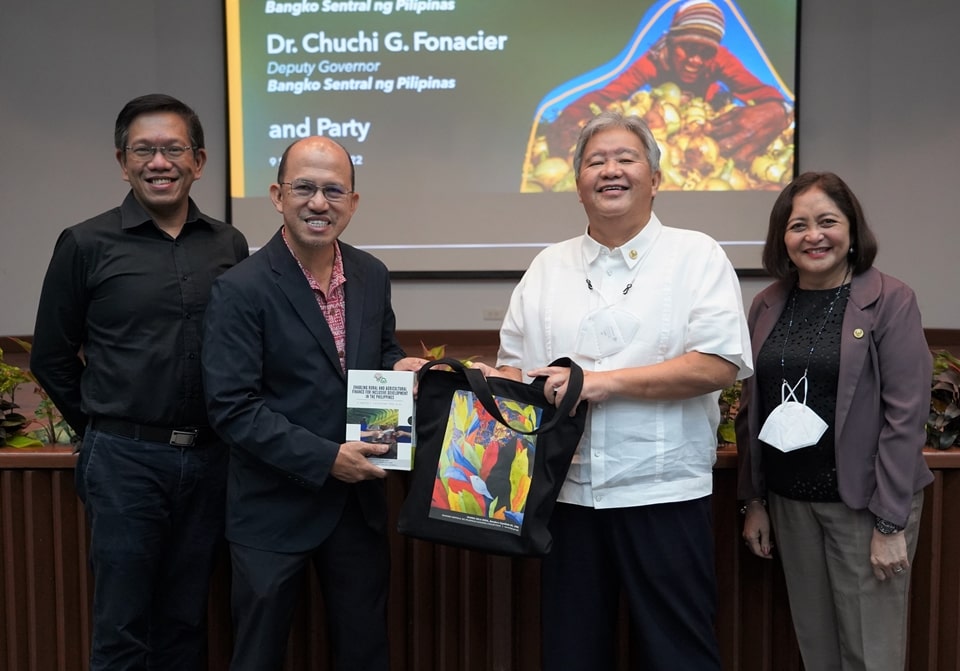 Dr. Glenn B. Gregorio (second from left), SEARCA Director, receives a book titled "Enabling Rural and Agricultural Finance for Inclusive Development in the Philippines" from Dr. V. Bruce J. Tolentino, Bangko Sentral ng Pilipinas (BSP) Monetary Board Member. Authored by Dr. Tolentino, the book is a three-volume compilation of papers, reports, and policy notes on promotion of effective and efficient financial services in support of inclusive rural and agricultural development. Also in the photo are Assoc. Prof. Joselito G. Florendo (leftmost), SEARCA Deputy Director for Administration, and Dr. Chuchi G. Fonacier (rightmost), BSP Deputy Governor.
"Bangko Sentral ng Pilipinas (BSP) is interested in exploring synergies with SEARCA, particularly on linkages in agriculture and rural development, noting SEARCA's work with Southeast Asian countries, especially the Philippines, where sustainable is agriculture has a huge potential for economic growth yet confronted with challenges," said Dr. V. Bruce J. Tolentino, BSP Monetary Board Member, during their visit to the Southeast Asian Regional Center for Graduate Study and Research in Agriculture (SEARCA) on 9 September 2022.
During the exploratory meeting, Dr. Glenn B. Gregorio, SEARCA Director, briefed the BSP delegation on the Center's activities and programs under its 11th Five-Year Plan focused on Accelerating Transformation Through Agricultural Innovation (ATTAIN). Agri-Business Models for Increased Productivity and Income is one of SEARCA's seven priority areas.
Dr. Tolentino was also apprised of SEARCA's work in the region to increase the level of investments in agricultural research, productivity, and infrastructure.
Dr. Chuchi G. Fonacier and Dr. Lyn I. Javier, BSP Deputy Governor and Assistant Governor, respectively, presented the BSP Sustainable Finance Framework on Environmental, Social, and Governance (ESG) Integration in the Philippine Banking System. They explained that the sustainable finance being rolled out by BSP comprise a set of rules, regulations, and principles in the banking system. The framework's strategy is to provide an enabling environment, align with national strategies and aspirations, and lead by example.
Mr. Jerome C. Barradas, Project Coordinator II at SEARCA's Research and Thought Leadership Department (RTLD), presented digital economies for the food and agriculture sector and explained that digital technology plays an important role in ensuring food security in rural communities. He noted that an entry point for enabling digital economies is adequate and accessible financial services for farming families. A SEARCA-led round table discussion on digital economies is scheduled in January 2023.
In view of this, Dr. Fonacier stressed that policy recommendations from SEARCA will be critical inputs, particularly those related to incentives for BSP-supervised institutions adhering to innovative and sustainable projects and activities.
"The reason why we highlighted the enabling environment in the framework is because we wanted to influence the behavior of our supervised institutions. We are looking forward to SEARCA in becoming a channel to connect BSP with other institutions in particular farming institutions," Dr. Fonacier concluded.