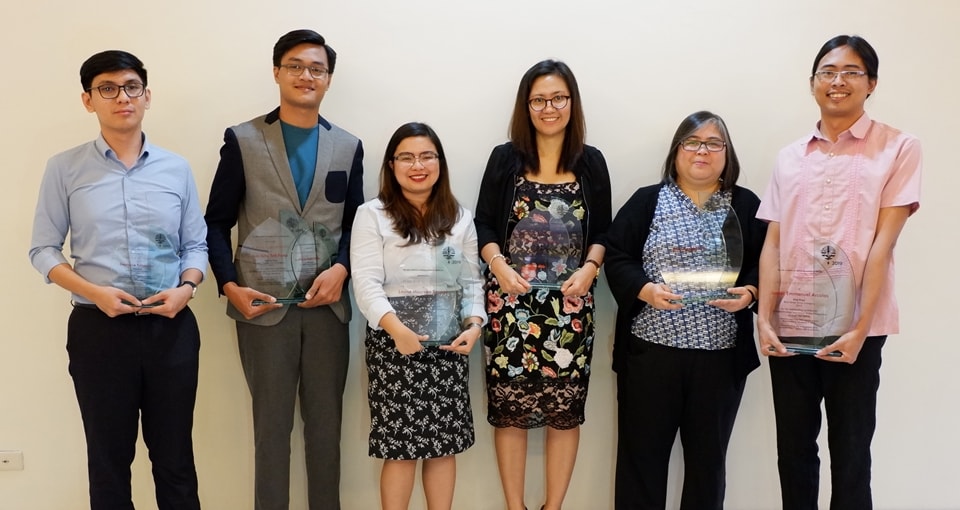 The awardees of the 13th Jose G. Burgos, Jr. Awards for Biotech Journalism.
Knowing the importance of factual journalism in promoting biotechnology, SEARCA, through its Biotechnology Information Center (BIC), the Joe Burgos Pen, Inc., Department of Agriculture (DA)-Biotechnology Program Office, DA-Bureau of Agricultural Research, and the Biotechnology Coalition of the Philippines teamed up to recognize the country's leading science and technology journalists.
This year's awardees, who were recognized based on the best news and feature stories in the past year, include Louise Maureen Simeon, Ace June Rell Perez, Stephanie Tumampos, Jasper Arcalas, and Charissa Luci-Atienza. Institutional awards were also given to Business Mirror, the Philippine Star, and Manila Bulletin for publishing the most number of articles on biotechnology in the country.
"Media is a strong force in shaping public opinion. Our journalists take an important role in improving public understanding of biotechnology and in increasing scientific literacy so that our stakeholders can make informed decisions and be unafraid in harnessing the benefits of modern biotech products," says SEARCA BIC special projects coordinator Jerome Cayton C. Barradas. 'We hope that through this recognition, we can inspire more journalists to be our partners in providing credible science-based information to the public", he adds.
Now on its thirteenth year, this awards program is the realization of the dream of the late journalist and farmer, Joe Burgos' dream of recognizing members of the media for their contributions to improving public understanding of biotechnology in the country. This also encourages media practitioners to be engaged in responsible science communication.
The Jose G. Burgos, Jr. Awards for Biotechnology Journalism was held last November 27 at the Agricultural Training Institute, Visayas Avenue, Quezon City.