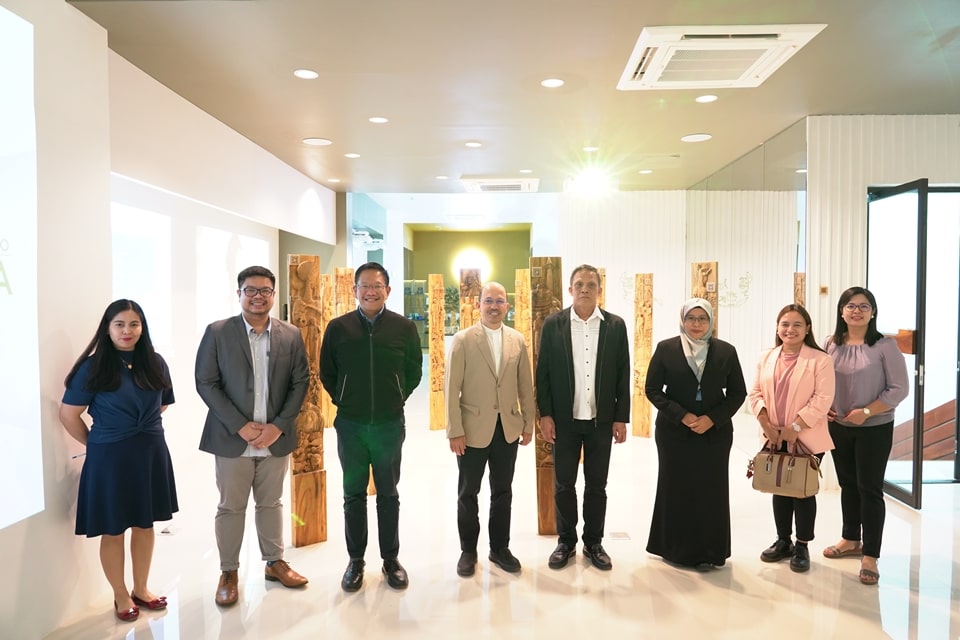 Dr. Jameson Tan (fourth from right), BASC President; Dr. Ronald Reagan Alonzo (second from left), BASC Vice President for Administration and Finance; Dr. Honeylet Nicolas (second from right), BASC Vice President for Research, Extension, Production, and Development; and Dr. Meriam Sulit (rightmost), BASC International Relations Office Director, with the SEARCA Executive Committee led by Dr. Glenn Gregorio (fourth from left), SEARCA Director.
Bulacan Agricultural State College (BASC) officials led by University President Dr. Jameson Tan, paid a courtesy call to Dr. Glenn Gregorio, Southeast Asian Regional Center for Graduate Study and Research in Agriculture (SEARCA) Director, during their visit to Los Baños, Laguna, Philippines on 17 January 2023.
They were received by Dr. Gregorio; Assoc. Prof. Ts. Dr. Nur Azura Binti Adam, SEARCA Deputy Director for Programs; Assoc. Prof. Joselito Florendo, SEARCA Deputy Director for Administration; Dr. Maria Cristeta Cuaresma, Senior Program Head, Education and Collective Learning Department (ECLD); Dr. Nova Ramos, Head, ECLD-Training for Development Unit (T4DU); Ms. Sharon A. Malaiba, Head, Partnerships Unit (PU); and Ms. Beatrisa L. Martinez, Executive Coordinator, Office of the Director.
ECLD briefed the BASC delegation on the core programs of SEARCA. In addition, Dr. Cuaresma and Dr. Ramos provided information materials and an overview of the Philippine Commission on Higher Education (CHED)-funded Leveling-Up Philippine Higher Education Institutions in Agriculture, Fisheries, and Natural Resources (LevelUPHEI AFAR) project in which three of the offerings in its first phase were participated in by five faculty members of BASC.
BASC is the lone higher agricultural educational institution in the Bulacan province. The University was established in 1952 and offers degree programs in agriculture and its allied fields.
In March 2021, SEARCA and BASC signed a Memorandum of Understanding (MOU) to develop and engage educators in agricultural research and extension activities.