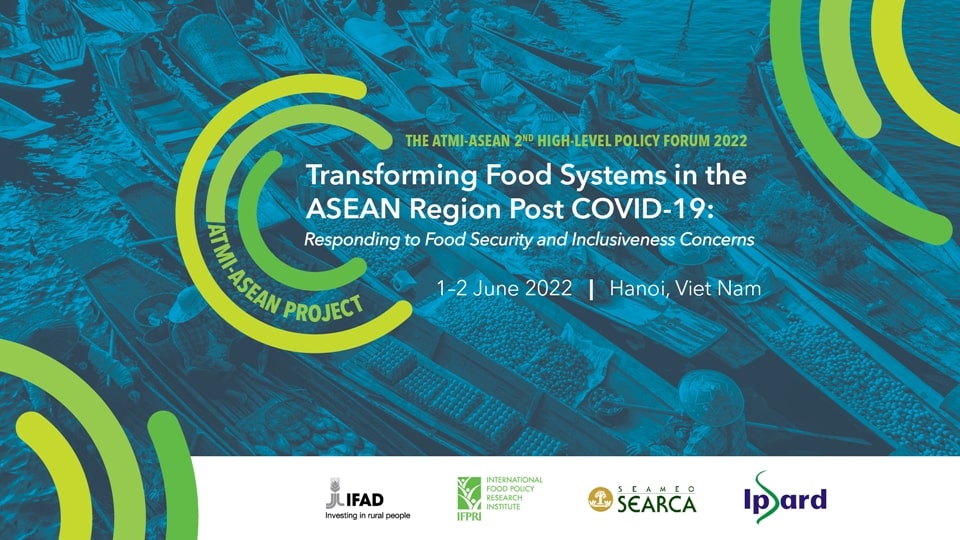 The International Fund for Agricultural Development (IFAD)-funded Agricultural Transformation and Market Integration in the ASEAN Region: Responding to Food Security and Inclusiveness Concerns (ATMI-ASEAN), through its implementing institutions, the International Food Policy Research Institute (IFPRI) and SEARCA, and in partnership with its Vietnam focal agency, the Institute of Policy and Strategy for Agriculture and Rural Development (IPSARD), is organizing its 2nd High-Level Policy Forum (HLPF) in hybrid format on 1-2 June 2022 in Hanoi, Vietnam and via Zoom platform, with the theme "Transforming Food Systems in the ASEAN Region Post COVID-19".
The event will showcase the ATMI-ASEAN project outputs, among which are the SEARCA-led regional value chain assessment conducted in coordination with the Association of Southeast Asian Nations (ASEAN) Secretariat, and the national-level agricultural value chain studies, commodity roadmaps, and policy strategies in the five target ASEAN Member States (AMS).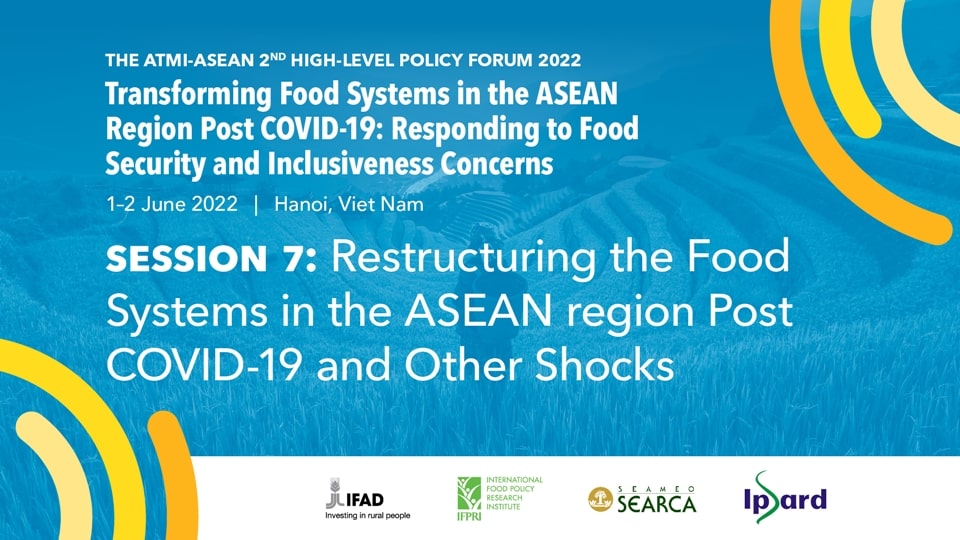 Dr. Glenn B. Gregorio, SEARCA Director, will deliver a message on behalf of the Center. He will also be one of the discussants in the forum's session on "Restructuring Food Systems in the ASEAN Region Post COVID-19 and other shocks". Joining him in the forum is Dr. Pedcris M. Orencio, Program Head, Research and Thought Leadership Department (RTLD), together with Ms. Bernice Anne D. De Torres and Ms. Rochella B. Lapitan, Program Specialist and Senior Program Associate, respectively, RTLD; and the ATMI-ASEAN Project Support Unit (PSU).
SEARCA will moderate the session on Agricultural Transformation, present the project's capacity building activities, and serve as one of the discussants in the session regarding the Network of Policy Advisors and Analysts in the ASEAN Region (NePAAA), which is one of the project's expected outcomes.
To know more about the forum, visit ATMI-ASEAN HLPF 2022. Interested individuals may participate via Zoom by registering for Day 1 and/or Day 2.