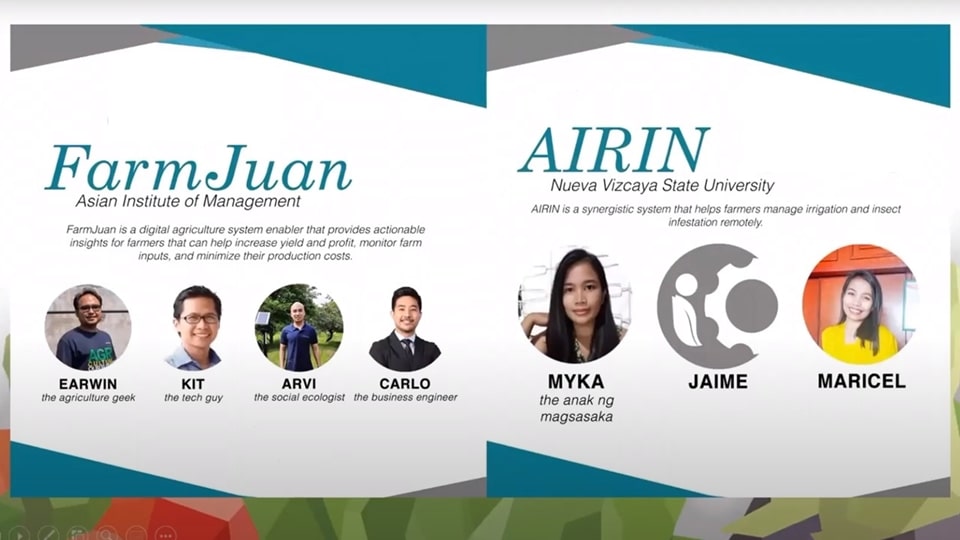 Teams of young innovators from the Asian Institute of Management (AIM) and Nueva Vizcaya State University (NVSU) bested nine other teams at the Luzon Demo Day of the Innovation Olympics 2.0 held online on 19 December 2020. The two teams comprise the Luzon finalists in the competition.
The second edition of the Innovation Olympics was launched in October 2020 to conduct a nationwide search for innovative solutions in precision agriculture for small-scale vegetable farming that are developed by young Filipinos.
Innovation Olympics 2.0 is a collaboration of East-West Seed with the Southeast Asian Regional Center for Graduate Study and Research in Agriculture (SEARCA), Sensient Colors LLC, University of the Philippines Los Baños (UPLB), UPLB-Technology Transfer and Business Development Office (UPLB-TTBDO), UPLB Startup Innovation and Business Opportunity Linkaging Labs (SIBOL Labs), and APEX: The UPLB Business Network.
SEARCA Director Dr. Glenn B. Gregorio and Dr. Rico C. Ancog, SEARCA program lead for Emerging Innovation for Growth, as well as UP Scientist III and Associate Professor at the University of the Philippines Los Baños (UPLB), were among the five judges during the Luzon Demo Day.
"The IO2 is the platform where the innovative, adventurous, or crazy ideas of our youth can be honed and tested in the farmers' field and make the life of farmers comfortable and profitable. We believe that our youth are the implementors of Agriculture 4.0 and they have the ability to make it a reality," Dr. Gregorio said.
SEARCA's support to the Innovation Olympics 2.0 is tied to its priority focus on Emerging Innovation for Growth (EIG) to achieve outcomes or solutions that can be described as transformational innovation, which may be in the form of agripreneurship start-ups, technology adaptation, or prototypes such as those being developed in the competition.
The Luzon finalists will advance to the next round to compete with finalists from the Visayas and Mindanao for the grand prize of PHP 200,000. A seed fund of PHP 100,000 will be given to each finalist for the implementation of their projects.
Farm Journal Using Analytics and Networks (FarmJuan) is a digital agriculture system enabler that provides actionable insights for farmers that can help increase yield and profit, monitor farm inputs and minimize their production costs. It was developed by Mr. Earwin Belen, Mr. Carlo Tansuk, Mr. Kit Sumabat, and Mr. Arvi Ubaldo, who are all AIM Master of Science in Innovation and Business students.
The AIM team noted that without proper information, farmers may not be able to increase the efficiency of their farm inputs and boost their farm productivity.
According to Mr. Belen, FarmJuan "will provide end-to-end solutions that empower farmers and consumers by leveraging IoT sensors, cloud computing, artificial intelligence, and blockchain to monitor, detect, and trace vegetables at the farm level." It will also link farmers to a licensed agriculturist that can provide prescriptions to the farmers based on the data from the system.
FarmJuan can give farmers access to data for better farm production, provide quality monitoring based on Good Agricultural Practices (GAP), and improve their agricultural marketing. It is also envisaged to help increase marketable yields and farmgate prices and lower production costs.
On the other hand, the Automated Irrigation and Nutrient Management System (AIRIN) is a synergistic system that helps farmers manage irrigation and insect infestation remotely. It was developed by Ms. Myka Fragata, Ms. Maricel Farro, and Mr. Jaime Hapicio, who are all NVSU students. Ms. Farro and Mr. Santos are both BS Electrical Engineering students, while Ms. Fragata is pursuing her BS in Secondary Education-General Sciences and won the second prize in SEARCA's Youth COVIDeo contest held last year, which showcased how the youth played a part in local food production during the COVID-19 pandemic.
The NVSU team noted that proper irrigation and soil health are essential to higher crop yield. However, irrigation remains a challenge to farmers, especially during the dry season, when it may take three days and two nights to irrigate one hectare, according to Ms. Fragata. She also said some farmers can only afford soil testing once a year because manual testing can be costly and takes time away from other farm duties.
"We want to create a sure system where farmers will not struggle in irrigation and fertilizer and pesticide application because they can control their farm operations just through SMS [or text messaging]," Ms. Fragata explained.
She added that "With AIRIN, farmers can get a synergistic system with soil sensors that can measure the soil's current moisture; pH; salinity; temperature; nitrogen, phosphorous, and potassium content; a water level sensor to know the availability of water from the source remotely; a communication system that can log all these data and send real-time updates and recommendations to farmers to ensure healthy soils and increase crop yield; and a solar-powered irrigation system that can water up to 15 meters deep and deliver up to 1,000 liters per hour."
From March to May 2021, the Luzon finalists will be implementing their projects together with their mentors. They will present their results along with the finalists from the Visayas and Mindanao at the Innovation Olympics 2.0 National Demo Day in June 2021.
Prior to the Luzon Demo Day, a three-day hackathon with design thinking expert Carlo Valencia was held for 11 competing teams from Luzon. The hackathon enabled them to refine their ideas through the concepts of design thinking—a process used to understand the users, challenge assumptions, redefine problems, and create innovative solutions to prototype and test.