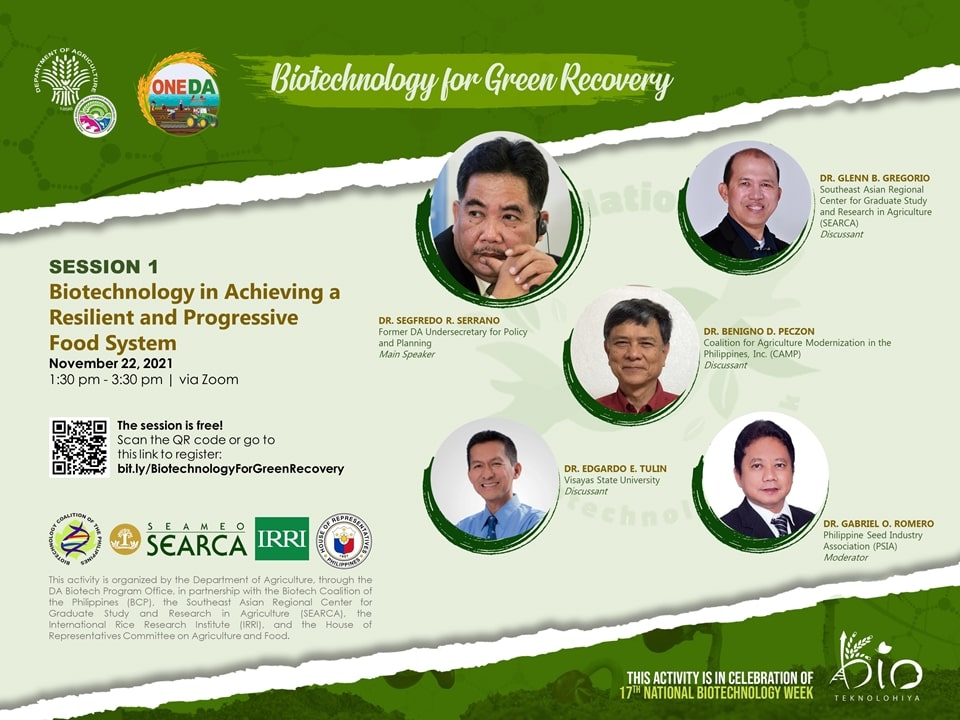 In celebration of the 17th National Biotechnology Week, SEARCA teamed up with the Department of Agriculture Biotechnology Program Office (DA-BPO) for the "Biotechnology for Green Recovery" webinar held on 22-24 November 2021. With thematic sessions focused on agriculture, bioeconomy, and scientific infrastructure, the webinar series aimed to incite critical discussions towards the creation of a policy environment that will further promote the development of bio-based industries.
The first thematic session titled "Biotechnology in Achieving a Resilient and Progressive food System," was led by plenary speaker, former DA Undersecretary for Policy and Planning, Dr. Segfredo R. Serrano. From a policy standpoint, Dr. Serrano noted that having a resilient food system to combat the impacts of climate change and other natural and man-made disasters remains a challenge amidst population growth and declining resources for food and agriculture. He underscored that along with food security, food safety as well as nutritional security should also be among the top priorities.
Dr. Serrano further emphasized that modern biotechnology is not a silver bullet but rather a powerful and potentially greener option. Technologies such as genetic modification, CRISPR, and new breeding techniques offer greater specificity, efficiency, and precision at either suppression, enhancement, deletion, or insertion of target traits, which improves product safety.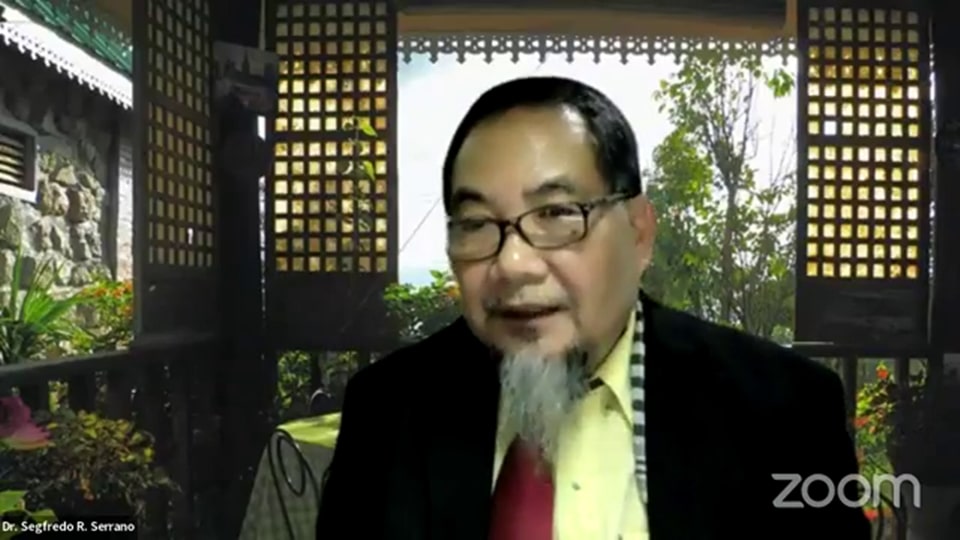 Former Department of Agriculture Undersecretary for Policy and Planning, Dr. Segfredo R. Serrano leads the discussion on the first thematic session, "Biotechnology in Achieving a Resilient and Progressive food System.
He proposed that for these technologies to thrive in the Philippines, there needs to be a robust set of policies and laws that promote its advancement in terms of research and development (R&D), technology development, and commercialization. More importantly, the country's regulatory system should be strengthened. "The system should not be reactive, and the regulators should be two steps ahead of the technology that is being introduced in the ground," Dr. Serrano pointed out. "Governance should also be more agile, with better convergence and coordination among agencies," he stated.
SEARCA Director, Dr. Glenn B. Gregorio served as one of the discussants during the session. "Biotechnology is an empowering driver of well-directed change to meet human needs," according to Dr. Gregorio. "These technologies keep food production in phase with modern demands. We must outsmart climate change, create healthier food, and fast track the delivery of agricultural products," he added.
He also concurred with Dr. Serrano on the value of synergy among key stakeholders in the academe, industry, and government. "We should be partners in biotech research and collaborate on co-sharing financial resources to shorten the gap between research and knowledge utilization including contextualizing research projects within the agriculture value chain," Dr. Gregorio said. "The reality of agri-biotech is won or loss at the farmer and consumer level where applicability and sustainability is really tested," he concluded.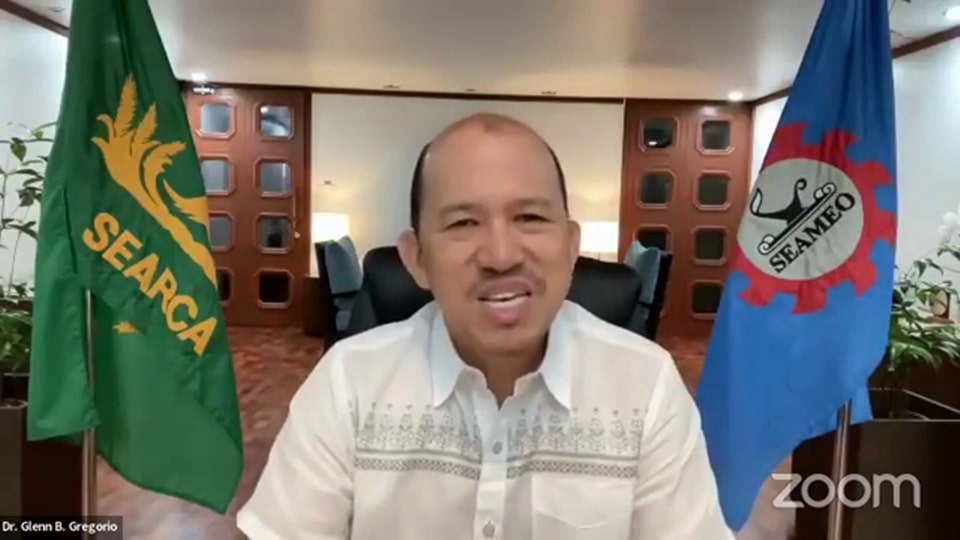 SEARCA Director, Dr. Glenn B. Gregorio shares his insights as one of the discussants during the session.
Meanwhile, Dr. Benigno D. Peczon, President of the Coalition for Agriculture Modernization in the Philippines, Inc., (CAMP) spoke on several issues in the Philippine agriculture sector such as globalization, sub-optimal farm sizes, credit access, existing policies and practices, and infrastructure. He called on policymakers to augment the budget of the DA and the Department of Science and Technology to keep pace with other countries.
Finally, President of Visayas State University, Dr. Edgardo E. Tulin, recommended that there should be a harmonized R&D agenda with focus on the country's top export commodities. He likewise suggested that scientists and researchers should be actively involved in the Senate or Congress sessions related to science and technology.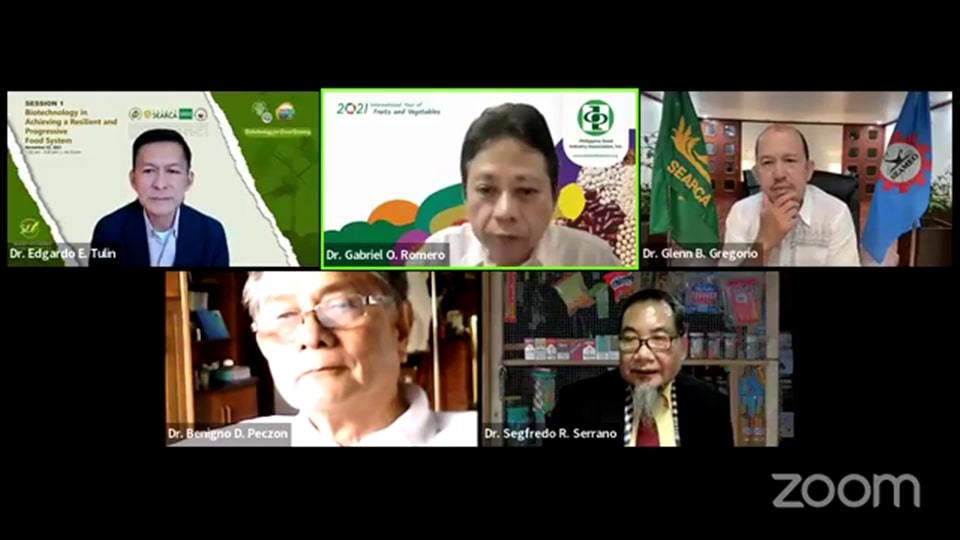 (top) Dr. Edgardo Tulin, Dr. Gabriel Romero (moderator), Dr. Glenn Gregorio, (bottom) Dr. Benigno Peczon, and Dr. Segfredo Serrano during the open forum.
The webinar was well-attended with more than 200 participants joining on Zoom and Facebook. The first session was organized in partnership with the Biotechnology Coalition of the Philippines (BCP), International Rice Research Institute (IRRI), and the House of Representatives Committee on Agriculture and Food.
This year's National Biotechnology Week with the theme, "Kapit-Bisig na Pagtutulungan, Bioteknolohiya ating Paghusayan!" was spearheaded by the Department of Interior and Local Government (DILG). The celebration highlights the valuable contribution of biotechnology to food security, sustainable agriculture, equitable access to health services, sustainable environment, and industry development.