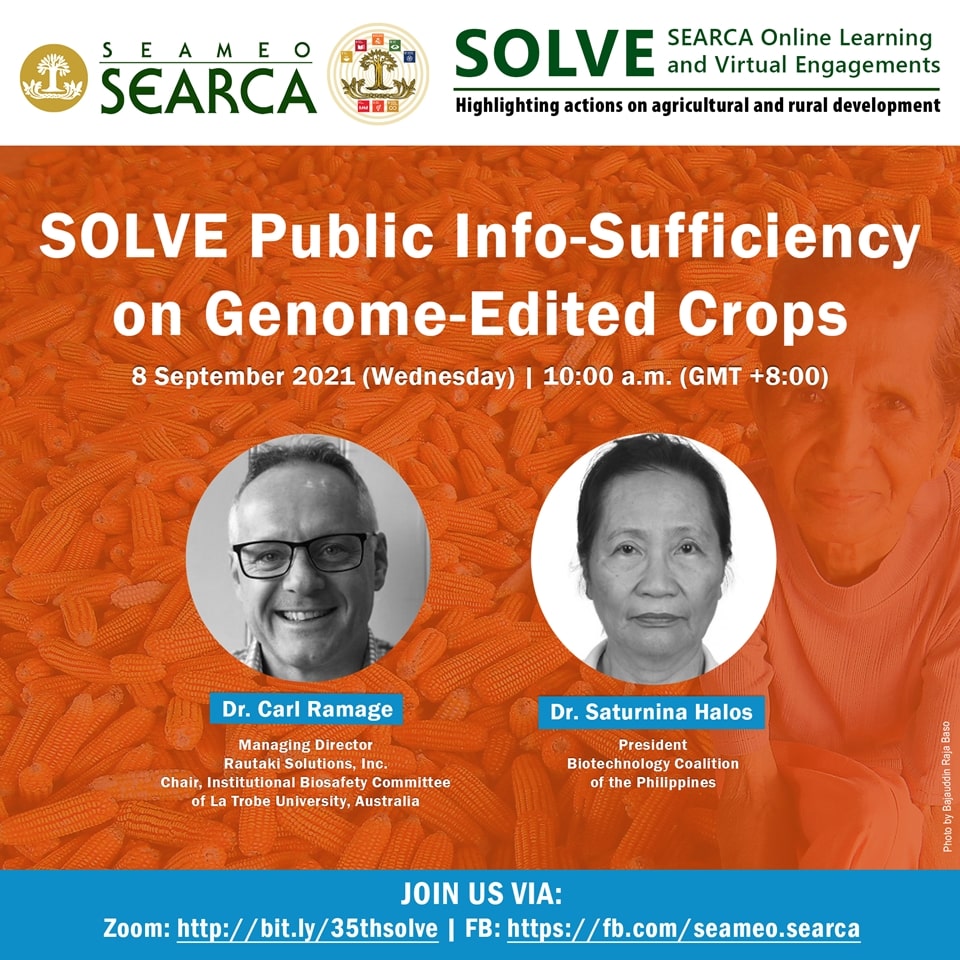 Continuing its commitment in improving access to unbiased science-based information, SEARCA in collaboration with the USDA Foreign Agricultural Service, United States Embassy Manila, and the International Service for the Acquisition of Agri-biotech Applications (ISAAA) will be conducting the SEARCA Online Learning and Virtual Engagement (SOLVE) webinar entitled "SOLVE Public Info-sufficiency on Genome-edited Crops" on 8 September 2021, 10:00 A.M. (Philippine Time, GMT +8:00), via Zoom and Facebook.
Dr. Carl Ramage, Managing Director of Rautaki Solutions, Inc., and Chair of the Institutional Biosafety Committee of La Trobe University, Australia along with Dr. Saturnina Halos, President of the Biotechnology Coalition of the Philippines will be providing both the global and local perspectives on genome editing technologies and biosafety regulations.  
The webinar is part of the annual Biotech Outreach Program, which aims to provide a venue for knowledge sharing and learning with different stakeholders and contribute to improved understanding and acceptance of biotechnology in the country, with focus on genome editing technologies in crops. The activity also serves as an avenue in creating an enabling environment for harnessing the potential of new breeding technologies in improving productivity as well as in achieving the sustainable development of country's agriculture sector, and eventually eliminate trade barriers of products derived from new breeding technologies.
The SOLVE webinars aim to provide an avenue for knowledge sharing on concrete innovative actions on the ground along SEARCA's 11th Five-Year Plan (2020-2025) via technology-mediated social platforms that would directly benefit farmers and farming families and engage the youth in ARD. Launched on 28 April 2020, the SOLVE webinars use the popular online platforms Zoom and Facebook and are livestreamed to interested audiences anywhere in the world.