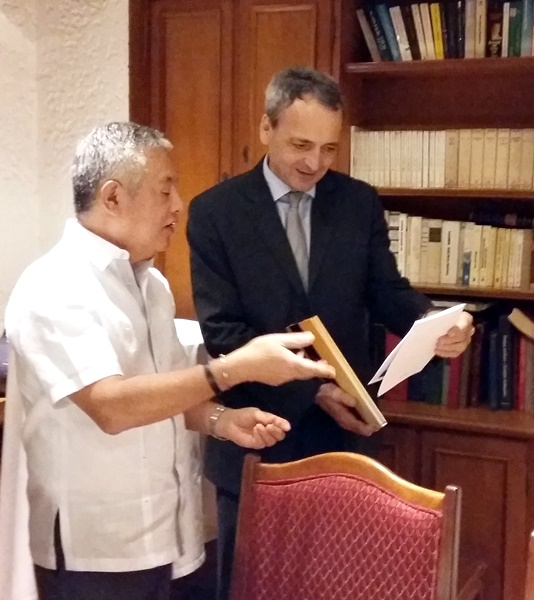 Dr. Gil C. Saguiguit, Jr., SEARCA Director, on the other hand, reiterated to DAAD and to the Government of Germany through Ambassador Kricke, his deep gratitude for continuing support to SEARCA in promoting inclusive and sustainable agricultural and rural development (ISARD) in Southeast Asia, through human resource development and capacity building.
The scholars who received DAAD-SEARCA scholarship grants are the following:
Mr. Risal Ardika/Indonesia/PhD Soil Science
Ms. Deasy Fitriati/Indonesia/PhD Agricultural Engineering
Ms. Miko Mariz C. Castro/Philippines/MS Agricultural Economics
Mr. Hector Bryan P. Grama/Philippines/MS Agricultural Economics
Mr. Jan Lorenzo G. Alegado/Philippines/MS Agricultural Economics
Ms. Thu Zar, Myanmar/Myanmar/PhD Agronomy
Mr. Nguyen Linh Trung/Vietnam/MS Agricultural Economics
Mr. Ong Quoc Cuong/Vietnam/PhD Agricultural Economics
Ms. Do Thi Thanh Huyen/Vietnam/PhD Agricultural Economics
Also present during the event were Mrs. Katharina McGrath, DAAD representative in Manila and Lecturer at UP Diliman, Mr. Thorsten Werner Gottfried, First Secretary for Cultural Affairs of the German Embassy, Dr. Maria Cristeta N. Cuaresma, Program Head and Ms. Zacyl R. Jalotjot, Program Specialist, both from the Graduate Education and Institutional Development Department (GEIDD) of SEARCA.
Likewise, four SEARCA scholars studying outside the Philippines have been granted DAAD scholarship for AY2017/2018, namely:
Ms. Antun Puspanti/Indonesia/PhD Forestry/UGM
Mr. Yarzar Hein/Myanmar/PhD Agricultural and Resource Economics/KU
Mr. Luis Tavares/Timor-Leste/ PhD Animal Science/UGM
Mr. Nguyen Tran Ngoc Tuan/Vietnam/MS Agricultural and Resource Economics/KU
The German Academic Exchange Service (DAAD) is one of SEARCA's partners in its human resource development program since 1975, with more than 350 DAAD-SEARCA scholarship grants awarded, 94% of which have been completed successfully.