SEARCA Director Dr. Gil C. Saguiguit, Jr., in his welcome remarks, put forward the relevance of this executive forum as dramatic changes in agriculture and rural development are already being felt in the ASEAN region. These challenges, according to Dr. Saguiguit, are caused by a complex mix of social, economic, and environmental concerns. He added that the participants of the forum, who are leaders in their respective countries, are at the forefront in facing the said challenges in order to spur agricultural developments. Dr. Saguiguit also expressed his hopes to open more avenues for high-level discussions among agricultural leaders through this executive forum.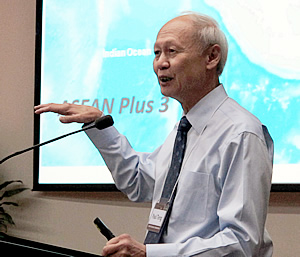 Dr. Paul S. Teng, Dean of Graduate Study and Professional Learning at Nanyang Technological University (NTU) in Singapore and SEARCA Senior Fellow, led the forum as its Technical Coordinator. The forum included lectures on leadership and learning syndicates, which focused on the new elements in the agriculture-development landscape, the ASEAN landscape for agriculture vis-á-vis the global agriculture landscape, and new leadership modes. The forum also focused on the role of agriculture and aquaculture in relation to government goals, which include sustaining rural development, conserving natural resources in the environment, achieving competitive agricultural imports, and ensuring food security for rural and urban populations.
The executive forum was designed to build a community of ASEAN leaders in agriculture who are empowered with knowledge on key contemporary issues in agriculture and food security to meet the challenges posed by a dynamic agri-food landscape. The forum also aimed to: (1) provide current knowledge on important topics, which influence the global agriculture landscape, with respect to sustainable development, trade, and livelihoods; (2) provide a comprehensive and deep understanding of factors driving the agriculture landscape in the ASEAN region, contextualized within the global and milieu of factors; and (3) introduce to participants a change management paradigm of leadership beyond best practice based on complexity theory.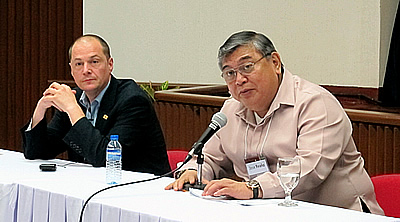 Other resource persons for the forum included Dr. Ng Pak Tee of NTU-Singapore, Undersecretary Jose C. Reaño of the Department of Agriculture-Philippines, Dr. David Robert Morpeth of Alltech-Philippines, Dr. Mark Rosegrant of the International Food Policy Research Institute (IFPRI), Dr. Rolando T. Dy of University of Asia and the Pacific (UA&P) in the Philippines, Dr. Randy Hautea of the International Service for the Acquisition of of Agri-biotech Applications (ISAAA), Dr. Andrew Powell of AsiaBioBusiness based in Singapore, Mr. Roger F. Barroga of the Philippine Rice Research Institute (PhilRice), Dr. Larry Wong of the Center for Economic and Social Development (CESD)-Myanmar, Dr. Siang Hee Tan of CropLife Asia based in Singapore, Dr. David Johnson of the International Rice Research Institute (IRRI), Dr. Larry N. Digal of the University of the Philippines-Mindanao, Dr. Roehlano M. Briones of the Philippine Institute for Development Studies (PIDS), and Ms. Linda Leong Quek of LQ Consult in Singapore. (Mark Vincent P. Aranas)