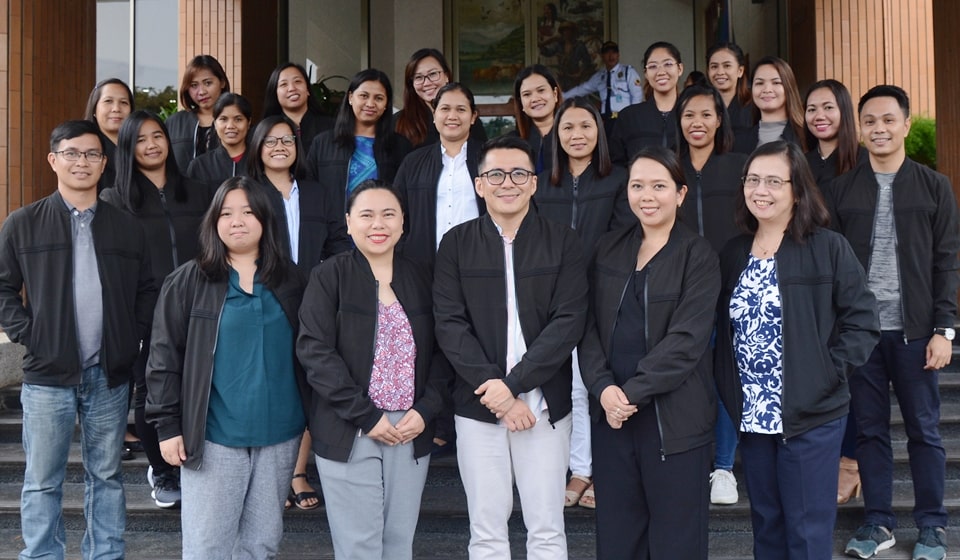 Participants and organizers of the Final Assessment and Testimonial Ceremony of the Communicating Agriculture and Fisheries Research for Inclusive and Sustainable Development (CAFRISD) course held on 5-7 August 2019 at the SEARCA Headquarters
LOS BAÑOS, Philippines – Sixteen learner-participants have successfully completed the second batch implementation of the Communicating Agriculture and Fisheries Research for Inclusive and Sustainable Development (CAFRISD) course under the Information and Knowledge Management (IKM) Mentorship Program during the Final Assessment and Testimonial Ceremony held on 5-7 August 2019 at the SEARCA Headquarters.
The IKM Mentorship Program is a capacity-building project funded by the Philippine Department of Agriculture–Bureau of Agricultural Research (DA-BAR). It aims to facilitate improved agricultural and fisheries research reporting and knowledge management.
The learners are research and communication staff of the regional offices of the DA-Bureau of Fisheries and Aquatic Resources (BFAR) and other DA attached agencies.
For the final assessment, the mentors synthesized the CAFRISD course while learners provided key learnings and feedback on the implementation of the mentorship program. Mr. Mikael Angelo Francisco, Editor-in-Chief of FlipScience, also gave a supplementary talk on Digital Strategies for Science Communication.
In the testimonial ceremony, SEARCA and DA-BAR awarded completion certificates to all learners and special recognition for outstanding learners who excelled in producing the best module outputs that featured a specific research or technology from their respective institutions. The special awardees are: Ms. Mary Grace Nidoy of the Philippine Rice Research Institute (PhilRice), Best Feature Story; Ms. Daryl Lou Battad of DA-BAR, Best Blog Series; Ms. Mary Grace Nidoy of PhilRice, Best Audio-Visual Presentation; Ms. Maureen Laroco of DA-BFAR Region 1, Most Diligent Learner-Participant.
Named Most Outstanding Learner-Participants were Ms. Nidoy, Ms. Battad, Mr. Ronaldo Canabe of DA-BFAR Region 5, Ms. Rowena Bumanlag of the Philippine Carabao Center, and Ms. Christine Gresola of DA-BFAR Region 8.
"We hope that through this project, we were able to share with you KM practices and strategies to help the DA be more responsive to the capacity building and information needs of agricultural professionals and clienteles in the Philippines," said Dr. Glenn Gregorio, SEARCA Director, in his message delivered by Dr. Maria Cristeta Cuaresma, SEARCA Program Head for Graduate Education and Institutional Development.
On the other hand, Ms. Julia Lapitan, Head of DA-BAR's Applied Communication Division, encouraged the Batch 2 learners to become the sector's knowledge managers and storytellers.
"You as storytellers will create and share insightful, inspiring, and especially truthful stories emanating from research and development technologies. You will share stories that will compel R&D stakeholders to act and create change for the benefit of the agriculture community," Ms. Lapitan said.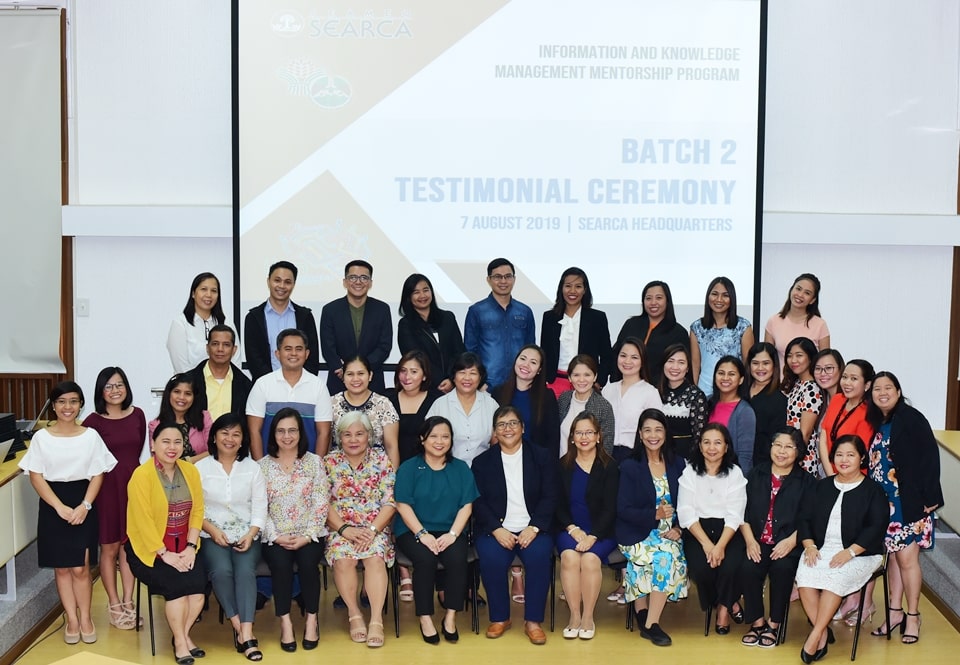 The IKM MP learners and their respective supervisors with the IKM Mentoring Program Team from SEARCA, DA-BAR, and UPLB during the Testimonial Ceremony at the SEARCA Headquarters on 7 August 2019.
Meanwhile, top learner Mary Grace Nidoy gave a response on behalf of the Batch 2 learners.
"We thank the DA-BAR and SEARCA for creating this program and we hope that it will continue to help more communicators in the agriculture and fisheries sector bring the knowledge to the ground," she said.
"We go back to our offices more equipped, more critical, and more discerning. The real challenge now is to apply and share the lessons we learned in communicating research outputs; to make sense of the information that matters the most to our farmers and fisherfolks; to make the information available and accessible. From practice to praxis," Ms. Nidoy concluded.
IKM Batch 2 ran for eight months, taking off from the successful Batch 1 implementation that ended in September 2018. It employed a blended learning approach that combines online and face-to-face learning tools and methods. The sessions were facilitated by SEARCA consultants who are faculty and staff from the University of the Philippines Los Baños–College of Development Communication.