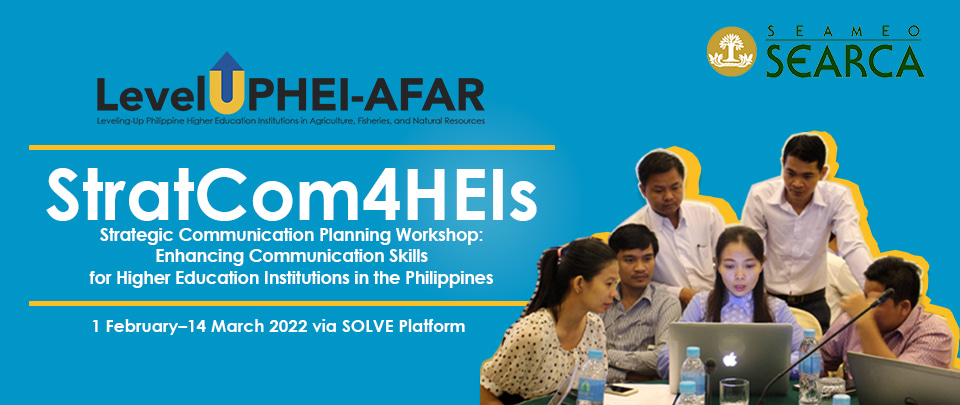 Background
Today's age of information and communication technology (ICT) is characterized by an explosion of knowledge and information. While it is widely understood that economic development requires access to knowledge and information at all levels, many leaders and managers in public service organizations and academic institutions in the Philippines have not taken the best advantage of these fast-changing ICTs in advancing their mandates in society.
Strategic communication and communication for development methodologies are essential in crafting public communication agenda. Strategic communication essentially involves infusing communication efforts with an agenda and a master plan. Typically, that master plan involved promoting the brand of an organization, urging people to do specific actions, or advocating particular legislation. Meanwhile, Communication for Development (ComDev) methods and tools contribute to ensuring that leaders and managers in public service organizations as well as rural communities can access, demand, and share information and knowledge integrating local and community media. ComDev initiatives can also increase the impact of rural services by enabling stakeholder engagement, social dialogue, and inclusive decision-making for self-directed development processes.
Cognizant of the need to advance leadership practices in higher education and public service institutions in the country toward achieving their mandates and thereby contributing to national development, a five-day training-workshop on developing skills on strategic communication for higher education institutions in the Philippines is being proposed.
Proposed Cohort
There will be 25-30 participants from at least 15 universities. Participants will include higher education leaders, including junior faculty members and researchers whose responsibilities include or will include implementing strategic communication in their respective institutions. They should have regular full-time appointment, commitment support from direct supervisor, endorsed by the University President, and have a prepared draft Re-entry Action Plan (REAP).
Since English will be the primary mode in facilitating the training-workshop, the participants are expected to have good English communication skills. However, participants have an option to produce workshop outputs in English or in Filipino.
Presidents of the participating universities will be invited to sign a commitment document (so that they give full support and participants are fully committed to the training).
Course Objectives and Expected Outputs
This training-workshop primarily aims to enable academic leaders and researchers in higher education institutions in the Philippines to formulate a strategic communication plan for a particular project they are engaged in. In addition, this training aims to enhance the communication skills of participants, most specially in the design and development of appropriate communication materials.
At the end of this training workshop, participants should be able to:
Articulate the role of public communication in higher education institutions in the Philippines;

Prepare a strategic communication plan for their respective institutions; and

Develop prototype appropriate communication materials.
The expected outputs include:
HEI leaders including junior faculty members and researchers with enhanced knowledge, skills, and attitudes on public communication and communication planning;

Strategic communication plan for the participant's organization; and

Sample prototype of communication materials that the participants' institutions may use.
Program Duration and Platform
The Program will be conducted online via the SEARCA Online Learning and Virtual Engagements (SOLVE) Platform from 1 February until 14 March 2022.
Program Fees
Applicants should come from invited SUC-ACAP members and are to apply via the Commission on Higher Education (CHED)-funded project of SEARCA titled Leveling-Up Philippine Higher Education Institutions in Agriculture, Fisheries, and Natural Resources (LevelUPHEI AFAR). Successful applicants will be awarded a grant to participate in this Strategic Communication Planning Workshop: Enhancing Communication Skills for Higher Education Institutions in the Philippines.