BACKGROUND AND RATIONALE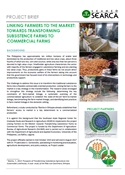 The Southeast Asian Regional Center for Graduate Study and Research in Agriculture (SEARCA) envisions that Southeast Asian higher education, particularly in the field of agriculture, would be at par with counterpart institutions in other areas of the world. To achieve this, SEARCA offered the Advanced Higher Education Administrator Development (AHEAD) Course from 1993 to 2003 that benefited 958 executives and potential executives of higher education institutions offering agricultural programs in the Southeast Asian region. This course was further enhanced in 2009 to develop excellent leaders who could strategically develop their academic programs in agriculture and related fields to compete with other higher education programs that are becoming popular and demanded in the world market. This issue has become a great concern for higher education institutions in the world, more so in Southeast Asia. This is due to increasing demand for other courses, leaving behind the course offerings in agriculture. The Leadership Excellence in Academe Program for Southeast Asia (LEAP SEA) was offered by SEARCA from 2009 to 2015 to address this challenge. A total of 99 higher education administrators in Southeast Asia took part in the LEAP SEA.
In the course of its offering, SEARCA recognized some limitations that need to be addressed. First, it would be best to address specific country requirements for enhancing policy structures, development frameworks and performance indicators that would suit the Higher Education Commission requirements of a particular country in Southeast Asia.
Also, bringing in participants from all over Southeast Asia to the training program is costly to the participating institutions, which inhibits attendance of intended clients. Hence, it would help to offer the Leadership Excellence in Academe Program tailored to the specific needs of a country so that its higher education institutions could address national issues affecting how agriculture ensures food and nutrition security. At the same time, agriculture universities could aim to participate in the ASEAN International Mobility of Students (AIMS) and seek recognition in ASEAN University Rankings in order to be rated at par with other universities in ASEAN.
The higher education system in Cambodia has changed greatly over the past years as the number of private universities have grown considerably. The Ministry of Education, Youth, and Sports (MoEYS) of Cambodia believes that the management of higher education in the country remains difficult and needs to be clarified and strengthened across several key dimensions, including the strengthening of institutional and organizational capacity. It is most urgent, however, to improve human capacity in the sub-sector in order to cope with the rapid expansion of the last decade and to anticipate what will be required to manage it in the years ahead.
It is in this context that the MoEYS, through its Higher Education Quality and Capacity Improvement Project (HEQCIP), and the Royal University of Agriculture (RUA), are collaborating with SEARCA to organize LEAP Cambodia.
LEAP Cambodia aims to engage participants from within the country to provide better opportunity for sharing policies, frameworks, and good practices towards attaining competitiveness in their identified strategic niche.
In the light of the above realities of academic executives of higher education institutions offering agriculture and related fields in Cambodia, the LEAP seminar-workshop aims to:
Provide a learning forum where significant new knowledge as well as wisdom about leadership in and management of higher education, especially those in agriculture, may flow between experts or seasoned administrators and senior or mid-level executives of higher education institutions within Cambodia and the invited experts from SEAMEO member countries;
Provide an opportunity for executives in Cambodian higher education institutions in agriculture to reflect on their common contemporary challenges and suggest appropriate solutions in higher education leadership and management; and
Come up with a strategic agenda to enhance offering of agriculture and related programs in Cambodia to address the challenge of mismatch between the needs of the labor market in terms of skills, critical thinking ability and knowledge and the universities' graduates.
20-45 University/College Presidents, Vice Presidents, Deans, Campus Administrators and Directors (particularly those in their first year or first term of administration of higher education institutions in agriculture, forestry, and environmental studies in Cambodia
Participants will prepare memoranda to their subordinates and/or supervisors outlining their action points embodying their take-home lessons from the workshop.
The major learning event of the program is a five-day face-to-face executive seminar-workshop where participants will discuss the value of higher education leadership in the context of contemporary challenges in Cambodia and Mekong Subregion, within the wider context of Southeast Asia and the world, and appropriate solutions tried. In this seminar-workshop, participants will identify and prioritize crosscutting issues that they are addressing and will address in the next few years, in particular, the mismatch between the needs of the labor market in terms of skills, critical thinking ability and knowledge and the universities' graduates. This will require engaging participants in a lecture–workshop on developing a curriculum that will address the need of providing relevant and quality education to the students.
The seminar-workshop will also include inputs on environmental scanning, both external and internal, strategic planning, strategic school management with a review of management and leadership principles and its application in higher education in agriculture and forestry. Inputs will also be given on the management of research and extension programs of a university / technical institutes; and effective resource generation strategies to address the need for establishing high-end facilities and learning resources to carry out collaborative learning and research projects among Cambodian institutions. In essence, the program will address the identified thrusts of HEQCIP, MoEYS on institutional leadership, instructional leadership, curriculum and instruction, research, and technology transfer.
For more details, please contact:
SEAMEO SEARCA
Dr. Maria Celeste H. Cadiz
Program Head
Knowledge Management Department
Tel.: +63 49 536 2365 to 67, local 173/417
Fax: +63 49 536 2283
Email:
Ms. Nova A. Ramos
Program Specialist
Training Unit-Knowledge Management Department
Tel.: +63 49 536 2365 to 67, local 125/417
Fax: +63 49 536 2283
Email: ;
MoEYS
Dr. Bunlay Nith
Deputy Director General for Higher Education
Tel.: (+855)12 583 856
Email:
RUA
Dr. Mom Seng
Vice Rector
Tel.: (+855) 23 219 753
Mobile: (+855) 12 334 715
Fax: (+855) 23 219690
Email: