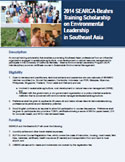 Description:
An annual training scholarship that enables a promising Southeast Asian professional from an influential organization engaged in sustainable agriculture, rural development or natural resource management to participate in the University of California Berkeley - Beahrs Environmental Leadership Program (ELP) interdisciplinary summer certificate course in Sustainable Environmental Management.
Eligibility:
Open to development practitioners, technical advisors and academics who are nationals of SEAMEO member countries (i.e., Brunei Darussalam, Cambodia, Indonesia, Lao PDR, Malaysia, Myanmar, Philippines, Singapore, Thailand, Timor Leste and Vietnam) and are:

Involved in sustainable agriculture, rural development or natural resource management (NRM); and
Affiliated with the government, a non-government organization or a policy-oriented academic institution that is concerned with environmental management/sustainable agriculture.

Preference shall be given to applicants 45 years old and below whose résumé demonstrates strong professional experience and leadership potential.
Good English proficiency is required to allow full participation in course discussions. Preference shall be given to participants who provide a TOEFL certificate showing a score of 550 for paper-based, 213 for computer-based, and 80 for Internet-based tests.
Funding:
SEARCA and the Beahrs ELP will cover the following:
roundtrip airfare and other travel related expenses;
ELP Summer Course Registration Fee, which covers the costs of instruction, housing, most meals, field trips, materials, certificate, health insurance (if needed) and transportation from and back to local airport; and
US$500 allowance for meals and incidentals not covered by the registration fee.
Application:
Those interested may apply to SEARCA through its Knowledge Management Department - Training Unit beginning 11 November 2013. The application deadline is 8 December 2013. Applications must include the following:
Fully accomplished and endorsed APPLICATION FORM with the signature clearly visible. A scanned signature is acceptable. Please send in MSWORD format (without signature) and in PDF format with signature.Application forms can be downloaded here.
Signed LETTER OF REFERENCE from a senior member of the applicant's institution that evaluates his/her professional work and highlights the potential benefits from his/her participation in the course. This may arrive separately; but it must arrive before or by 8 December 2013. A scanned (but clearly visible) signature is acceptable.
Applicant's CURRICULUM VITAE OR RESUMÉ with at least three character references indicated (with full contact details). and references (at least three with full contact details).
Applications may be sent by email attachment to Ms. Roasrio B. Bantayan <> or fax to +63 49 536 2283. Online application strongly preferred. Applications should state "
Schedule for 2014 scholarship award
Applications accepted for review: 11 November 2013 to 8 December 2013

Notification of award: 15 January 2014
Course Date and Venue:
6 - 26 July 2014
University of California Berkeley, USA
Selection committee
All submitted applications will be carefully evaluated by a four-person selection committee made up of SEARCA's Program Heads for Knowledge Management, Research & Development and Graduate Scholarship along with one SEARCA-Beahrs ELP alumnae/nus.
For further details and queries, please feel free to contact Dr. Maria Celeste H. Cadiz or Ms. Rosario B. Bantayan, Program Head and Program Specialist, respectively, of SEARCA's Knowledge Management Department at telephone (+63-49) 536-2365 to 67 (local 173, 403 or 125) or email , .